Rebels and government soldiers in Ukraine have both accused their respective commanders of lying about one of the most significant battles to erupt on the front line in months.
As violence continues to escalate in the country's restive east and the war's official death toll surges towards 7,000, Kiev said that hundreds of pro-Russian fighters, supported by tanks and heavy artillery, launched a pre-dawn attack near the small town of Starohnativka last week. Ukraine's defence ministry claimed its own forces launched a counter attack and seized strategic rebel positions – purportedly the first territorial gains made by the government since the ceasefire was signed in February. Rebel authorities in Donetsk People's Republic (DNR)  denied that rebels had attacked in the area, just 20 miles from the Russian border. They accused Ukraine of making up the story and insisted the separatist army had not broken the ceasefire.
However, eyewitness accounts from the front line on either side of the divide challenged both official versions of events, dismissing the claims and counter-claims as propaganda to lift morale.
Medics with pro-Kiev forces poured scorn on the Ukrainian Defence Ministry's statement that the 72nd mechanised brigade had seized "key heights" and pushed the rebels back "two or three kilometres". Multiple witnesses described an elastic front line which had apparently stretched forward, only to snap back hours later.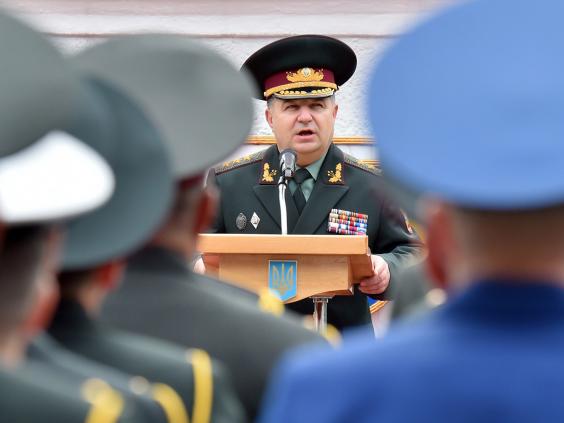 "They said we took new territory from the separatists but it's not true," said Olena Maksymenko, 27, a volunteer paramedic from Kiev. "Our troops did move forward but they pulled back soon afterwards." Sitting on an ammunition crate outside a former Soviet children's camp, now commandeered for the medics' living quarters, she gazed over the scrubland to the front line. "The Defence Ministry just wants to show a nice situation for the people back home," she added. "They want to create a prettier picture, but it wasn't pretty. Three men died from Right Sector [a nationalist paramilitary group which fights for Ukraine] and four from the army. One guy died as we treated him – he didn't stand a chance."
Anatoli, 40, a sergeant, also undermined Kiev's claims that new ground had been captured. "We moved forward to Novolaspa [a village trapped between both front lines] but we saw a group of tanks there so we pulled back to our original positions," he said. "The fight was heavy – Grad missiles, multi-calibre shells and surveillance drones."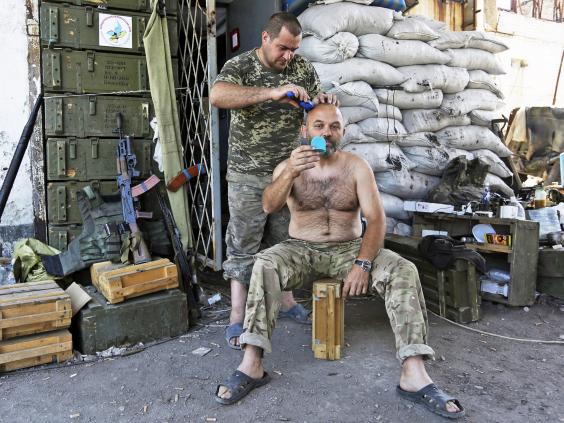 At Ukraine's frontline positions, civilian contractors were cooking dinner outside their tent following a day of bolstering defences and digging new trenches. Their boss, Vladimir Bardesh, insisted that no new ground had been permanently taken.
"Sure, some of our soldiers moved forward but they didn't stay there for long," he said. "Nothing has changed."
Further north, a group of pro-Kiev soldiers waited in an abandoned farm for nightfall as incoming and outgoing shellfire echoed along either side of the darkening valley.
Their commander, Major Alexander Chirya, scoffed at his superiors' claims but seemed ready to accept misinformation as a key component of war. He said: "Our troops didn't take any new land. Perhaps the officials at the Ministry see better than we do. That news about new territory sounds good to me – I'd be glad if it were true."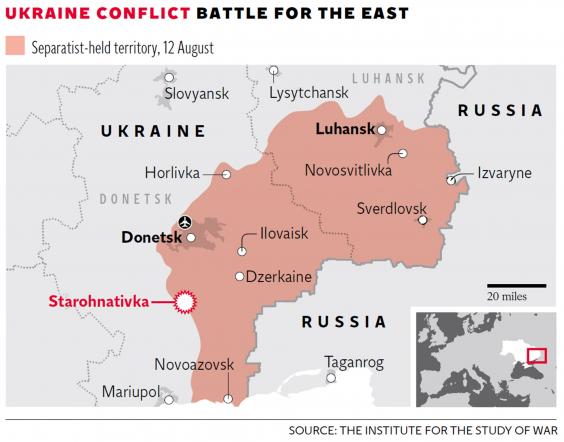 Rebel fighters with Donetsk's Russian-backed army stationed around the devastated villages of Novolaspa and Bila Kam'yanka, north-west of nearby Starohnativka, rejected the DNR's initial denials that the battle had taken place early last Monday.
A Special Forces commander said: "The shelling that day lasted for hours into the following morning. Every day it's a big fight."
Artillery shells and mortar rounds exploded nearby, but his men barely registered the blasts as they stood around smoking by a meandering river among a mass of reeds.
"Nothing has changed – the same villages as before are controlled by Ukraine and DNR," said the commander. "We didn't leave our positions. The only time that happens is when we use the landscape to our advantage and sneak behind the enemy. We like partisan war."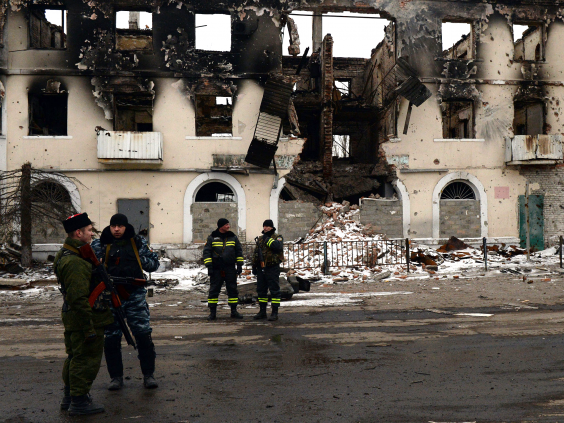 Last week's attack near Starohnativka highlighted the continuing waves of escalation that now mark the frontline.
Ukraine accused the rebels of carrying out the heaviest shelling in six months since the desperate battle for Debaltseve and branded it "a dangerous indication" of imminent conflict.
International monitors from OSCE observed a significant increase in ceasefire violations around the town and President Poroshenko was reported to have summoned his defence chiefs for an emergency meeting in response.
Stalemate and trench warfare have increasingly typified the country's crumbling ceasefire, however there are fears that a recent upsurge in violence could herald a  late summer offensive, with some civilians and soldiers pointing to Ukraine's Independence Day next Monday as a possible date for an attack from either side.
Ukraine crisis: A timeline of the conflict
Ukraine crisis: A timeline of the conflict
1/22 30 November 2013

Public support grows for the "Euromaidan" anti-government protesters in Kiev demonstrating against Yanukovych's refusal to sign the EU Association Agreement as images of them injured by police crackdown spread.

EPA

2/22 20 February 2014

Kiev sees its worst day of violence for almost 70 years as at least 88 people are killed in 48 hours, with uniformed snipers shooting at protesters from rooftops.

AFP/Getty Images

3/22 22 February 2014

Yanukovych flees the country after protest leaders and politicians agree to form a new government and hold elections. The imprisoned former Prime Minister, Yulia Tymoshenko, is freed from prison and protesters take control of Presidential administration buildings, including Mr Yanukovych's residence.

Genya Savilov/AFP/Getty Imageses

4/22 27 February 2014

Pro-Russian militias seize government buildings in Crimea and the new Ukrainian government vows to prevent the country breaking up as the Crimean Parliament sets a referendum on secession from Ukraine in May.

Sean Gallup/Getty Images

5/22 16 March 2014

Crimea votes overwhelmingly to secede from Ukraine and join Russia in a ballot condemned by the US and Europe as illegal. Russian troops had moved into the peninsula weeks before after pro-Russian separatists occupied buildings.

EPA

6/22 6 April 2014

Pro-Russian rebels seize government buildings in the eastern cities of Donetsk, Luhansk and Kharkiv, calling for a referendum on independence and claiming independent republic. Ukraine authorities regain control of Kharkiv buildings on 8 April after launching an "anti-terror operation" but the rest remain out of their control.

EPA/PHOTOMIG

7/22 7 June 2014

Petro Poroshenko is sworn in as Ukraine's president, calling on separatists to lay down their arms and end the fighting and later orders the creation of humanitarian corridors, since violated, to allow civilians to flee war zones.

Getty Images

8/22 27 June 2014

The EU signs an association agreement with Ukraine, along with Georgia and Moldova, eight months after protests over the abandonment of the deal sparked the crisis.

LOUISA GOULIAMAKI/AFP/Getty Images

9/22 17 July 2014

Malaysian Airlines flight MH17 is shot down over eastern Ukraine, killing all 298 people on board. Ukrainian intelligence officials claim it was hit by rebels using a Buk surface-to-air launcher in an apparent accident.

10/22 22 August 2014

A Russian aid convoy of more than 100 lorries enters eastern Ukraine and makes drop in rebel-controlled Luhansk without Government permission, sparking allegations of a "direct violation of international law".

Reuters/Alexander Demianchuk

11/22 29 August 2014

Nato releases satellite images appearing to show Russian soldiers, artillery and armoured vehicles engaged in military operations in eastern Ukraine.

Nato

12/22 8 September 2014

Russia warns that it could block flights through its airspace if the EU goes ahead with new sanctions over the ongoing crisis and conflict

EPA

13/22 17 September 2014

Despite the cease-fire and a law passed by the Ukrainian parliament on Tuesday granting greater autonomy to rebel-held parts of the east, civilian casualties continued to rise, adding to the estimated 3,000 people killed

Reuters

14/22 16 November 2014

The fragile ceasefire gives way to an increased wave of military activity as artillery fire continues to rock the eastern Ukraine's pro-Russian rebel bastion of Donetsk

Getty

15/22 26 December 2014

A new round of ceasefire talks, scheduled on neutral ground in the Belariusian capital Minsk, are called off

AFP/Getty

16/22 12 January 2015

Soldiers in Debaltseve were forced to prepare heavy defences around the city; despite a brief respite to the fighting in eastern Ukraine, hostilities in Donetsk resumed at a level not seen since September 2014

AFP/Getty

17/22 21 January 2015

13 people are killed during shelling of bus in the rebel-held city of Donetsk

Reuters

18/22 24 January 2015

Ten people were killed after pro-Russian separatists bombarded the east Ukrainian port city of Mariupol

AP

19/22 2 February 2015

There was a dangerous shift in tempo as rebels bolstered troop numbers against government forces

AFP/Getty

20/22 11 February 2015

European leaders meet in Minsk and agree on a ceasefire in eastern Ukraine beginning on February 14. From left to right: Belarus President Alexander Lukashenko, Russian President Vladimir Putin, German Chancellor Angela Merkel, France's President Francois Hollande and Ukrainian President Petro Poroshenko.

MAXIM MALINOVSKY | AFP | Getty Images

21/22 13 February 2015

Pro-Russian rebels in the city of Gorlivka, in the Donetsk region, fire missiles at Ukrainian forces in Debaltseve. Fighting continued in Debaltseve for a number of days after the Minsk ceasefire began.

ANDREY BORODULIN | AFP | Getty Images

22/22 18 February 2015

Ukrainian soldiers repair the bullet-shattered windshield of their truck as their withdraw from the strategic town of Debaltseve. Following intense shelling from pro-Russian rebels, Ukrainian forces began to leave the town in the early hours of February 18.

Brendan Hoffman | Getty Images
Ukraine's military has heavily fortified key positions in recent months, including the industrialised port city of Mariupol, which holds a strategically important position on the Sea of Azov.
The international watchdog monitoring Ukraine's crumbling ceasefire has confirmed that Grad missiles and heavy artillery – both banned at the front line under the Minsk deal agreed in February – have been used around Starohnativka recently.
Speaking in Donetsk, Alexander Hug, the Deputy Chief Monitor of the OSCE's Special Monitoring Mission to Ukraine, said: "Crater analysis that we have conducted in Starohnativka have revealed that heavy weapons, such as 152mm and 122mm, and Grad systems have been used by both sides in the recent upsurge in fighting."