Vienna has been named the best city in the world to live for its quality of life, beating New York, Paris and London – none of which even make it into the top 35 rankings.
The Austrian capital has topped the 18th Mercer Quality of Life survey, closely followed by Zurich and Auckland.
German cities dominated the top 10 with Munich, Dusseldorf and Frankfurt all ranking highly.
The 20 best cities to live in the world for quality of life
The 20 best cities to live in the world for quality of life
1/12 1. Vienna

2/12 2. Zurich

3/12 3. Auckland

Capital idea: Auckland will soon be served by the world's longest flight

4/12 4. Munich

5/12 5. Vancouver

6/12 6. Dusselfdorf

Petra Pazsitka wad found alive and well, living under a false name in Dusseldorf

7/12 7. Frankfurt

8/12 8. Geneva

9/12 9. Copenhagen

Coulourful houses and boats seen in the Nyhavn district in Copenhagen

10/12 10. Sydney

11/12 11. Amsterdam

On the waterfront: Canal life in Amsterdam

12/12 12. Wellington
Sydney and Vancouver were the only two other cities outside of Europe to make it into the top 10.
The annual survey assesses the socioeconomic conditions of a city in addition to health, housing and education to determine its place on the list, and is used as a tool by companies to determine where they should send staff.
Mercer includes a personal safety ranking based on internal stability, crime levels, performance of local law enforcement and the home country's relationship with other countries.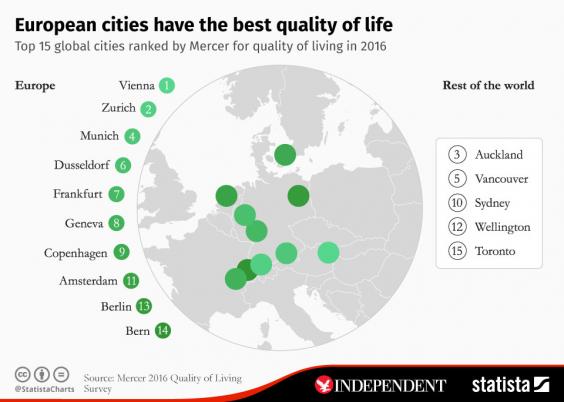 While Luxembourg, Bern, Helsinki and Zurich top the personal safety list, Paris, London, Madrid and Athens all rank in the 70s or below "as many suffered either terrorist attacks or social unrest in the last few years".
Baghdad ranked as the worst city to live in both in terms of quality of life and personal safety, out of the list of 230 cities. 
Reuse content