Vladimir Putin has appeared in public for the first time in 10 days to meet with the President of Kyrgyzstan.
The meeting between the Russian President and Almazbek Atambayev in the Constantine Palace, near St Petersburg, follows more than a week of intense speculation over Putin's sudden disappearance from the public eye.
A smiling Mr Putin did not address the issue while answering questions from reporters summoned for the occasion, saying only: "It would be boring without gossip."
President Atambayev addressed the assembled media before the start of the meeting, confirming the Russian leader's good health and claiming he was in "great shape".
He said Mr Putin "just now drove me around the grounds, he himself sat at the wheel".
"The president of Russia not only walks, but speeds around," he added.
"Judging by the Atambayev's expression, Putin's handshake is strong," a Russian reporter at the scene quipped on Twitter.
Denying rumours of illness last week, Mr Putin's official spokesperson said his handshake "can break a hand."
Rumours that Mr Putin was dead have been struck off the list but there has not yet been any formal explanation of his whereabouts.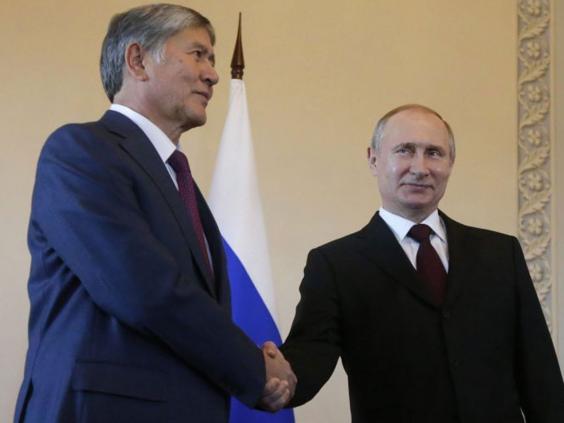 After a string of high-profile engagements were cancelled last week, many reports pointed to illness, which could have been kept secret by Mr Putin's spokesperson to protect his macho image.
The Kremlin has denied claims that his alleged girlfriend, former gymnast Alina Kabaeva, had given birth to their child in Switzerland.
Other theories suggested an alleged secret service coup or covert plastic surgery, possibly a facelift for the President, who looks surprisingly youthful at 62.
Vladimir Putin: Inside the Russian President's Daily Life
Vladimir Putin: Inside the Russian President's Daily Life
1/9 He's big on exercise

Putin spends two hours a day swimming, where he gets "most of Russia's thinking done", according to political advisors. He's also a gym-goer where he enjoys weight-lifting.

AP

2/9 The gym is followed by reading

His favourite genre of books are about historical figures such as Ivan the Terrible, Catherine II, Peter the Great. Not for him are the works of JK Rowling and John Grisham.

Getty

3/9 He likes cold baths

Of course he does. He does have warm baths too, but he spends time completing "his cleanse".

GETTY IMAGES

4/9 He's not keen on the internet

Maybe because it makes him aware of how many people hate him, but truly because he finds "the screens within screens and the bars building up with messages confusing".

Getty Images

5/9 He can't be given milk

There is no explanation as to why. He also can't be offered food products by his host – all foreign food stuff has to cleared by the Kremlin first.

EPA

6/9 He's learning English via sing-alongs

Putin has a tutor to help him learn the England language, with afternoon sessions.

GETTY IMAGES

7/9 He's an animal-lover

It may seem strange to imagine the Russian President haring around with animals, but he is very fond of his pet Labrador who is apparently "not afraid of him". He also goes in for hunting parties.

AFP/Getty Images

8/9 He has a travel regime to rival Mariah Carey

Putin flies in Russian chefs, waiters and cleaners to ensure his overseas stays are up to his standards. He also has all hotel toiletries replaced with his personal products and fresh fruit under special Kremlin anti-contamination seals.

GETTY IMAGES

9/9 He's not a big conversationalist

"He doesn't talk," the interpreter told Newsweek. "He feels no need to smile. He doesn't want to go for a walk. He doesn't want to drink... At anyone time there are 10 people around him... You cannot get more than 3m close to him because the space is guarded so carefully. He is endlessly surrounded by whispering aides, cameramen, bodyguards."

KIRILL KUDRYAVTSEV/AFP/Getty Images
A statement from the Kremlin said that today's meeting with Mr Atambayev would discuss "continued steps to develop bilateral co-operation, particularly trade and investment ties, cultural and humanitarian contacts, and relations in the energy sector".
Mr Putin and the Kyrgyz leader were also due to discuss the former Soviet nation's accession to EU rival the Eurasian Economic Union.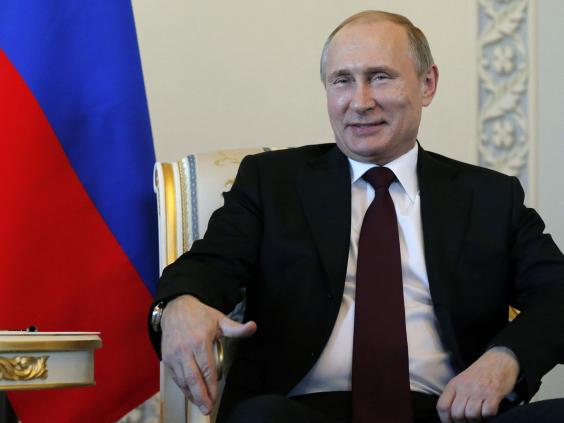 The Russian President was last seen in public on 5 March, when he hosted Italian Prime Minister Matteo Renzi.
Additional reporting by agencies
Reuse content