Vladimir Putin has claimed "there is no need to fear Russia" and that they were not to blame for the breakdown in their relations with the rest of Europe.
The EU has implemented sanctions against Russia in response to their support for opposition rebels in the Ukraine crisis. Moscow, in what is believed to be a response to the measures, recently blacklisted 89 EU politicians, including the former deputy prime minster Nick Clegg, barring them from entering Russia.
In an interview with the Italian newspaper Il Corriere della Sera, the transcript of which has been distributed by the Kremlin, Mr Putin said: "I firmly believe that Russia was not responsible for the deterioration in relations between our country and the EU states.
"It was not we who introduced restrictions on trade and economic activities. Rather, we were the target and we had to respond with retaliatory, protective measures."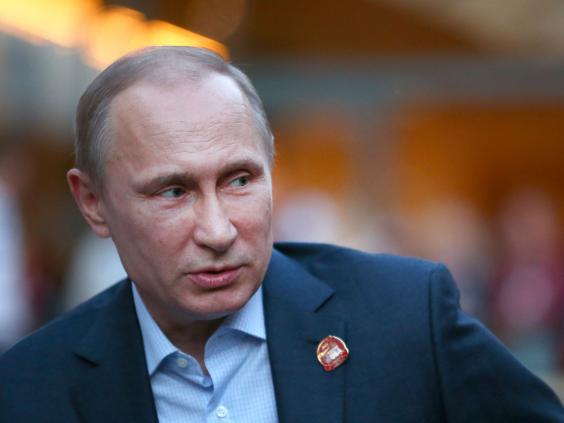 He added that "there is no need to fear Russia", and said "that only an insane person and only in a dream can imagine that Russia would suddenly attack NATO. "
Mr Putin also expressed his belief that Kiev was to blame for the stalling of peace talks between Russia and Ukraine. The two nations have been subject to a ceasefire since the signing of the Minsk agreement in February, but violence has again flared up in recent weeks.
Wednesday was the bloodiest day in the conflict for almost four months, prompting the Ukrainian president Petro Poroshenko to raise the prospect of a "full-scale invasion" from Russian forces in parliament.
Moscow maintains that government troops are not being directly deployed in the conflict, which the UN says has claimed more than 6,400 lives, and Mr Putin insisted that on the whole large-scale hostilities in eastern Ukraine had ceased.
In pictures: EU politicians banned from entering Russia by the Kremlin
In pictures: EU politicians banned from entering Russia by the Kremlin
1/6 Nick Clegg

Nick Clegg appears on a confidential Russian 'stop list' handed to the EU's ambassador by the authorities in Moscow

PA

2/6 Malcolm Rifkind

A Conservative former Foreign Secretary, who has been strongly in favour of sanctions against Moscow since the Russian annexation of Crimea. He says he is 'rather proud' to be on the Kremlin's blacklist

Getty

3/6 Daniel Cohn Bendit

The former German Green Party MEP and leader of the French 1968 student protest movement has strongly criticised Russia's actions in Ukraine. He has suggested a boycott of the 2018 World Cup, which is to be hosted by Russia

AFP/Getty

4/6 Edward Mcmillan Scott

A leading German conservative MP who earlier this year called Russia a 'warmonger'. He was due to discuss the Ukraine with Russian officials but was refused entry at Moscow airport last week. He said he suspected he was on a list of EU 'undesirables'

5/6 Karel Schwarzenberg

A former Czech Foreign Minister. He said: 'When I saw the other names on the list, I found out I was in a very decent club'

AFP/Getty

6/6 Bernard-Henri Levy

French philosopher who backed Ukraine's anti-Russian protest movement and has staged a play in Kiev criticising Moscow. He has said: 'Most people are disgusted by Putin's mischief'

AFP/Getty
Indeed, the Russian President said that he is in full support of the agreement drawn up in Minsk, which he described as "the only unequivocal solution to this problem", and that Moscow was not at fault for it not being implemented properly.
He said: "The problem is that the current Kiev authorities don't even want to sit down to talks with them. And there is nothing we can do about it.
"Only our European and American partners can influence this situation."
Additional reporting from Reuters