A drone start-up is going to counter industrial scale deforestation using industrial scale reforestation.
BioCarbon Engineering wants to use drones for good, using the technology to seed up to one billion trees a year, all without having to set foot on the ground.
26 billion trees are currently being burned down every year while only 15 billion are replanted. If successful, the initiative could help address this shortfall in a big way.
Drones should streamline reforestation considerably, with hand-planting being slow and expensive.
"The only way we're going to take on these age-old problems is with techniques that weren't available to us before," CEO and former Nasa-engineer Lauren Fletcher said. "By using this approach we can meet the scale of the problem out there."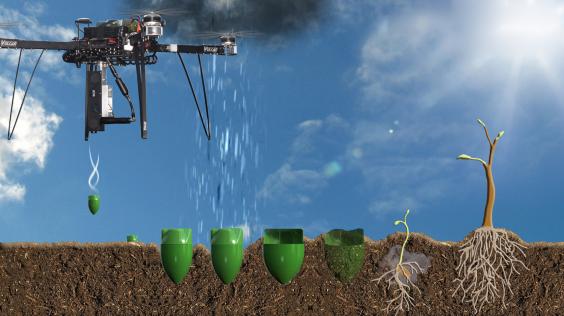 BioCarbon's system for planting is really quite sophisticated, and should provide better uptake than traditional dry seeding by air.
First, drones flies above an area and report on its potential for restoration, then they descend to two or three metres above ground and fire out pods containing seeds that are pre-germinated and covered in a nutritious hydrogel.
Fletcher doesn't pretend that the method is as good as hand-sowing, but it's a hell of a lot quicker.
The most stunning drone pictures of 2015
The most stunning drone pictures of 2015
1/12

Amalfi Bay, Italy by Dronarium

2/12

Turgoyak, Miass, Russian Federation by Maksim Tarasov

3/12

Above the mist, Maringa, Brazil by Ricardo Matiello

4/12

Xiwei Reservoir, Zoucheng, Shandong, China by AmbroseLune

5/12

Lost island, Tahaa, French Polynesia by Marama photo Video

6/12

Cliff diver of Mazatlan, Mexico by wOOtsor

7/12

Church, Paracatu, Brazil by Alexandre Salem

8/12

Supertide turns Mont-Saint-Michel into island by Wanaiifilms

9/12

Jaguares, Football Club , Mexico by Jelipegomez

10/12

Christ, the Redeemer, Rio de Janeiro, brazil by Alexandre Salem

11/12

Al Marmoun Race Track, Dubai, UAE by Shoyab

12/12

Wedding in Aburi, Ghana by Aeroshutter
With two operators manning multiple drones, he thinks it should be possible to plant up to 36,000 trees a day, and at around 15% of the cost of traditional methods.
A prototype for the system impressed at the Drones for Good competition in the United Arab Emirates, and the company hopes to have fully-working versions by the end of the summer.