A TV journalist returned to work with her face bandaged after being hit by a projectile reportedly fired during a clash between Israeli police and demonstrators in East Jerusalem.
Hana Mahameed, an Arab-Israeli reporter for Lebanon-based Al-Mayadeen TV, appeared on screen with dressings on much of her face and neck, shortly after she was struck by a sound grenade allegedly fired by Israeli officers.
Raed Sobies, a colleague of Ms Mahameed, told the The Independent that Ms Mahameed was not seriously injured, but had been left with "holes in her face and neck" and that doctors had advised her to take time off work to recover.
She had been forced to continue working, Mr Sobies said, while the TV station found another reporter who will be allowed access to Israel-Palestine by Israeli authorities.
He added: "Of course it's not good ... we don't know yet what the result [of her injuries] will be, and whether she will be scarred.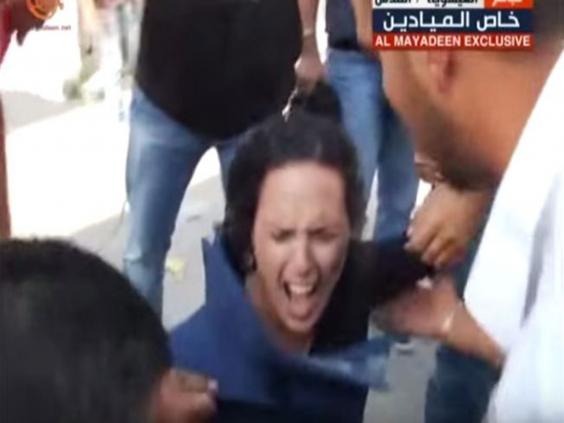 "We've been looking for someone to relieve her stiatuion but it's not easy."
AlMayadeen journalist Hana' Mahameid reports live after being shot in face by a stun grenade in occupied East J'lem: pic.twitter.com/mZfroZb7fs

— Rania Zabaneh (@RZabaneh) October 4, 2015
TV footage posted on social media shows a projectile travelling at speed towards an Al-Mayadeen camera. Screaming can then be heard and Ms Mahammed, wearing a 'press' flak jacket, is shown wincing in pain with people running to her aid.
Israeli police said the clash took place while forces were detaining the father of a Palestinian teenager, Fadi Alloun, 19, who was accused of stabbing an Israeli teen early Sunday before being shot dead by police.
Israeli police spokeswoman Luba Samri told the Associated Press that officers responded to demonstrators with "riot dispersal means" and that "whoever is present with law-breaking rioters risks getting injured.
Additional reporting by Associated Press
Reuse content