US President Barack Obama and Russian President Vladimir Putin have clashed over their competing visions for Syria, with Obama urging a political transition to replace the Syrian president but Putin warning it would be a mistake to abandon the current government. 
Obama and Putin's dueling speeches at a United Nations General Assembly summit served as a public preview of their private meeting late on Monday. The sit-down marks their first face-to-face encounter in nearly a year and comes amid escalating Russian military engagement in Syria. 
Obama said he was open to working with Russia, as well as Iran, to bring Syria's civil war to an end. He called for a "managed transition" that would result in the ouster of Syrian President Bashar Assad, whose forces have clashed with rebels for more than four years, creating a vacuum for the Islamic State and other extremist groups. 
"We must recognize that there cannot be, after so much bloodshed, so much carnage, a return to the pre-war status quo," Obama said. 
Putin, however, urged the world to stick with Assad, arguing that his military is the only viable option for defeating the Islamic State. 
"We believe it's a huge mistake to refuse to cooperate with the Syrian authorities, with the government forces, those who are bravely fighting terror face-to-face," Putin said.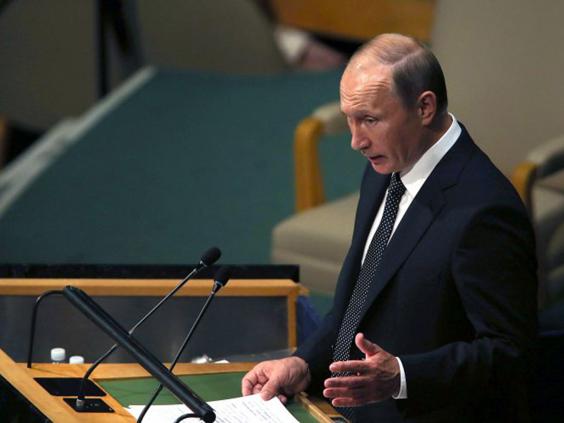 Obama and Putin's disparate views of the grim situation in Syria left little indication of how the two countries might work together to end a conflict that has killed more than 250,000 people and resulted in a flood of refugees. 
Despite Obama's staunch opposition to Assad remaining in power, the U.S. has struggled to energize a political process to push him from power. Russia has long been a major obstacle, shielding Assad from U.N. sanctions and continuing to provide the Syrian government with weapons. 
In fact, Russia has appeared to deepen its support for Assad in recent weeks, sending additional military equipment and troops with the justification that it is helping the government fight the Islamic State. The military buildup has confounded U.S. officials, who spent the summer hoping Russia's patience with Assad was waning and political negotiations could be started. 
While Putin didn't call out the U.S. by name, he criticized efforts to arm "moderate" rebels in Syria, saying Western-backed fighters have later come to join the Islamic State. 
The U.S. has little to show for its efforts to build a moderate Syrian ground force that can effectively fight the extremists. A $500 million Pentagon program was supposed to train and equip more than 5,000 fighters, but has instead successfully produced only a handful. 
Obama and Putin each framed his case for Syria's future in the context of a broader approach to the world, launching veiled criticisms at each other. 
The U.S. president criticized nations that believe "might makes right," and he sought instead to highlight the benefits of diplomacy. He touted his administration's efforts to restore ties with Cuba after a half-century freeze and the completion of a nuclear accord with Iran, noting that Russia was a key partner in negotiating the Iran deal. 
Putin, without naming the United States, accused Washington of trying to enforce its will on others and mulling a possible reform of the U.N., which he suggested stands in the way of the perceived U.S. domination. 
In pictures: People who have compared Putin to Hitler
In pictures: People who have compared Putin to Hitler
1/10 Stephen Fry

The actor and comedian wrote an open letter to David Cameron and the IOC before the Winter Olympics, saying Putin was repeating Hitler's crime of persecuting a minority in his own country."He is making scapegoats of gay people, just as Hitler did Jews. He cannot be allowed to get away with it," he wrote.

Susannah Ireland / The Independent

2/10 Prince Charles

The Prince of Wales allegedly said "and now Putin is doing just about the same as Hitler" during a conversation with museum volunteer Marienne Ferguson, prompting outcry from the Russian Government and the President himself, who called it "unacceptable".

3/10 Hillary Clinton

Amid reports of Russia issuing passports to Ukrainian citizens, the former US Secretary of State compared it to "what Hitler did back in the 30s".

Rex

4/10 Canadian Prime Minister Stephen Harper

On Crimea: "What we've seen is the decision of a major power to effectively invade and occupy a neighbouring country based on some kind of extra-territorial claim of jurisdiction over ethnic minorities. We haven't seen this kind of behaviour since the Second World War."

Reuters

5/10 Mikheil Saakashvili, former President of Georgia

Writing in The Washington Post, Mr Saakashvili said: "In the 1930s, Nazi Germany occupied part of neighbouring Czechoslovakia under the pretext of protecting ethnic Germans. Today, Russia is claiming to protect ethnic Russians… in Crimea or Georgian territories."

AP

6/10 US Senator Lindsey Graham

On the Winter Olympics in Sochi: "If you could go back in time, would you have allowed Adolf Hitler to host the Olympics in Germany? To have the propaganda coup of inviting the world into Nazi Germany and putting on a false front?"

Getty Images

7/10 Canadian Foreign Affairs Minister John Baird

John Baird compared the annexation of Crimea to the Third Reich's 1938 takeover of Sudetenland in the Czech Repuplic. He said: "The Sudetenland had a majority of Germans. That gave Germany no right to do this in the late 1930s."

Getty Images

8/10 Former World Chess Champion Garry Kasparov

Former World Chess Champion Garry Kasparov

Getty Images

9/10 US Senator John McCain

"If Putin is allowed to go into a sovereign nation on behalf of Russian-speaking people, this is the same thing that Hitler did prior to World War II. He went into the Sudetenland on behalf of German-speaking people. Went into Czechoslovakia on behalf of German-speaking people," he said.

AFP

10/10 Dalia Grybauskaite, President of Lithuania

"[Putin] uses nationality as a pretext to conquer territory with military means. That's exactly what Stalin and Hitler did. Such comparisons are spot on," she said.

Getty
"After the end of the Cold War, the single center of domination has emerged in the world," Putin said. "Those who have found themselves on top of that pyramid were tempted to think that since they are so strong and singular, they know what to do better than others and it's unnecessary to pay any attention to the U.N." 
Obama and Putin have long had a strained relationship, with ties deteriorating to post-Cold War lows after Russia annexed Crimea from Ukraine and allegedly backed rebels in Ukraine's east. The U.S. has sought to punish Russia through a barrage of economic sanctions and diplomatic isolation, including no formal bilateral meetings between Obama and Putin. 
U.S. officials said the crisis in Syria, as well as the continued conflict in Ukraine, necessitated an in-person meeting with Putin. In addition to assessing the Russian leader's maneuvers in Syria, officials said Obama would push Putin to fully implement a shaky peace deal for Ukraine, including allowing local elections to go forward next month without interference. 
Obama, in his address to the U.N., said Washington wasn't seeking a return to the Cold War but couldn't stand by while Ukraine's sovereignty was being violated. 
"If that happens without consequences in Ukraine, it could happen to any nation gathered here today," Obama said.
Associated Press
Reuse content