As the Syrian war enters its sixth year, and with more than a quarter of a million people killed, a sense of loss is something that binds together those who have been forced to flee their homeland.
In the Azraq refugee camp in northern Jordan, husbands often discourage their wives from using contraception, partly out of a sense of duty to repopulate the country. On average, 70 babies are born per month in the camp and of the 639,000 Syrian refugees in Jordan, whether in camps or not, 16,000 women and girls are pregnant, according to UNFPA, the UN's Population Fund.
The crude birth rate (CBR) in Azraq is 40 (meaning the number of live births per 1,000 people per  year), compared to 23.5 in Syria in 2012, and 24.5 in Jordan, according to Dr Shible Sahbani, UNFPA's humanitarian co-ordinator in Jordan.
He says this high rate is because Syrian refugees in Jordan largely come from rural areas – Deraa and rural Damascus – where the CBR is already higher than the national average, due to lack of knowledge about modern family planning methods. Also, he says, "After crises, couples in reproductive age generally want to compensate [for] losses that occurred in their families."
This sense of the distant motherland is also reflected in the names of refugee babies. UN staff say they're often called Malsham (all of Damascus), and Yasmin al-Sham (the jasmine of Damascus), and Sham (Damascus) on its own is becoming increasingly popular.
The Azraq camp was designed for 130,000 people when it opened in 2014, but it only houses a fraction of that number – around 32,000. Unlike its sister camp, Zaatari, which has a bustling central thoroughfare of small shops, affectionately referred to as the Champs-Elysées, Azraq is much more desolate. 
Built for an expected population that never arrived – many preferred to stay with family in Zaatari, or elsewhere in Jordan, and some were discouraged by the lack of electricity in the caravans which serve as homes in the camp, officials say – it has an eerie emptiness, coupled with the strict security measures which prevent anyone leaving.
Refugee crisis - in pictures
Refugee crisis - in pictures
1/27

A child looks through the fence at the Moria detention camp for migrants and refugees at the island of Lesbos on May 24, 2016.

AFP/Getty Images

2/27

Ahmad Zarour, 32, from Syria, reacts after his rescue by MOAS (Migrant Offshore Aid Station) while attempting to reach the Greek island of Agathonisi, Dodecanese, southeastern Agean Sea

3/27

Syrian migrants holding life vests gather onto a pebble beach in the Yesil liman district of Canakkale, northwestern Turkey, after being stopped by Turkish police in their attempt to reach the Greek island of Lesbos on 29 January 2016.

Getty Images

4/27

Refugees flash the 'V for victory' sign during a demonstration as they block the Greek-Macedonian border

5/27

Migrants have been braving sub zero temperatures as they cross the border from Macedonia into Serbia.

6/27

A sinking boat is seen behind a Turkish gendarme off the coast of Canakkale's Bademli district on January 30, 2016. At least 33 migrants drowned on January 30 when their boat sank in the Aegean Sea while trying to cross from Turkey to Greece.

Getty Images

7/27

A general view of a shelter for migrants inside a hangar of the former Tempelhof airport in Berlin, Germany

8/27

Refugees protest behind a fence against restrictions limiting passage at the Greek-Macedonian border, near Gevgelija. Since last week, Macedonia has restricted passage to northern Europe to only Syrians, Iraqis and Afghans who are considered war refugees. All other nationalities are deemed economic migrants and told to turn back. Macedonia has finished building a fence on its frontier with Greece becoming the latest country in Europe to build a border barrier aimed at checking the flow of refugees

9/27

A father and his child wait after being caught by Turkish gendarme on 27 January 2016 at Canakkale's Kucukkuyu district

10/27

Migrants make hand signals as they arrive into the southern Spanish port of Malaga on 27 January, 2016 after an inflatable boat carrying 55 Africans, seven of them women and six chidren, was rescued by the Spanish coast guard off the Spanish coast.

11/27

A refugee holds two children as dozens arrive on an overcrowded boat on the Greek island of Lesbos

12/27

A child, covered by emergency blankets, reacts as she arrives, with other refugees and migrants, on the Greek island of Lesbos, At least five migrants including three children, died after four boats sank between Turkey and Greece, as rescue workers searched the sea for dozens more, the Greek coastguard said

13/27

Migrants wait under outside the Moria registration camp on the Lesbos. Over 400,000 people have landed on Greek islands from neighbouring Turkey since the beginning of the year

14/27

The bodies of Christian refugees are buried separately from Muslim refugees at the Agios Panteleimonas cemetery in Mytilene, Lesbos

15/27

Macedonian police officers control a crowd of refugees as they prepare to enter a camp after crossing the Greek border into Macedonia near Gevgelija

Getty Images

16/27

A refugee tries to force the entry to a camp as Macedonian police officers control a crowd after crossing the Greek border into Macedonia near Gevgelija

Getty Images

17/27

Refugees are seen aboard a Turkish fishing boat as they arrive on the Greek island of Lesbos after crossing a part of the Aegean Sea from the Turkish coast to Lesbos

Reuters

18/27

An elderly woman sings a lullaby to baby on a beach after arriving with other refugees on the Greek island of Lesbos after crossing the Aegean sea from Turkey

Getty Images

19/27

A man collapses as refugees make land from an overloaded rubber dinghy after crossing the Aegean see from Turkey, at the island of Lesbos

EPA

20/27

A girl reacts as refugees arrive by boat on the Greek island of Lesbos after crossing the Aegean sea from Turkey

Getty Images

21/27

Refugees make a show of hands as they queue after crossing the Greek border into Macedonia near Gevgelija

Getty Images

22/27

People help a wheelchair user board a train with others, heading towards Serbia, at the transit camp for refugees near the southern Macedonian town of Gevgelija

AP

23/27

Refugees board a train, after crossing the Greek-Macedonian border, near Gevgelija. Macedonia is a key transit country in the Balkans migration route into the EU, with thousands of asylum seekers - many of them from Syria, Afghanistan, Iraq and Somalia - entering the country every day

Getty Images

24/27

An aerial picture shows the "New Jungle" refugee camp where some 3,500 people live while they attempt to enter Britain, near the port of Calais, northern France

Getty Images

25/27

A Syrian girl reacts as she helped by a volunteer upon her arrival from Turkey on the Greek island of Lesbos, after having crossed the Aegean Sea

EPA

26/27

Refugees arrive by boat on the Greek island of Lesbos after crossing the Aegean sea from Turkey

Getty Images

27/27

Beds ready for use for migrants and refugees are prepared at a processing center on January 27, 2016 in Passau, Germany. The flow of migrants arriving in Passau has dropped to between 500 and 1,000 per day, down significantly from last November, when in the same region up to 6,000 migrants were arriving daily.
Brand new basketball courts lie seemingly untouched. Of the six "villages" which make up the camp, only two are lived in, and they lie unconnected from one another, with desert separating them.
At one of the two "village" primary health care centres, funded by UNFPA and staffed by the aid group, the International Medical Corps, Dr Wissam Jamah admits that family planning is not common.
Although they offer contraceptive services, Dr Jamah says that women do not tend to seek it out. "We have to take the initiative, we cannot depend on them to come," he says, adding that having too many babies too frequently is dangerous for any woman. Many, he says, are worried contraception is haram – forbidden – in Islam. "I tell them that all the methods are reversible, and that it is allowed in their religion and that they don't have to use it forever." 
He also tries to stress the possible benefits, rather than highlighting the negative aspects of not using contraception. "I tell them how the Pill, for example, protects against ovarian and endometrial cancer, and that condoms protect against sexually transmitted infections," he says.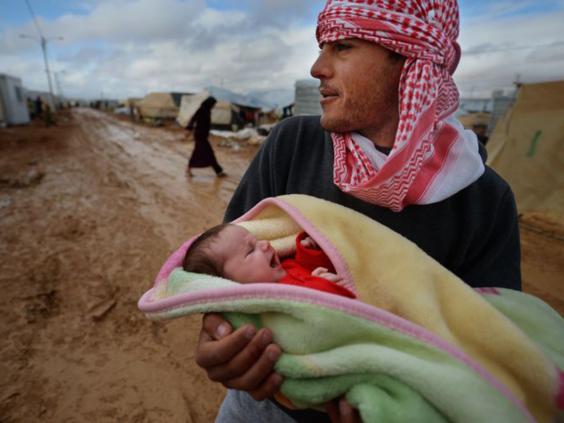 According to Lina Hamidi, the manager of one of the clinics, despite the initial hesitancy, women are more keen on contraceptives than the men. "It's very common that the woman wants to take some form of contraception, but then they often encounter reluctance from their husbands."
She recalled a recent example when a woman came to have an intrauterine device fitted, but returned the next day to have it removed after her husband found out and was unhappy with the situation.
"The husbands say that a lot of their family have been killed in Syria. So they want to replace them," Ms Hamidi says.
But the support networks are often simply not there: "Many [of the young mothers] have left their own mothers in Syria. They are not trained to look after all those children on their own. They are not taking care of how to feed and clothe their babies."
Ms Hamidi says that men and women are sometimes just not talking to each other about these reproductive issues. "Relations between husbands and wives are not transparent," she says, explaining that a woman might come in for family planning advice, "and then he comes here and asks us what's going on. It is very complicated".
Further east, in the Jordan Valley, women gather for antenatal care and various women's services at a Comprehensive Women's Centre and Clinic in Deir Alla, supported by UNFPA.
Kawatr, who did not want to give her full name, is 31 and has five children. Originally from Hama in Syria, Kawatr came to Jordan three years ago, and gave birth to her youngest child, Taybeh, here. Her eldest is 14."It was more difficult to give birth here. Both physically and emotionally," she says.
Her children mean everything to her, but she adds, "I don't want any more right now, because of the situation we are in."
However, she admits she does not practise family planning.  "My husband still wants kids though, so if we have another it is OK."
Another woman, Nadia, 35, is enthusiastic about the hormonal injection she receives free of charge at the centre. Already a mother of four, she says that she didn't know anything about family planning back in Syria: "People became pregnant over and over again," she says. "We didn't know how to stop it from happening. 
"I would like to have more kids but I don't want them to be victims, so I decided that, to be responsible, I can't have more now."
Reuse content