The Turkish Prime Minister, Recep Tayyip Erdogan, was declared the winner in his country's first presidential election on Sunday, as voters backed his dream of a "new Turkey" that his opponents say will result in an increasingly authoritarian nation.
An unofficial vote count indicated that Mr Erdogan would claim victory in the first round, avoiding the need for a run-off ballot. He received about 52 per cent of the votes cast while his main rival, Ekmeleddin Ihsanoglu, got about 38 per cent and the third candidate, Selahattin Demirtas, won just under 10 per cent.
"It is understood that Recep Tayyip Erdogan has won an absolute majority of the votes," the election commission head, Sadi Guven, said in Ankara. The official results will be announced today.
Mr Ihsanoglu conceded defeat in a brief speech in Istanbul.
"I hope that the result is beneficial for democracy in Turkey," he said. "I congratulate the Prime Minister and wish him success."
Victory for Mr Erdogan seals his place in history after more than a decade as Prime Minister in which Turkey has emerged as a regional economic power.
In a tea house in the working-class Istanbul district of Tophane, men watching election coverage on television praised Mr Erdogan as a pious man of the people who had boosted Turkey's status both economically and on the international stage. "Erdogan is on the side of the underdog. He is the defender against injustice. While the Arab world was silent, he spoke out against Israel on Gaza," said Murat, 42, a jeweller.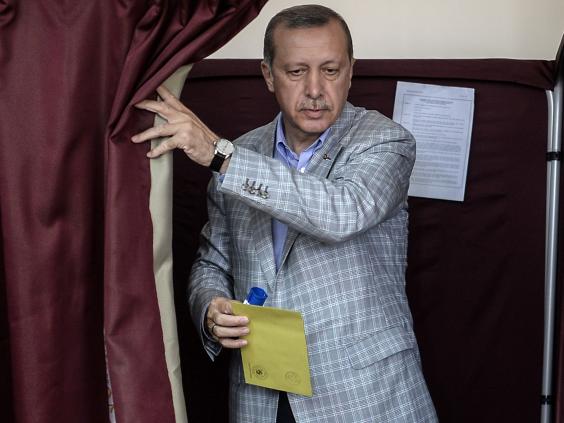 Parliament has in the past chosen the head of state but this was changed under a law pushed through by Mr Erdogan's government. He has set his sights on serving two presidential terms, keeping him in power past 2023.
A rapturous crowd cheered and chanted "Turkey is proud of you" and "President Erdogan" as he emerged from a school where he voted with his wife and children on the Asian side of Istanbul. In his final campaign speech in the conservative stronghold of Konya on Saturday, he said the election would herald a "new Turkey" and "a strong Turkey is rising again from the ashes".
The Prime Minister has promised to exercise the full powers granted to him by current laws, unlike predecessors who played a mainly ceremonial role. But he also plans to change the constitution to establish a fully executive presidency. The current constitution would enable him to chair cabinet meetings and appoint the premier and members of top judicial bodies including the constitutional court and supreme council of judges.
Mr Erdogan's ruling AK Party scored a clear victory in local elections in March but he had been having the toughest year of his time in power.
He was shaken by nationwide anti-government protests last summer, and months later, Mr Erdogan and his inner circle were targeted by a corruption investigation and a power struggle with his former ally the US-based cleric Fethullah Gulen.
He accuses Mr Gulen of seeking to overthrow him and has pledged as president to continue purging institutions such as the police and judiciary where Mr Gulen is believed to wield influence.
Despite the challenges Mr Erdogan has faced, there  was an air of resignation among many voters who oppose him.
"I am almost depressed. I worry for my country because I increasingly feel like an alien here. The Prime Minister is talking about a Turkey that I don't recognise," said Erkan Sonmez, 43, who works in an import-export business.
"I can no longer speak to my neighbours who vote for the AK Party – does that sound like a peaceful community to you?"
REUTERS; AP
Reuse content