Gunmen have opened fire on police officers in the Saudi village where Shia cleric Nimr al-Nimr lived before his execution sparked regional outrage on Saturday.
A civilian was killed and an eight-year-old child injured when police came under "heavy fire" in the eastern village of Awamiya, according to the state-run Saudi Press Agency.
Security forces are now scouring the oil-rich Eastern province's Qatif district hunting for the perpetrators of what they called a "terrorist act", a local police spokesman was quoted as saying.
The dead man was identified locally as Ali Imran al-Dawood, while the child who was taken to a nearby hospital for treatment on a gunshot wound was named as Mohammed Jafar al-Thifa.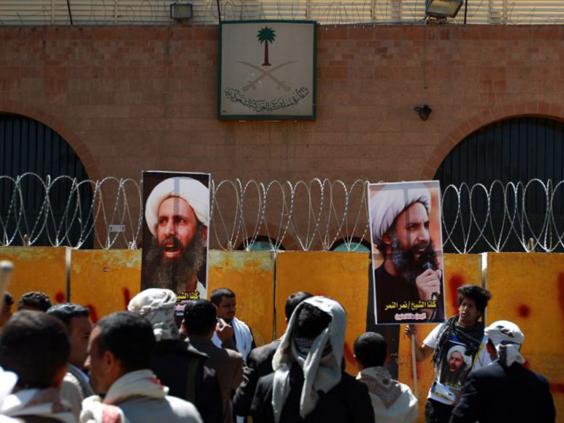 The execution of 56-year-old al-Nimr has fuelled tensions in the Middle East, with Shiite-majority countries expressing condemnation and the kingdom's diplomatic missions in Shia-dominated Iran coming under attack.
The assaults on the diplomatic missions spurred the Sunni-ruled kingdom to last night sever ties with Shiite-dominated Iran, its long-time regional rival, and demand all Iranian diplomatic personnel leave the country within 48 hours.
In recent years the two countries have been divided over the war in Syria, where Iran is backing the Alawite Assad regime, and over the conflict in Yemen where a Saudi-led coalition is battling Iran-back Shia rebels.
Qatif has been the focal point of unrest among Saudi Arabia's Shia minority since protests in early 2011 calling for an end to discrimination against the minority sect and for democratic reforms in the Sunni monarchy. Residents of Qatif have staged angry protests since al-Nimr's execution on Saturday, denouncing the ruling al-Saud dynasty.
Al-Nimr was killed along with 46 other accused terrorists, in a mass execution that took place behind closed doors.
He was a constant critic of the Saudi and Bahraini royal families, and was popular amongst Saudi Arabia's Shia minority. Despite calls for clemency from Iran and the United Nations, Saudi Arabia claimed he was attempting to stir up dissent in the country through his calls for the introduction of democracy and elections.
His body was not given to his family, and was buried along with those of the other executed men shortly after the execution.
Reuse content