Hamas has championed the unveiling of a "locally-made tank" in front of thousands of people in Gaza, but the supposed weapon has been dismissed as nothing more than a parade float after photos revealed an unusual design.
At first glance, the khaki vehicle trundling through crowds mourning the death of seven militants from the Al-Qassam Brigades appeared to be the genuine article, but a closer look revealed something very wrong.
While real tanks move on moving metal belts rotated using wheels, Hamas' vehicle appeared to be mounted on normal tyres concealed behind fake treads.
Hamas leaders paraded the vehicle in Gaza City on Sunday evening during a commemoration ceremony aired on the group's Al-Aqsa television station.
"The Tufah neighbourhood (in Gaza) has a long story with enemy tanks, and therefore, we are preparing ourselves for the day we shall meet those tanks," a Hamas leader announced to the crowds, according to a translation by the Middle East Media Research Institute (MEMRI).  
"Let the locally-produced vehicle move forward."
Footage showed flags positioned on the top of the vehicle alongside militants wearing Hamas uniforms and guns, with the "tank's" turret being moved from side to side, and the "gun" jolted up and down.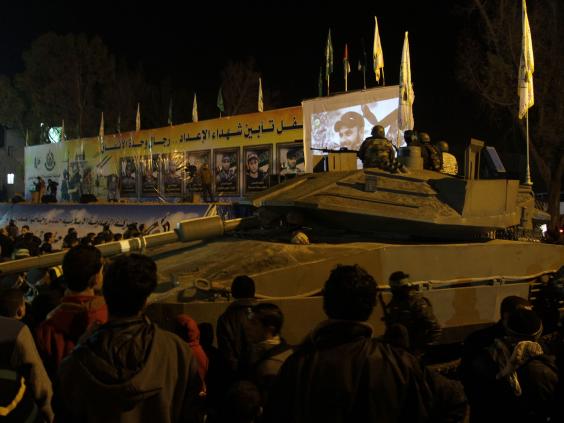 Ofir Gendelman, the official spokesperson for Israeli Prime Minister Benjamin Netanyahu, was among the first to start the mockery on Twitter.
"Hamas paraded yesterday a "captured, rebuilt Israeli tank'," he wrote. "FYI, tanks aren't made of wood and don't run on wheels."
As photos of the tank were shared on Twitter, people started making jokes at Hamas' expense:
Hamas paraded yesterday a "captured, rebuilt Israeli tank". FYI, tanks aren't made of wood and don't run on wheels. pic.twitter.com/cP1e8KFjAJ

— Ofir Gendelman (@ofirgendelman) February 1, 2016
Hamas built a tank, complete with Hebrew letters & treads that don't touch the floor cuz its really a parade float pic.twitter.com/NyVJLI9kTi

— Joshua Davidovich (@JMDavido) January 31, 2016
I'm not that worried about Hamas's tank. https://t.co/bUiqt7vGLX

— Judah Ari Gross (@JudahAriGross) January 31, 2016
Hamas proudly shows off a tank, turns out to just be a car pic.twitter.com/FwqhOSOJrO

— Gautam Trivedi (@Gotham3) February 2, 2016
@ofirgendelman @KurtSchlichter Hamas tank in development stage pic.twitter.com/r6r6QuOfDs

— Swamp Fox (@greenkayak73) February 3, 2016
@ofirgendelman they captured this one today pic.twitter.com/v2oOLXQkBH

— Dr. Kranky (@WileEDude) February 2, 2016
The Al-Qassam Brigades media wing claimed tens of thousands of Palestinians massed in Gaza city for the funeral of seven militants who died when a tunnel collapsed because of heavy rain near the Israeli border.
"The Mujahedin martyrs were repairing an old tunnel, from which a number of operations were executed in the (2014) war," a statement said.
"The whole world will witness the deeds of their tunnels against the (Israeli) occupier should they dare (to attack) our people and our land," it added.
The Israeli–Palestinian conflict intensifies
The Israeli–Palestinian conflict intensifies
1/10

Medics evacuate a wounded man from the scene of an attack in Jerusalem. A Palestinian rammed a vehicle into a bus stop then got out and started stabbing people before he was shot dead

AP

2/10

Israeli ZAKA emergency response members carry the body of an Israeli at the scene of a shooting attack in Jerusalem. A pair of Palestinian men boarded a bus in Jerusalem and began shooting and stabbing passengers, while another assailant rammed a car into a bus station before stabbing bystanders, in near-simultaneous attacks that escalated a month long wave of violence

AP

3/10

Getty Images

4/10

Palestinians throw molotov cocktail during clashes with Israeli troops near Ramallah, West Bank. Recent days have seen a series of stabbing attacks in Israel and the West Bank that have wounded several Israelis

AP

5/10

Women cry during the funeral of Palestinian teenager Ahmad Sharaka, 13, who was shot dead by Israeli forces during clashes at a checkpoint near Ramallah, at the family house in the Palestinian West Bank refugee camp of Jalazoun, Ramallah

AP

6/10

A wounded Palestinian boy and his father hold hands at a hospital after their house was brought down by an Israeli air strike in Gaza

Reuters

7/10

Palestinians look on after a protester is shot by Israelis soldiers during clashes at the Howara checkpoint near the West Bank city of Nablus

EPA

8/10

A lawyer wearing his official robes kicks a tear gas canister back toward Israeli soldiers during a demonstration by scores of Palestinian lawyers called for by the Palestinian Bar Association in solidarity with protesters at the Al-Aqsa mosque compound in Jerusalem's Old City, near Ramallah, West Bank

AP

9/10

Undercover Israeli soldiers detain a Palestinian in Ramallah

Reuters

10/10

Palestinian youth burn tyres during clashes with Israeli soldiers close to the Jewish settlement of Bet El, in the West Bank city of Ramallah, after Israel barred Palestinians from Jerusalem's Old City as tensions mounted following attacks that killed two Israelis and wounded a child
Hamas has controlled Gaza since 2007, when it seized power after a brief civil war with the rival Fatah movement. 
Its armed wing is one of several militant groups that operate in the territory, which is blockaded by Israel and Egypt, and uses tunnels to launch surprise attacks on Israeli forces.
Hamas, an Islamist organisation and political party, is not designated as a terrorist group by the UK as a whole but the Al-Qassam Brigades have been on the country's list of proscribed organisations since 2001.
Its followers have been blamed for some of the scores of stabbing attacks launched against Israelis in a wave of violence that started in September.
Reuse content