Iran flew an unarmed surveillance drone over a US aircraft carrier and took "precise" photos as part of an ongoing naval drill in the Persian Gulf, state TV reported. 
Images purporting to be taken by the drone showing an unnamed US warship were broadcast on TV.
The US navy confirmed an Iranian drone flew near the French carrier Charles De Gaulle and "directly over" the American carrier USS Harry Truman on 12 January, while the vessels were in international waters in the Persian Gulf.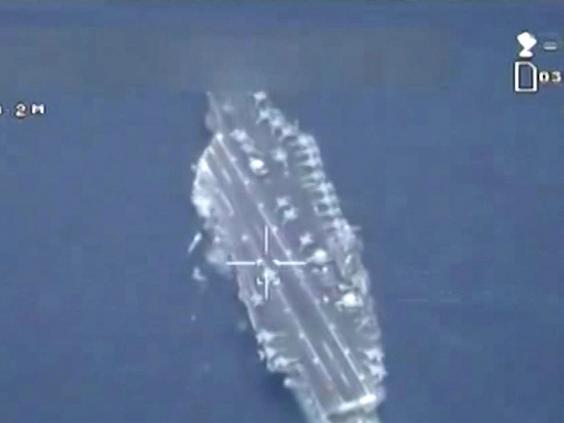 Commander Kevin Stephens, a spokesman for the US navy's 5th fleet, said the navy did not fire on the drone because it was unarmed and posed "no danger to the ship" as the carrier was not conducting flight operations.
Commander Stephens called the drone's flight "abnormal and unprofessional".
He added that the US navy was "not in a position to verify the authenticity of the video as there are countless examples of similar footage to be found on the internet."
Admiral Habibollah Sayyari, the commander of the Islamic Republic's navy, called the drone flight "a sign of bravery".
He told state TV it "allowed our men to get so close to the warship and shoot such a beautiful and accurate footage of the combat units of the foreign forces".
State TV and the state-run IRNA news agency said an Iranian light submarine also participated in the surveillance operation. 
The reported drone surveillance comes after Iran's navy began naval drills over a 1.16-million-square-mile area, including parts of the Strait of Hormuz, the Gulf of Oman and the Indian Ocean. 
Iran said on Wednesday its navy warned a US warship to leave an area of the naval drill - the US navy later denied its operations were affected by the drill.
Tensions remain high after a series of naval incidents between Iran and the US in the greater Persian Gulf, including test rocket fire by Iran near US warships and its brief capture of American sailors who drifted into its territorial waters.
Additional reporting by agencies
Reuse content