Iraq's Ministry of Communications has asked internet service providers to "shut down the internet totally" in five of the nation's 19 provinces and block access to VPN and social networks including Facebook and Twitter in the rest.
The orders made in a letter sent to ISPs targets the provinces that have slipped to militant organisation Isis or the Kurds, with Ninawa, Anbar, Saleh El Din, Kirkuk, Diyalah being the worst hit.
The internet is to be completely shut off in these governorates, while access to sites Facebook, YouTube, Twitter, Viber, Skype, Tango, Wechat, Instagram and didi will be terminated country-wide.
An unofficial translation of the letter by Social Media Exchange director Mohamad Najem, who campaigns for internet freedom in the Middle East, appears below the image: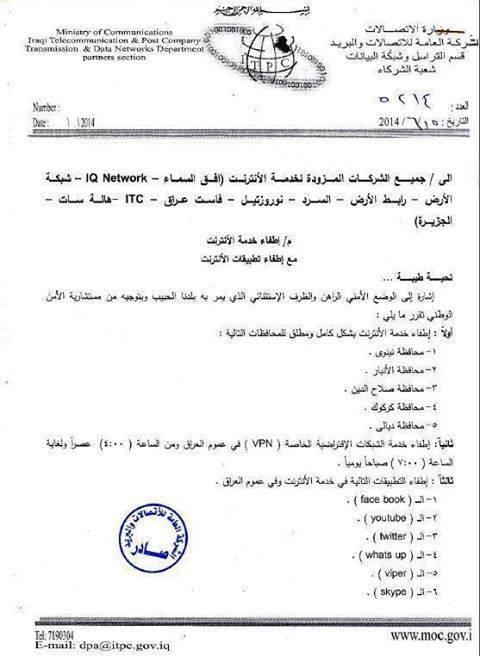 'To all Internet Service Providers (Oufok Al Samaa, IQ Network, Earth Network, Earthlink, AlSared, NouroZtel, FastIraq, ITC, HalaSat, AlJazeera):
Following the current security incidents and the exceptional situation that Iraq is having, and instructed by the Chancellery of the National Security, it is decided the below:
1- Shut down the Internet totally on these Provinces: Ninawa, Anbar, Saleh El Din, Kirkuk, Diyalah.
2- Block all access to VPN in all Iraq from 4 pm until 7 am on daily basis
3- Block all access to these websites in all Iraq: Facebook, YouTube, Twitter, Viber, Skype. In addition to other applications: Tango, Wechat, Instagram, didi
4- Block all access to Internet from all these areas: AlAdel, AlGhazlieh, Abu Greib, AlRadwanieh, AlMahmoudieh, AlLuteifiah, Falouja, Jarf Sakher, Al Taji, Al Youssfieh, Al Missyeb)
There will be a special security committee specialized to to check that you are following these instructions. The companies that won't obey will be threatening the security of the country.
Saleh Hassan Ali
Acting General Manager'
The shutdown is designed to prevent Isis from plotting amid escalating combat in the country. The organisation has its sights set on Baghdad, having already claimed the second largest city in Iraq, reportedly looting $420 million of central bank money and seizing military equipment.
A Facebook spokesperson told the BBC the mass block was "a matter of concern".