Australian fighter jets will bomb Isis targets in northern Iraq within days after the Government approved air strikes as part of the US-led military coalition.
Six F/A-18F Super Hornet jets add to the country's contribution of air force planes for surveillance, communication and refuelling.
Tony Abbott's announcement of military involvement on Friday had been widely anticipated since the Super Hornets were deployed to a base in the United Arab Emirates two weeks ago.
It followed Barack Obama's request for support in the fight against the extremist militants who are waging a bloody war in Iraq and Syria to establish a hardline Islamic caliphate.
Mr Abbott, the Australian Prime Minister, warned that action in Iraq could be "quite lengthy" and certainly in "months rather than weeks".
"Yes, it is a combat deployment, but it is an essentially humanitarian mission to protect the people of Iraq and ultimately the people of Australia from the murderous rage of the Isil [Isis] death cult," he added.
"Isil must be disrupted and degraded at home and abroad, so it is absolutely in Australia's national interests that this mission goes ahead."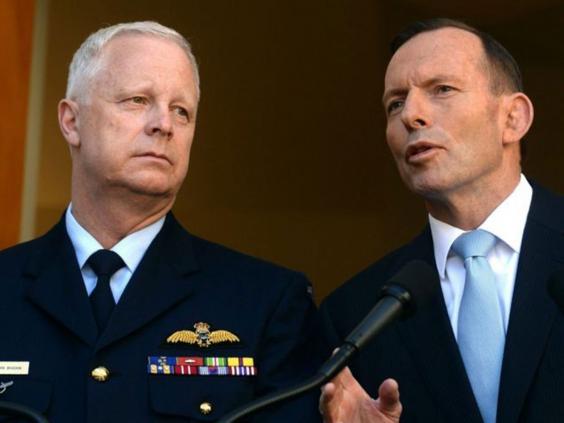 Despite his rhetoric, echoing President Obama's vow to "degrade and destroy" the terrorists, he admitted total victory over Isis would be difficult to achieve.
"If we could degrade them to the point where they no longer existed, that would be obviously the best possible result," he said. "It is very difficult to eliminate an idea."
A poll of almost 7,000 people by the Sydney Morning Herald found a narrow margin of support for the intervention among Australians.
About 49 per cent of voters backed air strikes, while 42 per cent were against it and the remainder were unsure.
The news came hours after David Cameron announced that two more British Tornadoes will be deployed in Cyprus to join missions against Isis in Iraq, bringing the total to eight.
The Prime Minister said the additional fighter jets would "keep up the tempo" of air strikes and save lives in Iraq.
Australia's Air Chief Marshal, Mark Binskin, said the air strikes would start "over the coming days" but did not give specifics.
The intervention was approved by Australia's National Security Committee following an official request from the Iraqi Government overnight.
Two Australian Air Force planes - an E-7A Wedgetail surveillance and communications jet and a KC-30A refuelling plane - joined operations over Iraq from the al-Minhad Air Base outside Dubai for the first time on Wednesday to support strikes by other nations.
Britain at War: Opinions on the ground
Britain at War: Opinions on the ground
1/8 CAROLINE LUCAS Green Party MP for Brighton Pavillion

"Whatever we decide people will die. Be it directly at the hands of ISIL, whose barbarity seems to know no limits. Or when they are hit by bombs dropped by the US, France or the UK."

Teri Pengilley

2/8 DR ANDREW WHITE Chaplain of St George's Anglican Church in Baghdad

"Isis is an evil, evil force – the only way to control these bigots is to further put at risk Iraqi people."

Susannah Ireland

3/8 DR NAFEEZ AHMED Executive director of the Institute for Policy Research & Development

"We might win some short term battles but we will create more grievances that will empower the IS cause in the long run."

4/8 DAVID DAVIS Former shadow Home Secretary

"The moral case is clear, the practical case is not - what do we do when we stop bombing?"

Getty

5/8 GENERAL JAMES CONWAY Retired US Marine

"I don't think President Obama's plan has a snowball's chance in hell of succeeding."

AFP

6/8 NADIM ZAHAWI Baghdad born Conservative MP

"We need to learn that we can't do nation-building, it has to be up to the local community to decide who they want to govern themselves."

Susannah Ireland

7/8 RICHARD WILLIAMS Former commanding officer of the SAS

"Friday's debate lacked any meaningful reference to the political solution that must be considered in Iraq if these bombs are to mean anything."

8/8 CHRIS DOYLE Director of Council for Arab-British Understanding

"The bigger issue is to actually help Syria, but if you just want to defeat IS then you lose sight of that overall goal."
The number of Super Hornets could soon be increased to eight, joining a 200-strong ground force, including special forces, and 400 Air Force personnel from Australia.
Mr Abbott has restricted combat operations and has ruled out Australian troops fighting on the ground.
Australia is one of dozens of countries from Europe, the Middle East and North America that joined the US-led military coalition fighting Isis.
Reuse content