Kurds vented their fury at the Turkish government for standing by as Isis fighters looked poised to take the Syrian Kurdish town of Kobani in view of the Turkish border and the watching Turkish army.
At least 12 people died and dozens of people were wounded in demonstrations across Turkey. Police fired tear gas to disperse protesters who burnt cars and tyres as they took to the streets mainly in Turkey's predominantly Kurdish eastern and southeastern provinces, although clashes erupted in the nation's biggest city, Istanbul, and the capital Ankara as well.
The likely fall of Kobani may mark an irrevocable breach between Turks and Kurds in Turkey, Syria and Iraq. Many of the 30 million Kurds in the region believe that, if Kobani falls, it will be because Turkey refused to help its defenders as they faced repeated Isis assaults and cut them off from reinforcements and fresh supplies of weapons and ammunition. "We are besieged by Turkey, it is not something new," said Ismet Sheikh Hassan, the Kurdish Defence Chief for the Kobani region.
The already faltering peace process between the Turkish government and its Kurdish minority could be a long-term casualty of Kobani, particularly if its capture is accompanied by ritual massacres of surviving defenders by Isis.
The capture of Kobani by Isis may be a turning point in the present crisis in Iraq and Syria because it marks the failure of the US plan to contain Isis using air power alone. President Obama promised less than a month ago "to degrade and destroy" the fundamentalists with air power, but Isis is still expanding and winning victories.
Anti-Isis demonstrations across Europe
Anti-Isis demonstrations across Europe
1/10 Anti-Isis protests in Ankara, Turkey

A person holds a flag as police uses tear gas and water cannon in Ankara against demonstrators who protest against attacks launched by Islamic State insurgents targeting the Syrian city of Kobani and lack of action by the government

2/10 Anti-Isis protests in Diyarbaki, Turkey

Protesters clashing with riot police during a demonstration against Isis in Diyarbakir, southeast of Turkey

3/10 Anti-Isis protests in Diyarbaki, Turkey

Kurdish protesters in the southeastern city of Diyarbakir

Getty Images

4/10 Anti-Isis protests in Diyarbaki, Turkey

Kurdish protesters clash with Turkish riot policemen in the city of Diyarbakir

Getty Images

5/10 Anti-Isis protests in Brussels, Belgium

Riot police block Kurdish protesters as they gather in front of the entrance of the European Parliament in Brussels

AP

6/10 Anti-Isis protests in Berlin, Germany

Demonstrators, including one holding a sign that reads: "Save the Kurds of Kobane from IS," and many of them members of Berlin's large Kurdish community, march to protest against the ongoing violence by militias of the Isis in Iraq and Syria in Berlin

7/10 Anti-Isis protests in Hamburg, Germany

Kurds protest against Isis militants advancing through the Syrian border city of Kobani, in Hamburg, Germany

8/10 Anti-Isis protests in London, UK

Kurdish protesters gather at Heathrow Airport as anti-Isis demonstrations take place across Europe

Lisa Campbell

9/10 Anti-Isis protests in Paris, France

Kurds living in France demonstrate in Paris

10/10 Anti-Isis protests in Marseille, France

Kurdish people hold flag in Marseille during a protest against the threat of a "Syrian Kurdish population's genocide" by Isis militants and to support the population of the Syrian Kurdish town of Ain al-Arab, known as Kobani
Turkish President Recep Tayyip Erdogan made very clear where he stood during a visit to a refugee camp at Gazantep, saying "Kobani is about to fall". He explained that the Turkish price for rescuing Kobani and acting against Isis would have been three measures aimed, not at Isis, but at displacing President Bashar al-Assad. Mr Erdogan said: "We asked for three things: one, for a no-fly zone to be created; two for a secure zone parallel to the region to be declared; and for the moderate opposition in Syria and Iraq to be trained and equipped." In effect, he was saying that given a choice between Isis and Assad, he would chose the former.
In a further sign of the Turkish government's lack of sympathy for the Syrian Kurds, some 200 of whom fled from Kobani into Turkey this week and were detained and questioned about their links with the YPG, the Kurdish militia defending the town. Turkey is deeply suspicious of the YPG and its political counterpart the PYD because they are the Syrian branch of the Kurdistan Workers' Party (PKK) which has fought for Kurdish self-rule in Turkey since 1984.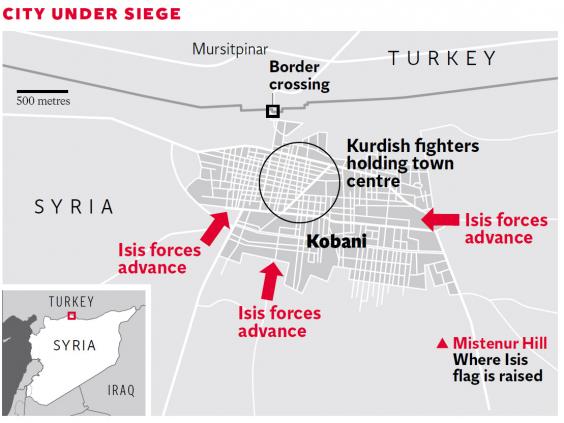 The refusal by the Turkish government to help the Syrian Kurds in their hour of need immediately provoked demonstrations by Kurds across Turkey. There have been protests, often violent, in the Kurdish south-east and wherever there are Kurdish minorities, such as Istanbul, Ankara, Izmir and Bursa. In Varto, a man was killed and in Istanbul a prominent human rights lawyer, Tamer Dogan, was shot in the head. His friends say he may have been targeted. Smoke was rising over many towns where demonstrators had lit fires in the streets and police used tear gas and water cannon.
Turks may react angrily to reports that a bust of Ataturk was burned by a crowd in Van province. The General Staff in Ankara put out a report that the Turkish flag had also been set alight. An office of the Kurdish political party, the HDP, was surrounded in one Istanbul district by a crowd shouting 'Allahu Akhbar'.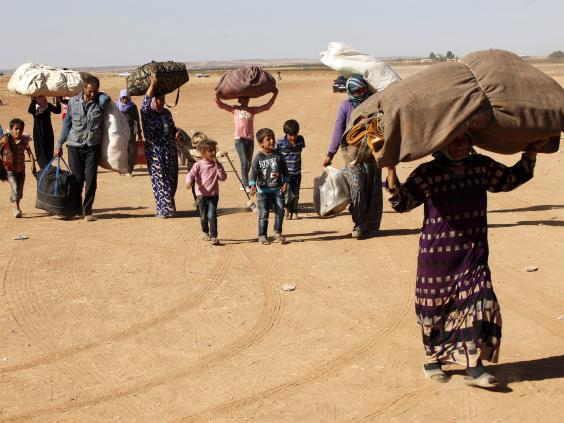 One observer in Turkey writes: "These events could turn what began as a general humanitarian protest at the abandonment of the besieged in Kobani into a headlong collision between the Kurds and the Turks."
The fall of Kobani will give Isis control of a large part of the 510-mile Syrian frontier with Turkey. This will be a further incentive for Turkey to establish a buffer or 'safe' zone on the Syrian side of the border, though this would shift Turkey towards becoming a military participant in the civil war. It plans to use a Turkish-controlled zone to train anti-government fighters and to house Syrian refugees.
The Turks were not alone in abandoning Kobani to the Islamic militants. The US was careful not have any direct liaison with Kurdish fighters on the ground though local intelligence should have made their air strikes more effective and might have stopped the Isis advance. Over the past 24 hours, these strikes have increased in number but may come too late as Isis militants fight street to street.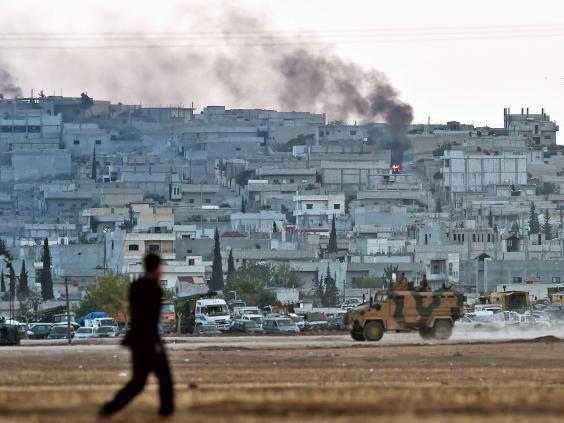 The US campaign against Isis is weakened not so much by lack 'boots on the ground', but by seeking to hold at arm's-length those who are actually fighting Isis while embracing those such as Saudi Arabia and Turkey who are not. There is a similar situation in Iraq, where most of the fighting against Isis is by the Shia militias from which the US keeps its distance.
As Isis closes in on Kobani, the city's defenders have been abandoned. They may have hoped for assistance from the Syrian government, with whom they have a truce, but there are no reports of Syrian aircraft in action at Kobani though bombing Isis there would have been keeping with Mr Assad's claim to be defending Syrians from Isis.
Kobani: A brief history
Kobani started out in 1912 as a stop on the Konya-Baghdad railway and was populated by Armenian refugees fleeing the forces of the Ottoman Empire in 1915. The name "Kobani" may be a corruption of the word "company", although in Arabic the town is called Ayn al-Arab or "the spring of the Arabs".
Kurds and other groups also moved into the town, which was developed under French rule in Syria after the end of the Ottoman Empire. Most of the population was Kurdish but also included Turkmen, Arabs and  Armenians. The 2004 census gave Kobani's population as 45,000, but the outlying districts were home to hundreds of thousands of people in villages. In 2012, Kurdish People's Protection Units took over control of the  own and other Kurdish  areas from the Damascus government, in what was seen as a deal between  Kurds and the Assad regime. As the war continued, Kobani became a haven for those escaping the fighting. Some reports say 160,000 people have left Kobani for Turkey recently.
Reuse content