Fearing the escape of the spoils of their war, the jihadists of Isis have substantially increased the security surrounding thousands of Yazidi slaves after a series of dramatic rescue operations striking at the heart of the "caliphate". 
Smugglers, government officials, lawyers and advocates all say that it will now be much harder to rescue the estimated 3,500 Yazidi women and children still trapped in Isis-held territory. Another potentially critical problem is the financial crisis engulfing Iraqi Kurdistan, which means less money for costly operations to spirit Yazidis through smuggling routes to Kurdish-controlled territory.
The Kurdistan Regional Government (KRG), which is suffering partly because of the drop in the global oil price, was providing funds for rescue missions but that money is no longer available. Instead, Yazidi families are trying to borrow cash to cover the costs of Isis ransom demands and smugglers' fees for safe houses and transport. So far, more than 2,000 Yazidi women and children have been rescued from Isis: by ransom, escape or release. 
The captives were taken in 2014 as Isis seized control of Sinjar in north-western Iraq, home to hundreds of thousands of members of the minority religion Isis labelled infidels. Isis abducted younger women and children and murdered men and older women. Those who could not flee were killed and buried in mass graves. 
Layla (not her real name), 25, was rescued from Syria with the help of a smuggler network at the end of last year. Her family paid $25,000 (£17,500) to her Saudi Isis captor for her release, and then smugglers took her across the frontline and back into Iraq. Now living in a camp in Iraqi Kurdistan, she spoke to The Independent as her children climbed over her in their small tent. After her capture in August 2014, she was transferred between prisons in Mosul with her children. She was taken to a school in Raqqa, Syria, and then sent to a slave market in the cellar of a house in Deir ez-Zour. 
"They put all females in line and Isis fighters came and if they liked one they would take her for themselves," she said. There were more than 40 women and girls in the market. Some were old and some were as young as eight or nine, Layla said. The prices depended on age and beauty, the most expensive costing $6,000. Layla was sold to an Iraqi fighter who locked her in his house and beat her. He then sold her to the Saudi fighter. She said: "We hoped the air strikes would come and hit us and kill us and maybe we would be more comfortable."
According to Dr Nuri Osman, an official with the KRG who has been involved in the rescue of hostages, Isis is responding to efforts to free Yazidis by hiding them more carefully, moving them from place to place and assigning guards to watch them. The operations were also getting harder because of a lack of cash, he said. "Rescue operations cost us money, mainly for transportation and for safe places to keep them until we take them to Kurdistan. Usually we use smugglers and they ask for money because they are at risk among Isis. If they capture [the smugglers] they will kill them." 
Abu Shujaa, the nickname of a smuggler working to rescue girls from Syria, said girls in Mosul and Raqqa had to register at a neighbourhood security office and if they tried to escape they would be jailed for two years. This process was in place before, but now when he tried to call the girls, Isis was monitoring the phone network to try to find out who was calling them. The girls were encouraged to call the smugglers so they would be caught, he said. He added that the Islamists had become stricter, in part because of their "shame" after the rescue of 100 girls from Raqqa, the de facto Isis capital in Syria, earlier this year. 
Abu Shujaa said he has a network of 30 contacts working with him, and that 14 people from his network had been found, tortured and killed. He has also received threats from Isis, which contacted him via WhatsApp and Facebook, threatening to kill his family. "They said, 'We know your place and how many kids you have because we have people in Kurdistan'." His family are now in Europe.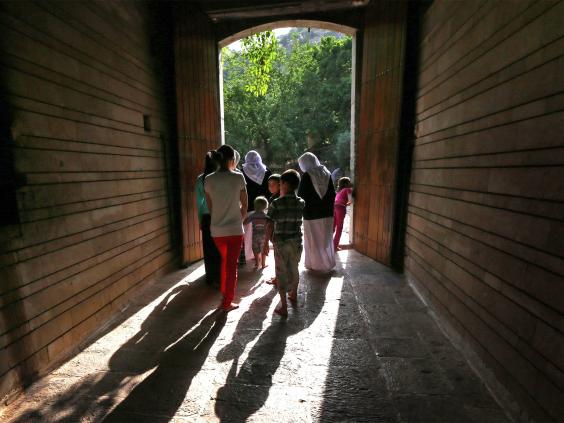 Khalil Haji, another smuggler and former lawyer who runs a network in Iraq, told The Independent that the security measures in Syria had been increased. "In Iraq it is OK, we can rescue them, but in our office there is no money. The families don't have the money and the government doesn't have the money." Smugglers report that the majority of the Yazidi hostages are now being held in Syria. 
Matthew Barber, the executive director of Yazda, a Yazidi rights NGO, said Isis was getting better at securing its prisoners, adding that all those who could be easily freed had been. "We are witnessing a drastic decrease in the frequency of rescues and escapes and I think it would take military action to change the conditions to allow more people to leave." 
Despite the dangers and the new obstacles, Abu Shujaa said he would continue trying to rescue hostages. "If I rescue one girl I believe that I bring her back to life one more time, and for me I believe that one rescue is better than killing 100 Isis guys." 
Layla was relieved to be back and to spend the first night with her relatives. But, she said, "my mind is with the rest of my family who are still with Isis".
Reuse content