Israel is denying Palestinians' rights to development, causing rising poverty and "despair" as tensions increase, a UN report has found.
Michael Lynk, the special rapporteur on human rights in the Occupied Palestinian Territories (OPT), said Gaza has one of the highest rates of unemployment in the world and the situation is worsening as the economy stagnates.
"The Palestinian economy is without parallel in the modern world," he added, delivering his report to the UN General Assembly in New York. 
"Israel's occupation is denying Palestine's right to development and severely hampering its ability to attain even the minimum targets of the Sustainable Development Goals.
"Poverty is rising. Unemployment is rising to epic levels. Food insecurity is becoming more acute. The Palestinian economy is becoming more stifled and less viable under the occupation.
"Israel's deliberate fragmentation of the OPT and lack of development has negatively impacted human rights." 
Unemployment in the Palestinian territories – the West Bank, East Jerusalem and Gaza Strip – stands at 27 per cent, more than double the rate in 1999.
In Hamas-controlled Gaza, the figure is 42 per cent, rising to 58 per cent among the youth population.
Mr Lynk called for Israel to end almost 50 years of occupying land intended for the establishment of a Palestinian state, saying it was "seriously deficient in its respect for the legal principles and obligations embedded within the right to development". 
The Israeli–Palestinian conflict intensifies
The Israeli–Palestinian conflict intensifies
1/10

Medics evacuate a wounded man from the scene of an attack in Jerusalem. A Palestinian rammed a vehicle into a bus stop then got out and started stabbing people before he was shot dead

AP

2/10

Israeli ZAKA emergency response members carry the body of an Israeli at the scene of a shooting attack in Jerusalem. A pair of Palestinian men boarded a bus in Jerusalem and began shooting and stabbing passengers, while another assailant rammed a car into a bus station before stabbing bystanders, in near-simultaneous attacks that escalated a month long wave of violence

AP

3/10

Getty Images

4/10

Palestinians throw molotov cocktail during clashes with Israeli troops near Ramallah, West Bank. Recent days have seen a series of stabbing attacks in Israel and the West Bank that have wounded several Israelis

AP

5/10

Women cry during the funeral of Palestinian teenager Ahmad Sharaka, 13, who was shot dead by Israeli forces during clashes at a checkpoint near Ramallah, at the family house in the Palestinian West Bank refugee camp of Jalazoun, Ramallah

AP

6/10

A wounded Palestinian boy and his father hold hands at a hospital after their house was brought down by an Israeli air strike in Gaza

Reuters

7/10

Palestinians look on after a protester is shot by Israelis soldiers during clashes at the Howara checkpoint near the West Bank city of Nablus

EPA

8/10

A lawyer wearing his official robes kicks a tear gas canister back toward Israeli soldiers during a demonstration by scores of Palestinian lawyers called for by the Palestinian Bar Association in solidarity with protesters at the Al-Aqsa mosque compound in Jerusalem's Old City, near Ramallah, West Bank

AP

9/10

Undercover Israeli soldiers detain a Palestinian in Ramallah

Reuters

10/10

Palestinian youth burn tyres during clashes with Israeli soldiers close to the Jewish settlement of Bet El, in the West Bank city of Ramallah, after Israel barred Palestinians from Jerusalem's Old City as tensions mounted following attacks that killed two Israelis and wounded a child
"The deepening of the occupation, the constriction of basic human rights and the utter absence of a political horizon leading to self-determination for the Palestinians have reinforced an atmosphere of despair and hopelessness," he added. 
The OPT is split into different zones of control, with Gaza run by Hamas since the Islamist party's 2007 takeover and other parts split between the Palestinian Authority and Israeli government.
Under the Oslo II accord, regions under full Palestinian control are labelled Area A, under Palestinian civil but joint Israeli-Palestinian security control Area B, and full Israeli control Area C, which makes up the majority of the OPT.
Ahead of the UN report's release on Friday, Israeli media reported a secret proposal for new Palestinian construction in the West Bank. 
Israel's security cabinet authorised plans for Area C in a rare move not seen for several years, including a hospital, houses, public buildings, an industrial zone, sports facilities and playgrounds.
The proposal's approval, supported by Benjamin Netanyahu and defence minister Avigdor Lieberman among others was initially kept secret to prevent settlers and far-right groups from exerting pressure to quash the plans, Haaretz reported.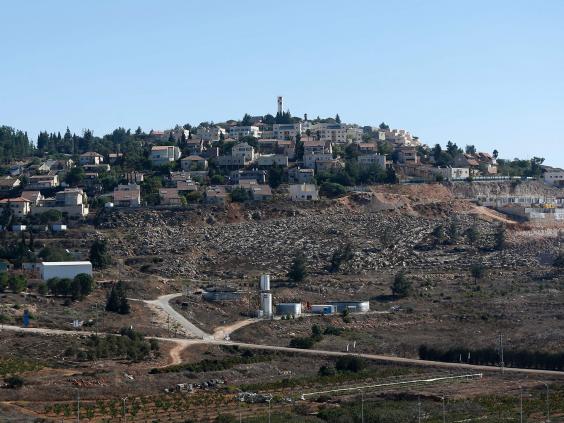 In August, Mr Lieberman announced a "carrots and sticks" policy amid a continuing wave of Palestinian attacks and Israeli security crackdowns, seeing humanitarian and economic infrastructure improved.
"My goal is to show the Palestinians that it pays to live in coexistence and not to get involved in the cycle of terror," he said. "This is supposed to lead to coexistence and improved economic relations regardless of diplomatic process."
Israel has come under fire in recent months for the continued building of settlements in the Palestinian territories, which are widely regarded as illegal under international law.
Almost 100 houses for Jewish settlers were approved earlier this month as part of a wider development for up to 300 homes, causing the Middle East minister Tobias Ellwood to condemn Israeli moves that "undermine trust and make a two-state solution much harder to achieve".
Tensions have been worsening over the past year amid a wave of Palestinian attacks and Israeli security crackdowns.
At least 36 Israelis, two Americans and several other foreign nationals have been killed in Palestinian attacks since October 2015, while more than 230 Palestinians have been shot dead by Israeli security forces.
Officials say the majority were killed while carrying out or attempting stabbings, shootings or car-ramming attacks but others have died during protests or clashes, with the UN raising concern over the "excessive use of force" by the Israeli military.