An Israeli soldier, who was allegedly caught on video shooting dead an injured Palestinian man after a stabbing attack, is due to go on trial.
The Israeli Defence Forces (IDF) solider, who is understood to be from the Kfir Brigade, was brought to a detention hearing before the Jaffa Military Court on Friday, where it was announced he would be subject to a murder investigation.
The court will examine the incidents surrounding the shooting and make a decision as to whether the military authorised the shooting before it occurred, The Jerusalem Post reports.
The hearing comes after wide circulation of amateur footage showing the Palestinian man, named as Abed al-Fattah Yusri al-Sharif, lying in the street as medical workers treat an Israeli troop who had reportedly suffered minor injuries after being stabbed.
Other Israeli soldiers surround Mr Sharif, who appears to be hurt but still alive. One of the soldiers is then seen raising his gun and apparently shooting Mr Sharif in the head.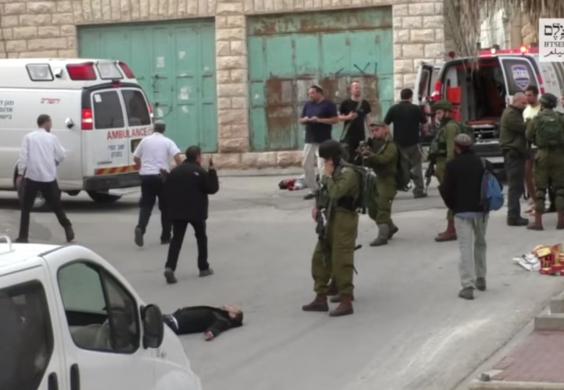 Another Palestinian man, Ramzi Aziz al-Qasrawi, had reportedly already been shot after allegedly stabbing a solider in Tel Rumeida, in the Hebron area of the occupied West Bank, according to rights group B'Tselem. Both men died during the incident.  
The soldier has been named on Twitter as Elor Azraya.
During Friday's hearing it was revealed that a preliminary investigation into the incident had already been conducted before the video was circulated online, following a complaint by one of the Brigade's commanders.
An IDF spokesman said on Thursday that an investigation is underway and the solider has been suspended, but will be treated as innocent until full details of the event have been disclosed.
According to the Jerusalem Post, the soldier has claimed he shot the man in self-defence because his life was in danger, adding he feared the man, who had stabbed a soldier, may have attacked again.
"He wore a thick coat and therefore I feared that he would stand and detonate an explosive belt," the IDF soldier said, according to reports.
"After I saw the terrorist moved, I shot him. I just feared that the terrorist would blow himself up."
The Israeli–Palestinian conflict intensifies
The Israeli–Palestinian conflict intensifies
1/10

Medics evacuate a wounded man from the scene of an attack in Jerusalem. A Palestinian rammed a vehicle into a bus stop then got out and started stabbing people before he was shot dead

AP

2/10

Israeli ZAKA emergency response members carry the body of an Israeli at the scene of a shooting attack in Jerusalem. A pair of Palestinian men boarded a bus in Jerusalem and began shooting and stabbing passengers, while another assailant rammed a car into a bus station before stabbing bystanders, in near-simultaneous attacks that escalated a month long wave of violence

AP

3/10

Getty Images

4/10

Palestinians throw molotov cocktail during clashes with Israeli troops near Ramallah, West Bank. Recent days have seen a series of stabbing attacks in Israel and the West Bank that have wounded several Israelis

AP

5/10

Women cry during the funeral of Palestinian teenager Ahmad Sharaka, 13, who was shot dead by Israeli forces during clashes at a checkpoint near Ramallah, at the family house in the Palestinian West Bank refugee camp of Jalazoun, Ramallah

AP

6/10

A wounded Palestinian boy and his father hold hands at a hospital after their house was brought down by an Israeli air strike in Gaza

Reuters

7/10

Palestinians look on after a protester is shot by Israelis soldiers during clashes at the Howara checkpoint near the West Bank city of Nablus

EPA

8/10

A lawyer wearing his official robes kicks a tear gas canister back toward Israeli soldiers during a demonstration by scores of Palestinian lawyers called for by the Palestinian Bar Association in solidarity with protesters at the Al-Aqsa mosque compound in Jerusalem's Old City, near Ramallah, West Bank

AP

9/10

Undercover Israeli soldiers detain a Palestinian in Ramallah

Reuters

10/10

Palestinian youth burn tyres during clashes with Israeli soldiers close to the Jewish settlement of Bet El, in the West Bank city of Ramallah, after Israel barred Palestinians from Jerusalem's Old City as tensions mounted following attacks that killed two Israelis and wounded a child
Benjamin Malka, a lawyer representing the soldier, said: "You can clearly see in the video that the terrorist moves, and that the terrorist is wearing a coat that could conceal an explosive vest and other explosives underneath," Ynetnews reports.
"We are studying the case and will give our client proper representation."
The soldier's family told the local media: "We are studying things, and believe in the innocence of our son, who is an exemplary fighter and a combat medic."
The United Nations' special envoy to the Middle East condemned the soldier's actions on Friday, calling the incident, "the apparent extrajudicial execution of a Palestinian assailant".
Nickolay Mladenov said: "This was a gruesome, immoral and unjust act that can only fuel more violence and escalate an already volatile situation," the Guardian reports.
 Mr Mladenov welcomed Defence Minister Moshe Ya'alon's condemnation of the shooting and urged Israeli authorities to "swiftly bring to justice the perpetrator who has already been detained."
The incident was immediately denounced as an "execution" by human rights activists and as a "war crime" by the Palestinians.
Prime Minister Benjamin Netanyahu has condemned the shooting, while the IDF said it was "a grave breach of IDF values, conduct and standards of military operations".
Reuse content