Miri Regev, the hard-right Israeli Minister of Culture, has accused the country's artists and performers of being "tight-assed" hypocrites after they raised vocal objections to her policies, which many consider a threat to freedom of expression.
Ms Regev's remarks, aired in a television interview, were the latest escalation in what Israeli newspapers are calling a "culture war" between the government and much of the country's predominantly left-wing artistic community.
Ms Regev, a reserve brigadier-general who formerly served as the chief military censor, alarmed many artists after she took office in May by saying she would cut government funding to those who harmed the army or contributed to "defamation" of Israel.
She followed this with threats to cut funds for an Arab-Jewish children's theatre after its founder, the Arab Israeli actor Norman Issa, refused to perform with the Haifa Theatre at a settlement in the occupied West Bank on grounds of conscience. The settlements are considered by the international community to be illegal.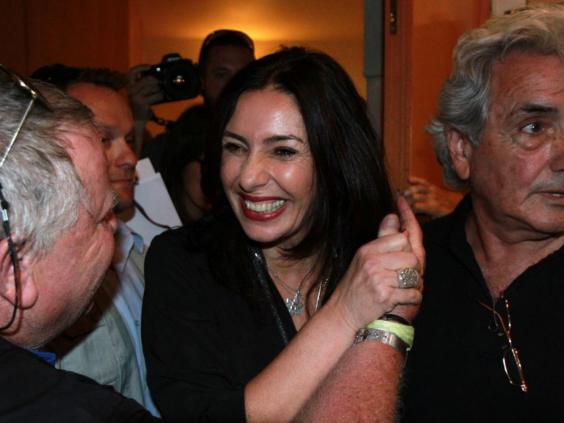 Ms Regev cut funding this week to the Arabic-language al-Midan theatre, which has been staging Parallel Time, a controversial play about the prison life of a Palestinian who killed an Israeli soldier. Her office said the decision was made after the director of the play, Bashar Morcos, told a culture ministry official that he identified with the killer. However, Mr Morcos denies this and is threatening to sue Ms Regev over the claim.
Also this week, the Jerusalem International Film Festival dropped a film about Yigal Amir, who assassinated Prime Minister Yitzhak Rabin in 1995 and is serving a life sentence, after Ms Regev threatened to withdraw funding. According to a deal struck with the culture ministry, the film is to be screened out of the festival schedule at a private theatre.
In pictures: Israel-Palestinian demonstrations around the world
In pictures: Israel-Palestinian demonstrations around the world
1/18 London

Palestine's supporters and Palestinians themselves gathered in Portland Place outside the BBC headquarters, to protest against the alleged lack of information in British news on the war in Palestine

2/18 London

Palestinian and pro-Palestinian demonstrators assemble outside the BBC TV Centre in central London to protest against it's biased, pro-Israeli reporting of the conflict in Gaza

3/18 London

Pro-Palestinian protesters stand on a London bus during a demonstration outside the Israeli embassy on 11 July

Getty Images

4/18 London

A protester holds a placard during the protest on 11 July

Getty Images

5/18 London

Demonstrators scale a London bus during the protest on 11 July

Getty Images

6/18 London

Police line the demonstration outside the Israeli embassy on 11 July

Getty Images

7/18 Washington, US

A man waves a flag at a protest outside the Israeli Embassy in Washington DC on on 11 July

Getty

8/18 Mexico City

A rally against the Israeli military held outside the Mexican Foreign Ministry building in Mexico City on 11 July

Getty

9/18 Tunisia

Tunisians hold Palestinian flags as they protest in Habib Bourguiba Avenue in Tunis on 11 July

Getty

10/18 Jakarta, Indonesia

A portrait of Israel Prime Minister Benjamin Netanyahu is sprayed with fake blood at a rally in Jakarta on 11 July

Getty

11/18 Jakarta, Indonesia

A pro-Palestinian rally in Jakarta on 11 July

Getty

12/18 Rome, Italy

A rally in downtown Rome on 11 July

Getty

13/18 Paris, France

Pro-Palestinian protesters in Paris on 11 July

Getty Images

14/18 New York, US

Pro-Israeli protesters rally near the Israeli Mission to the United Nations on 9 July

Getty

15/18 New York, US

The pro-Israeli protest on 9 July

Getty

16/18 New York, US

A man shouts "Free Palestine" during a march in midtown Manhattan on 9 July

Reuters

17/18 New York, US

A march in Manhattan demanding an end to the escalating Israeli-Palestinian hostilities on 9 July

Reuters

18/18 New York, US

Protesters rally across the street from the Israeli Mission to the United Nations in New York on 9 July 9

Getty Images
More than 3,000 artists, including some of the country's most prominent actors and directors, have signed a petition against Ms Regev's policies and a recent decision by the education minister, Naftali Bennett, to put an end to attendance of Parallel Time by groups of high-school students. "We protest [against] the anti-democratic steps that government ministries are taking against artists and cultural persons whose productions or views don't accord with the winds blowing from these ministries," the petition says. "We declare that we will continue to look reality in the eye, express our views and obey our conscience even if we have to pay a price."
Ms Regev and her supporters say it is the protesting artists who are undemocratic, because they are unwilling to accept election results that gave the minister a mandate for her policies.
Ms Regev also shot back in a television interview on Thursday, saying Israeli artists were "tight assed, hypocritical and ungrateful" and did not appreciate her efforts to secure government budgets for culture. She later wrote on her Facebook page that she was referring to only some artists, including one, the actor Oded Kotler, who caused a storm on Sunday by appearing to refer to supporters of Ms Regev's Likud party as "beasts".
Ms Regev seems to relish the power she has over artists, telling her interviewer how a leading actor had asked her after she took office to explain what was permissible and what was not in order that he could complete a screenplay. Ms Regev said she replied: "Within a month you will know exactly what is permitted and what is prohibited."
Orian Morris, a critic and writer, believes this week's events are only the beginning. "It is easiest for the government to start with the extreme margins like Yigal Amir on the right and al-Midan on the left. There will be more strikes against the periphery and then it will start hitting closer and closer to home," he said.
He believes the policies will "definitely" cause artists to engage in self-censorship.
Ms Regev's actions, especially against Arab institutions, score her political points within her right-wing constituency and accord with the prevalent mood in Israel, according to the novelist Nir Baram. "She will speak against everyone and threaten everyone but the people she will really harm are the Arabs and the weak," he said.
Nava Boker, a Likud member of the Knesset, denied that Ms Regev's actions amounted to censorship. "Freedom of expression in a democratic country is sacred," she told The Independent. "But to pay for this from public funds is not theatre but rather a theatre of the absurd. This should have been stopped a long time ago. We must be severe with all those who harm Israel."
Reuse content