Palestinians knocked a hole into a wall yesterday ahead of the 25th anniversary of the fall of the Berlin Wall to remind the world of their struggles.
A group of Palestinian activists armed with sledgehammers smashed a hole in the brick barrier that crosses the West Bank village of Bir Nabala situated between Jerusalem and Ramallah amid tight Israeli security.
"It doesn't matter how high the barriers will be, they will fall. Like the Berlin Wall fell - The Palestinian wall will fall," the Palestinian activists who organised the event wrote in a statement according to Al Jazeera via the Palestinian Ma'an News Agency.
In footage filmed by Palestinian TV, the activists said that the aim was to show that Israel's barrier will not prevent them from reaching Jerusalem and the al-Aqsa mosque, which is considered to be one of the holiest in Islam.
The act was a symbolic gesture by a small group of individuals and the same happened last year, Al Jazeera journalist Tamer Meshal said.
Palestinians refer to the barrier separating the West Bank from Israeli land as the "apartheid wall", while the 12ft Berlin Wall signified communist rule for 28 years before it was demolished 25-years-ago today on 9 November 1989.
Israel approved the construction of the barrier in 2000 and has since defended it as a barrier to prevent attacks since it was started to be built two years later.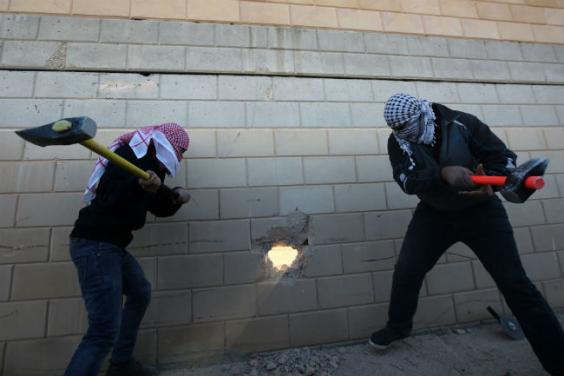 Palestinians say the barrier is part of a Israeli land grab, which saw 85 per cent of the structure built on their remaining land inside the West Bank, as well as a way of preventing them from accessing vital amenities and imports.
The International Court of Justice ruled in 2004 that "the construction of the wall, and its associated regime, are contrary to international law".
The International Committee of the Red Cross stated that the Israeli barrier "causes serious humanitarian and legal problems" and goes "far beyond what is permissible for an occupying power".
Despite worldwide condemnation of the barrier, Israel has refused to remove it.