A Russian general has died of unknown causes just weeks after reportedly being sent to Syria to negotiate with President Bashar al-Assad.
Colonel-General Igor Sergun was the head of Russia's secretive GRU military intelligence service and Deputy Chief of the armed forces General Staff.
The Ministry of Defence gave no information on how or where he died, saying he passed away on 3 January aged 58.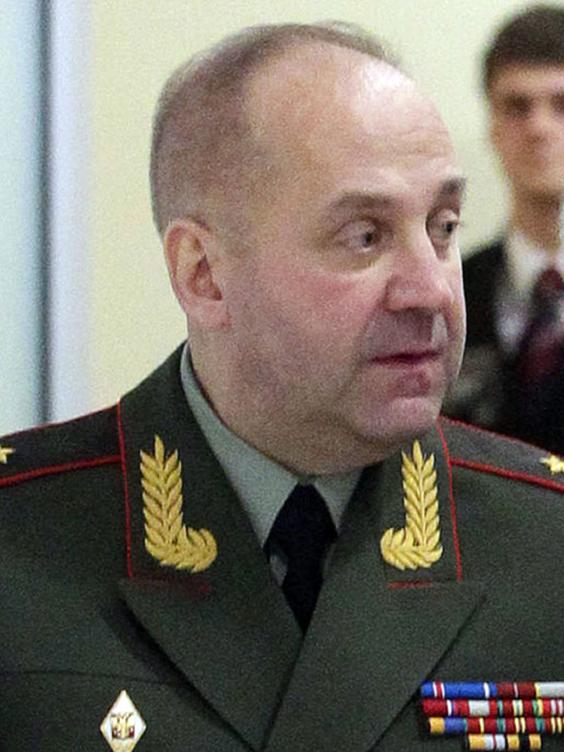 But the Financial Times reports that Col-Gen  Sergun had been sent to Damascus by Vladimir Putin on a sensitive mission to ask the Syrian President to step down.
A senior European intelligence official told the newspaper he was tasked with communicating a secret Russian proposal to remove Assad but maintain a regime controlled by his Alawite majority, alongside "realistic" negotiations with moderate rebels.
But late last month the Syrian leader reportedly "made clear" to Col-Gen Sergun that he would remain.
Mr Putin's official spokesperson, Dmitry Peskov, denied the mission's existence when questioned by journalists.
Asked whether the Russian President had conveyed a message asking his ally to step aside, he replied: "No, that is not so."
Russian state media reported that Mr Putin contacted his relatives to express his condolences over the "sudden death".
Col-Gen Sergun became head of the GRU in 2011 and was placed on an EU sanctions list following the annexation of Crimea in 2014 for being "responsible for the activity of GRU officers in eastern Ukraine".
An obituary published on the Kremlin's website noted his many decorations and awards, calling him "a man of great courage and a true patriot".
Relations between the Syrian and Russian leaders have appeared cordial but Assad has made it clear he will broker no prospective challenge to his rule.
Abdel Aziz al-Khair, an Alawite dissident who was pushing for democratic transition at a leading member of Syria's National Coordinating Body, disappeared in 2012.
He had returned from Beijing with other opposition members when they were reportedly seized by security agents on the road to Damascus. 
No sightings have been reported since and the United Nations classed his disappearance as "arrested or kidnapped".
In pictures: Russian air strikes in Syria
In pictures: Russian air strikes in Syria
1/10

Volunteers from Syria Civil Defence, also known as the White Helmets, help civilians after Russia carried out its first airstrikes in Syria

2/10

The aftermath of Russian airstrike in Talbiseh, Syria

3/10

Smoke billows from buildings in Talbiseh, in Homs province, western Syria, after airstrikes by Russian warplanes

AP

4/10

Russian Air Forces carry out an air strike in the ISIS controlled Al-Raqqah Governorate. Russia's KAB-500s bombs completely destroy the Liwa al-Haqq command unit

5/10

Caspian Flotilla of the Russian Navy firing Kalibr cruise missiles against remote Isis targets in Syria

6/10

Caspian Flotilla of the Russian Navy firing Kalibr cruise missiles against remote Isis targets in Syria, a thousand kilometres away. The targets include ammunition factories, ammunition and fuel depots, command centres, and training camps

7/10

Russia claimed it hit eight Isis targets, including a "terrorist HQ and co-ordination centre" that was completely destroyed

8/10

A release from the Russian defence ministry purportedly showing targets in Syria being hit

9/10

A video grab taken from the footage made available on the Russian Defence Ministry's official website, purporting to show an airstrike in Syria

10/10

Russia launched air strikes in war-torn Syria, its first military engagement outside the former Soviet Union since the occupation of Afghanistan in 1979. Russian warplanes carried out strikes in three Syrian provinces along with regime aircraft as Putin seeks to steal US President Barack Obama's thunder by pushing a rival plan to defeat Isis militants in Syria
Mr Putin's support for the Syrian regime has drawn international condemnation, with Russia's claims it is targeting Isis and Islamist terrorist groups contradicted by evidence showing the majority of air strikes hitting anti-government rebels and civilians.
Hopes for progress in the UN-brokered peace talks due to start between the regime and opposition on Monday are slim, with the continued presence of President Assad just one of many points of conflict.
Barack Obama, David Cameron and allies have repeatedly said that the leader, who stands accused of war crimes and crimes against humanity during the five-year Syrian civil war, has no future and refused to co-operate with regime forces.
Isis has seized huge swathes of Syria, including its de-facto capital of Raqqa, stretching into neighbouring Iraq as parts of its so-called Islamic State.
Regime strongholds currently lie mainly in more populated coastal and western parts of the country, rebels hold the north-western corner and Kurds and their allies are advancing along the Turkish border.
Additional reporting by Reuters
Reuse content