Saudi Arabia has reportedly executed a Syrian man on the same day Prince Charles arrived in the Kingdom amid calls from campaigners to raise human rights concerns.
The Saudi Press Agency said Abdullah Mohammed al-Ahmed was executed Tuesday in the northwestern al-Jawf province after the Supreme Court confirmed his conviction and sentence for smuggling amphetamines into the country.
It does not say how he was executed, although methods used in the Kingdom include beheading and firing squad. His death marks the 28th execution in 2015 alone, according to Human Rights Watch (HRW).
Prince Charles has a good relationship with the Saudi royal family and has been under pressure to use his trip to raise the case of Saudi blogger Raif Badawi, who was sentenced to 1,000 lashes and 10 years in prison.
Ten places where most executions were carried out in 2013
Ten places where most executions were carried out in 2013
1/10 1. China

Amnesty International does not have an official figure on executions in China during 2013, but believes the figure to be in the thousands

2/10 2. Iran

Iran carried out 369 public executions

3/10 3. Iraq

Iraq committed 169 public executions in 2013

4/10 4. Saudi Arabia

Saudi Arabia carried out 79 executions in 2013

5/10 5. USA

Thirty-nine people were executed in the US in 2013

6/10 6. Somalia

In Somalia, 34 people were publicly executed last year

7/10 7. Sudan

Twenty-one people were executed in Sudan

8/10 8. Yemen

Thirteen people were executed in Yemen in 2013

9/10 9. Japan

Eight people were executed in Japan, according to the report

10/10 10. Vietnam

Vietnam does not release public figures on executions but Amnesty estimate the number to be a minimum of 7
Amnesty International had expressed hope that Charles would use his unique position to "pass on a few well-chosen words" to King Salman bin Abdul-Aziz Al Saud and his royal hosts.
But this latest execution casts doubts as to how willing the Kingdom might be to listen to fears over human rights abuses. King Salman oversaw his first beheading just five days after succeeding his late brother King Abdullah.
The kingdom follows a strict interpretation of Islamic law and applies the death penalty on crimes such as murder, rape, apostasy and witchcraft. Rights groups have criticised executions carried out for non-lethal crimes.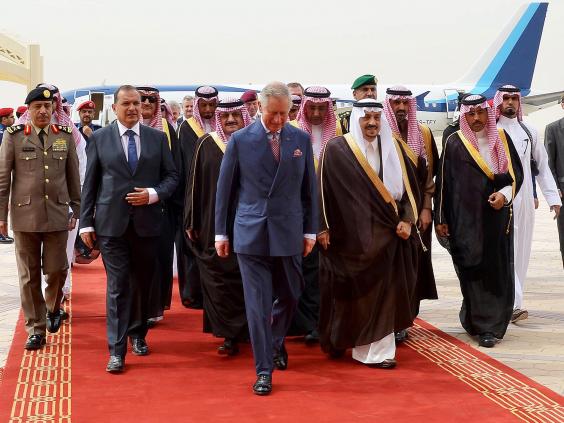 Adam Coogle, a MENA researcher for HRW, said there are so many executions taking place in the Arab state that it is not unusual for one to take place on the same day as an international visit.
He told The Independent that out of the 28 executions which occurred in January and February 2015, 11 were for non-violent drug offences - an "extraordinarily high" figure he condemned as "particularly egregious".
"Between 1 January and 4 August 2014, only 15 executions took place. They finished the year on 87, and that pace has continued," he said. "If they keep on this pace it will be a record in the context of the past two years."
Mr Coogle says he is unsure what is behind the surge in executions. "It could be that they are trying to appear as though they are tough on crime and willing to deliver 'justice', but I don't know. I haven't seen any official comments on this jump.
"The major point is that although executions are not prohibited under international human rights law, they are strongly discouraged and they should be reserved only for only the most serious crimes.
"It's been made clear under international human rights law that people should not be killed for non-violent drug laws. Saudi Arabia, a member of the Human Rights Council, is clearly flouting this."
Reuse content