Saudi Arabia has issued a remarkable response to criticisms from the United Nations over its human rights record.
In a speech delivered to the UN in Geneva, the Saudi delegation rejected outright a UN report which strongly criticised the Kingdom's increased use of death sentences and executions.
Bandar al-Ali, Saudi Arabia's Minister of Culture and Information, claimed the Kingdom was a bastion of human rights, and "fights torture in all its physical and moral manifestations".
In an annual report to the UN's Human Rights Council, Juan Mendez, the Special Rapporteur on Torture, said it was becoming clear the escalating number of executions in the Kingdom amounted to torture and breached international law.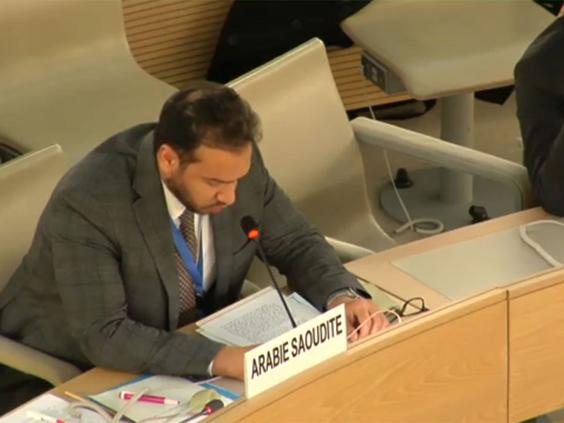 Mr Mendez raised particular concerns over the execution of juveniles in Saudi Arabia, as well as the use of the death penalty in response to political protests and drugs offences.
Responding, Mr Ali said: "Saudi Arabia is one of the very first countries which promoted human rights. Such a support and a commitment to promote and protect human rights is but a duty imposed by the Islamic sharia from which the statutes of my country is derived.
"My country fights torture in all its physical and moral manifestations through strict legislation and executive measures that are applied on all.
10 examples of Saudi Arabia's human rights abuses
10 examples of Saudi Arabia's human rights abuses
1/10

In October 2014, three lawyers, Dr Abdulrahman al-Subaihi, Bander al-Nogaithan and Abdulrahman al-Rumaih , were sentenced to up to eight years in prison for using Twitter to criticize the Ministry of Justice.

AFP/Getty Images

2/10

In March 2015, Yemen's Sunni President Abd-Rabbu Mansour Hadi was forced into exile after a Shia-led insurgency. A Saudi Arabia-led coalition has responded with air strikes in order to reinstate Mr Hadi. It has since been accused of committing war crimes in the country.

Getty Images

3/10

Women who supported the Women2Drive campaign, launched in 2011 to challenge the ban on women driving vehicles, faced harassment and intimidation by the authorities. The government warned that women drivers would face arrest.

Getty Images

4/10

Members of the Kingdom's Shia minority, most of whom live in the oil-rich Eastern Province, continue to face discrimination that limits their access to government services and employment. Activists have received death sentences or long prison terms for their alleged participation in protests in 2011 and 2012.

Getty Images

5/10

All public gatherings are prohibited under an order issued by the Interior Ministry in 2011. Those defy the ban face arrest, prosecution and imprisonment on charges such as "inciting people against the authorities".

Getty Images

6/10

In March 2014, the Interior Ministry stated that authorities had deported over 370,000 foreign migrants and that 18,000 others were in detention. Thousands of workers were returned to Somalia and other states where they were at risk of human rights abuses, with large numbers also returned to Yemen, in order to open more jobs to Saudi Arabians. Many migrants reported that prior to their deportation they had been packed into overcrowded makeshift detention facilities where they received little food and water and were abused by guards.

Getty Images

7/10

The Saudi Arabian authorities continue to deny access to independent human rights organisations like Amnesty International, and they have been known to take punitive action, including through the courts, against activists and family members of victims who contact Amnesty.

Getty Images

8/10

Raif Badawi was sentenced to 1000 lashes and 10 years in prison for using his liberal blog to criticise Saudi Arabia's clerics. He has already received 50 lashes, which have reportedly left him in poor health.

Carsten Koall/Getty Images

9/10

Dawood al-Marhoon was arrested aged 17 for participating in an anti-government protest. After refusing to spy on his fellow protestors, he was tortured and forced to sign a blank document that would later contain his 'confession'. At Dawood's trial, the prosecution requested death by crucifixion while refusing him a lawyer.

Getty Images

10/10

Ali Mohammed al-Nimr was arrested in 2012 aged either 16 or 17 for participating in protests during the Arab spring. His sentence includes beheading and crucifixion. The international community has spoken out against the punishment and has called on Saudi Arabia to stop. He is the nephew of a prominent government dissident.

Getty
"[Government procedures code] prohibits any physical or psychological harm to be inflicted on an arrested person. It is also prohibited to subject [the accused person] to torture or degrading treatment."
Mr Ali's astonishing comments follow warnings by campaigners that the Kingdom is executing people at a "frightening" rate after it emerged Saudi Arabia had killed its 70th prisoner of the year on Monday, bringing the total number to almost half that of 2015.
Several advocacy groups monitoring the death penalty worldwide placed the figure at 157 last year, with beheadings reaching their highest level in two decades.
The Kingdom also came under intense criticism at the beginning of the year when it executed 47 people for "terrorism offences" in one day, including the prominent Shia cleric Sheikh Nimr al-Nimr who was a vocal supporter of the mass anti-government protests that flared in 2011.
Maya Foa, who is the head of the death penalty team at the human rights organisation, Reprieve, told the Independent: "Saudi Arabia's claims to the UN human rights council sound like a sick joke when one considers the reality within the country - including the arrest, torture and execution of juveniles, political protestors and others.
"Countries that are close to Saudi Arabia - including the UK - must urge that government to halt these terrible abuses, instead of simply trying to cover them up with paper-thin rhetoric."
Iran, Pakistan, Egypt and Ethiopia were also criticised in the report for their use of the death penalty.
Last year the UN was lambasted for choosing Saudi Arabia to head a key UN human rights panel.
The pro-democracy blogger Raif Badawi said at the time that the appointment was "scandalous" and meant "oil trumps human rights".