Saudi Arabia and its allies could be "commissioning international war crimes" by killing thousands of civilians in hospitals, markets, schools and even at weddings in Yemen, the United Nations has warned.
Zeid Ra'ad Al Hussein, the High Commissioner for Human Rights, said that 24 children were among 106 civilians who died in air strikes on a crowded village market on Tuesday.
"The carnage caused by two airstrikes on the Al Khamees market was one of the deadliest incidents since the start of the conflict a year ago," he added.
"The people of Yemen have suffered enough. A very poor country is having its limited infrastructure decimated, and people are struggling desperately to survive."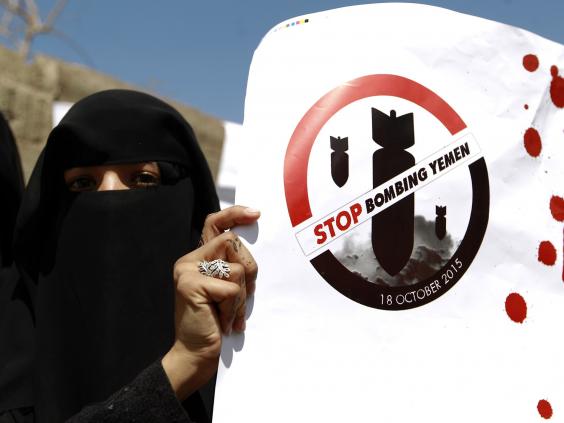 UN workers who visited the scene in Hajja Governorate the following day reported more than a dozen shops destroyed, with eyewitnesses saying the bombs had hit during the afternoon rush hour when the market was particularly crowded.
They could find no evidence of military installations or combat, which is controlled by rebels, apart from a small checkpoint 250 metres away manned by police and Houthi rebels.
One witness, Showei Hamoud, described the "terrifying" scene to the Associated Press. "Blood and body parts are everywhere," he said. "People collected the torn limbs in bags and blankets." 
The Yemeni government said it had formed a committee to look into the bombing and whether it was the result of an air strike or of shelling by the Houthis, but no progress has been seen with similar investigations promised in the past.
In another strike in Khaleq market, Sana`a, at least 39 civilians, including nine children, were killed and another 33 injured on 27 February.
The conflict has been raging since March 2015, when the Houthi-led Supreme Revolutionary Committee attempted to overthrow the Hadi government, sparking a civil war drawing in at least a dozen other countries, as well as groups affiliated with Isis and al-Qaeda.
Iran is supporting the Revolutionary Committee, while the US and a coalition of Gulf nations led by Saudi Arabia is backing the former president with a bombing campaign.
More than 6,000 people have died in the war so far, with the UN Human Rights Office recording 3,218 civilians killed and 5,778 more injured.
"Looking at the figures, it would seem that the coalition is responsible for twice as many civilian casualties as all other forces put together, virtually all as a result of airstrikes," Mr Al Hussein said.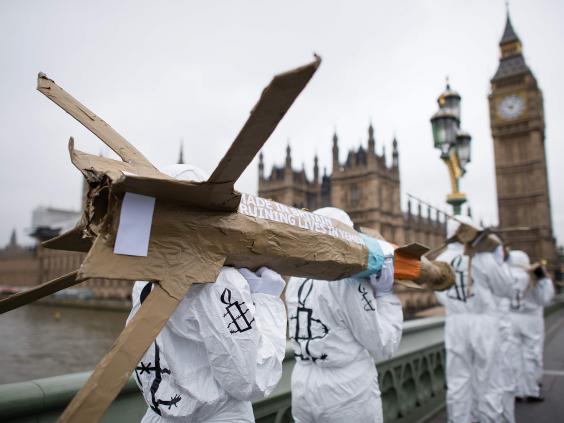 "They have hit markets, hospitals, clinics, schools, factories, wedding parties – and hundreds of private residences in villages, towns and cities including the capital Sana'a. 
"Despite plenty of international demarches, these awful incidents continue to occur with unacceptable regularity.
"It would appear to be the case that the distinction between legitimate military targets and civilian ones - which are protected under international law - is at best woefully inadequate, and at worst, we are possibly looking at the commission of international crimes by members of the Coalition."
The High Commissioner acknowledged the Houthi rebels and their allies were also responsible for killing civilians in "indiscriminate" ground attacks which could also be international crimes.
10 examples of Saudi Arabia's human rights abuses
10 examples of Saudi Arabia's human rights abuses
1/10

In October 2014, three lawyers, Dr Abdulrahman al-Subaihi, Bander al-Nogaithan and Abdulrahman al-Rumaih , were sentenced to up to eight years in prison for using Twitter to criticize the Ministry of Justice.

AFP/Getty Images

2/10

In March 2015, Yemen's Sunni President Abd-Rabbu Mansour Hadi was forced into exile after a Shia-led insurgency. A Saudi Arabia-led coalition has responded with air strikes in order to reinstate Mr Hadi. It has since been accused of committing war crimes in the country.

Getty Images

3/10

Women who supported the Women2Drive campaign, launched in 2011 to challenge the ban on women driving vehicles, faced harassment and intimidation by the authorities. The government warned that women drivers would face arrest.

Getty Images

4/10

Members of the Kingdom's Shia minority, most of whom live in the oil-rich Eastern Province, continue to face discrimination that limits their access to government services and employment. Activists have received death sentences or long prison terms for their alleged participation in protests in 2011 and 2012.

Getty Images

5/10

All public gatherings are prohibited under an order issued by the Interior Ministry in 2011. Those defy the ban face arrest, prosecution and imprisonment on charges such as "inciting people against the authorities".

Getty Images

6/10

In March 2014, the Interior Ministry stated that authorities had deported over 370,000 foreign migrants and that 18,000 others were in detention. Thousands of workers were returned to Somalia and other states where they were at risk of human rights abuses, with large numbers also returned to Yemen, in order to open more jobs to Saudi Arabians. Many migrants reported that prior to their deportation they had been packed into overcrowded makeshift detention facilities where they received little food and water and were abused by guards.

Getty Images

7/10

The Saudi Arabian authorities continue to deny access to independent human rights organisations like Amnesty International, and they have been known to take punitive action, including through the courts, against activists and family members of victims who contact Amnesty.

Getty Images

8/10

Raif Badawi was sentenced to 1000 lashes and 10 years in prison for using his liberal blog to criticise Saudi Arabia's clerics. He has already received 50 lashes, which have reportedly left him in poor health.

Carsten Koall/Getty Images

9/10

Dawood al-Marhoon was arrested aged 17 for participating in an anti-government protest. After refusing to spy on his fellow protestors, he was tortured and forced to sign a blank document that would later contain his 'confession'. At Dawood's trial, the prosecution requested death by crucifixion while refusing him a lawyer.

Getty Images

10/10

Ali Mohammed al-Nimr was arrested in 2012 aged either 16 or 17 for participating in protests during the Arab spring. His sentence includes beheading and crucifixion. The international community has spoken out against the punishment and has called on Saudi Arabia to stop. He is the nephew of a prominent government dissident.

Getty
A spokesperson for the Saudi-led coalition, Brigadier General Ahmed al-Asseri, claimed the Yemeni army had given Al Khamees as a target because it was a gathering point for Houthi forces, claiming rebels were "deceiving people by saying it was a market".
He said major combat operations had been scaled back and there were "good signs" the UN might soon restart peace talks between warring factions, insisting that any formal move towards a truce would have to be carried out by President Hadi's internationally recognised government and overseen by the UN.
Houthi officials travelled to Saudi Arabia this month for secret talks on the conflict that led to a pause in fighting on the border, a main battlefront of the war, and a prisoner exchange.
The high civilian death toll in the conflict has turned criticism to the US, which is backing the Saudis with diplomatic and military help, and UK for its arms sales to the Kingdom.

Additional reporting by Reuters
Reuse content