Saudi Arabia's foreign minister has said Syrian rebels should be armed with surface-to-air missiles to "change the balance of power" against Bashar al-Assad.
Adel al-Jubeir repeated his country's offer to send ground troops to fight Isis in an interview with Der Spiegel, but did not specify whether they would directly battle the regime.
He claimed that Assad will not feature in Syria's future, whether the conflict is resolved through peace talks or battle.
"In the long term, it will be a Syria without Bashar Assad," Mr al-Jubeir added. "The longer it takes, the worse it will get."
But the Syrian President has gained the upper hand in the conflict in recent months, with regime troops gaining swathes of territory from rebels in Aleppo province backed controversial Russian air strikes.
As well as alleged civilian deaths, the advance has raised fears that diminishing the ranks of anti-government rebels who have been fighting could help the terror group hold territory in its so-called Islamic State.
Mr al-Jubeir told Der Spiegel that giving "moderate" fighters surface-to-air missiles would "change the balance of power on the ground". 
"It will allow the moderate opposition to be able to neutralise the helicopters and aircraft that are dropping chemicals and have been carpet-bombing them," he added.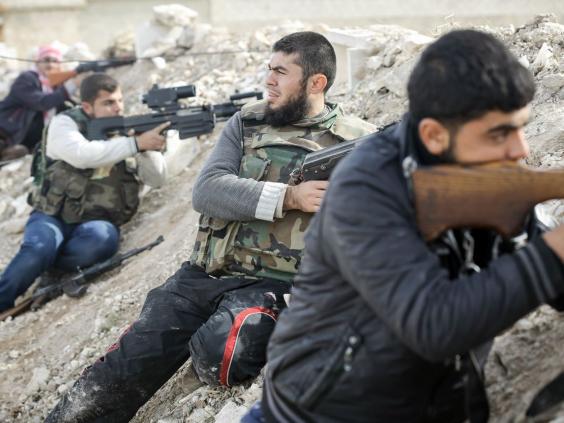 "This has to be studied very carefully, however, because you don't want such weapons to fall into the wrong hands."
But the minister did not specify how that possibility would be prevented as Isis continues to battle for more territory and other Islamist groups, including those affiliated with al-Qaeda, mingle with the Free Syrian Army in an ever-shifting network of alliances.
Saudi Arabia is still ready to support the US-led coalition against Isis with special forces on the ground, he said before angrily rejecting similarities between the terrorist group and his country's own Wahhabist ideology.
Like Isis, Saudi Arabia bases its legal system on an interpretation of Sharia law that punishes blasphemy, apostasy, homosexuality and adultery with death, beheadings and stonings.
Dismissing comparisons as an "oversimplification", Mr al-Jubeir said the group's "psychopaths" were trying to destroy his country.
10 examples of Saudi Arabia's human rights abuses
10 examples of Saudi Arabia's human rights abuses
1/10

In October 2014, three lawyers, Dr Abdulrahman al-Subaihi, Bander al-Nogaithan and Abdulrahman al-Rumaih , were sentenced to up to eight years in prison for using Twitter to criticize the Ministry of Justice.

AFP/Getty Images

2/10

In March 2015, Yemen's Sunni President Abd-Rabbu Mansour Hadi was forced into exile after a Shia-led insurgency. A Saudi Arabia-led coalition has responded with air strikes in order to reinstate Mr Hadi. It has since been accused of committing war crimes in the country.

Getty Images

3/10

Women who supported the Women2Drive campaign, launched in 2011 to challenge the ban on women driving vehicles, faced harassment and intimidation by the authorities. The government warned that women drivers would face arrest.

Getty Images

4/10

Members of the Kingdom's Shia minority, most of whom live in the oil-rich Eastern Province, continue to face discrimination that limits their access to government services and employment. Activists have received death sentences or long prison terms for their alleged participation in protests in 2011 and 2012.

Getty Images

5/10

All public gatherings are prohibited under an order issued by the Interior Ministry in 2011. Those defy the ban face arrest, prosecution and imprisonment on charges such as "inciting people against the authorities".

Getty Images

6/10

In March 2014, the Interior Ministry stated that authorities had deported over 370,000 foreign migrants and that 18,000 others were in detention. Thousands of workers were returned to Somalia and other states where they were at risk of human rights abuses, with large numbers also returned to Yemen, in order to open more jobs to Saudi Arabians. Many migrants reported that prior to their deportation they had been packed into overcrowded makeshift detention facilities where they received little food and water and were abused by guards.

Getty Images

7/10

The Saudi Arabian authorities continue to deny access to independent human rights organisations like Amnesty International, and they have been known to take punitive action, including through the courts, against activists and family members of victims who contact Amnesty.

Getty Images

8/10

Raif Badawi was sentenced to 1000 lashes and 10 years in prison for using his liberal blog to criticise Saudi Arabia's clerics. He has already received 50 lashes, which have reportedly left him in poor health.

Carsten Koall/Getty Images

9/10

Dawood al-Marhoon was arrested aged 17 for participating in an anti-government protest. After refusing to spy on his fellow protestors, he was tortured and forced to sign a blank document that would later contain his 'confession'. At Dawood's trial, the prosecution requested death by crucifixion while refusing him a lawyer.

Getty Images

10/10

Ali Mohammed al-Nimr was arrested in 2012 aged either 16 or 17 for participating in protests during the Arab spring. His sentence includes beheading and crucifixion. The international community has spoken out against the punishment and has called on Saudi Arabia to stop. He is the nephew of a prominent government dissident.

Getty
"Daesh (Isis) members wear shoes - does this mean everybody who wears shoes is Daesh?" he added.
"Isis is as much an Islamic organisation as the KKK in America is a Christian organisation."
Saudi Arabia is carrying out air strikes as part of the US-led coalition in Syria and is also embroiled in another intervention in Yemen, where it is bombing Houthi rebels fighting the government.
That conflict looks to continue and there is little hope for a long-term ceasefire in Syria, despite preparations for a meeting between a multi-nation "task force" led by Russia and the United States.
Saudi Arabia is among 17 nations invited to talks to be held in Geneva aiming to force a temporary truce in Syria's five-year civil war that has killed at least 250,000 people and displaced at least 11 million more. 
Additional reporting by Reuters
Reuse content