The Syrian civil war has led to a surge in cannabis production in Lebanon as the country's army is forced to focus on security rather than drug eradication.
In the Bekaa Valley, Ali Nasri Shamas carries a revolver by his side and an automatic rifle in the back of his car, weapons he says he's ready to use if the army moves in to try to destroy his lucrative cannabis crop.
But he may not need them this year. With Syria's civil war 30 miles away, Lebanese security forces have other priorities than their annual showdown with the Bekaa hashish growers.
"If they want a confrontation that's no problem for us, it will be harvest season soon," Mr Shamas says, standing in a field of the green, spiky-leafed plants from which hashish resin is extracted.
The increase in cannabis farming comes as the FBI in the United States is considering waiving its rules on use of the drug to help it recruit hackers.
At the moment, the FBI insists that agents have not taken drugs in the past three years, but that has ruled out many potential hackers as the agency faces unprecedented challenges as it attempts to combat cyber crime.
In Lebanon, security forces normally send tractors, bulldozers and armoured vehicles to destroy cannabis crops, leading to clashes with armed farmers.
Two years ago, farmers blocked roads when security forces started burning cannabis. The government backed down and the interior minister promised to look into compensating farmers for crop eradication and finding them alternative sources of income, pledges the farmers say have not been honoured.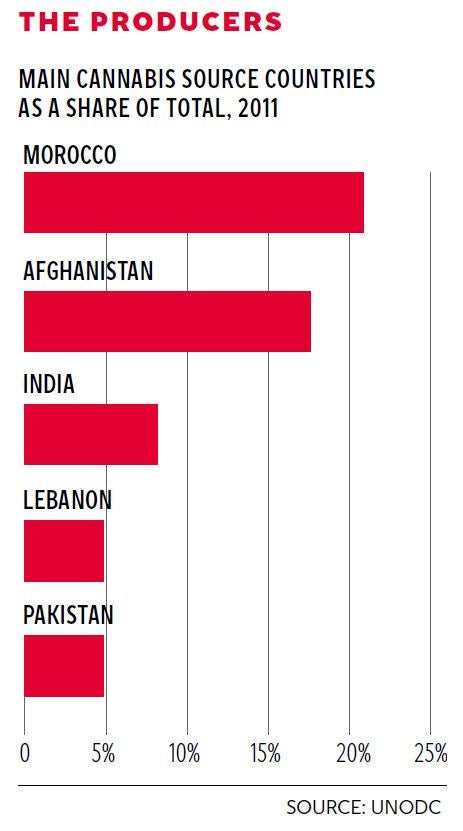 Last year, as violence spilt over the border from Syria's civil war – with bombs and gunfights in Lebanon's coastal cities and rockets striking towns in the Bekaa – authorities called a halt to a battle they had waged with farmers since the end of Lebanon's own 1975-1990 civil war.
During that war, the fertile Bekaa Valley produced up to 1,000 tons of cannabis resin annually, before it was briefly stamped out under a United Nations programme between 1991-1993.
"From the 1990s until 2012, cannabis eradication took place on an annual basis," said Colonel Ghassan Shamseddine, head of Lebanon's drug enforcement unit. "But in 2012... it was halted because of the situation on the Lebanese borders and the instability in Syria," he added.
Reuters
Reuse content