Russia has claimed that the chances of a ceasefire in Syria being successful are under 50 per cent, as Western nations rounded on Moscow over the apparent use of air strikes on civilians.  
International divisions over the crisis in Syria surfaced at a Munich conference aimed at ending the civil war, just a day after world powers agreed on the "cessation of hostilities" due to begin in a week's time. Russian officials angrily rejected charges from France and the US that it was bombing and killing civilians during its air raids in support of Syrian President Bashar al-Assad.
"France respects Russia and its interests … But we know that to find the path to peace again, the Russian bombing of civilians has to stop," French Prime Minister Manuel Valls said.
In response, Russia's Prime Minister, Dmitri Medvedev, said: "There is no evidence of our bombing civilians, even though everyone is accusing us of this. We are simply trying to protect our national interests." He added that Moscow wanted to prevent Islamist extremists getting to Russia.
Russia began its bombing campaign in Syria at the end of September, at the request of Mr Assad, but said it would be aimed at driving Islamic State (Isis) from the territory they have taken in Syria – although they later expanded that to all groups that Russia deems "terrorists". Western nations have intimated that this means moderate groups that oppose Mr Assad. On 13 February, US Secretary of State John Kerry reiterated that position by saying that Russia was hitting "legitimate opposition groups" and civilians with its bombs, and said Moscow must change its targets to respect the ceasefire deal.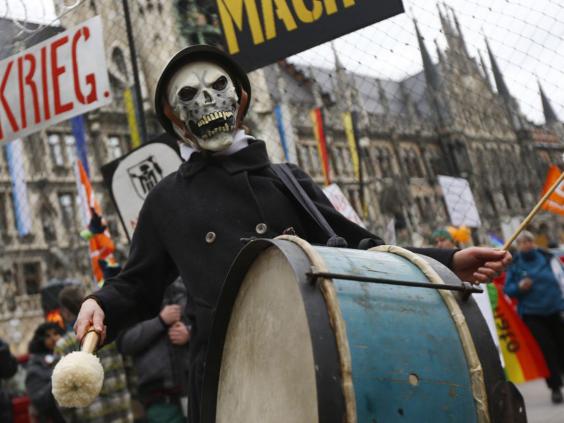 The complex, multi-sided civil war in Syria, raging since 2011 and which has killed more than 250,000 people, has drawn in most regional and global powers and caused one of the world's worst humanitarian emergencies. Russian Foreign Minister Sergei Lavrov, when asked yesterday to assess the chances of the "cessation of hostilities" deal succeeding, replied: "49 per cent".
Mr Medvedev went further, describing East-West relations as having "fallen into a new cold war" – although that has as much to do  with the Western reaction to Russia's role in the conflict in Ukraine as it does with Syria.
Another complication was that Turkey said  that Saudi Arabia will send aircraft to Turkey's Incirlik airbase for the fight against Isis in Syria.
In pictures: Russian air strikes in Syria
In pictures: Russian air strikes in Syria
1/10

Volunteers from Syria Civil Defence, also known as the White Helmets, help civilians after Russia carried out its first airstrikes in Syria

2/10

The aftermath of Russian airstrike in Talbiseh, Syria

3/10

Smoke billows from buildings in Talbiseh, in Homs province, western Syria, after airstrikes by Russian warplanes

AP

4/10

Russian Air Forces carry out an air strike in the ISIS controlled Al-Raqqah Governorate. Russia's KAB-500s bombs completely destroy the Liwa al-Haqq command unit

5/10

Caspian Flotilla of the Russian Navy firing Kalibr cruise missiles against remote Isis targets in Syria

6/10

Caspian Flotilla of the Russian Navy firing Kalibr cruise missiles against remote Isis targets in Syria, a thousand kilometres away. The targets include ammunition factories, ammunition and fuel depots, command centres, and training camps

7/10

Russia claimed it hit eight Isis targets, including a "terrorist HQ and co-ordination centre" that was completely destroyed

8/10

A release from the Russian defence ministry purportedly showing targets in Syria being hit

9/10

A video grab taken from the footage made available on the Russian Defence Ministry's official website, purporting to show an airstrike in Syria

10/10

Russia launched air strikes in war-torn Syria, its first military engagement outside the former Soviet Union since the occupation of Afghanistan in 1979. Russian warplanes carried out strikes in three Syrian provinces along with regime aircraft as Putin seeks to steal US President Barack Obama's thunder by pushing a rival plan to defeat Isis militants in Syria
Turkish Foreign Minister Mevlut Cavusoglu told the Yeni Safak newspaper that Saudi Arabia and Turkey could provide ground troops for a US-led coalition against Isis. "We said that, if there is such a strategy, Turkey and Saudi Arabia can join a ground operation," he said.
Asked if Saudi troops could enter Syria from Turkey, Mr Cavusoglu replied: "This is a wish, not a planned thing. Saudi Arabia is sending planes and says, 'I can send soldiers for a ground operation when it is necessary'."
Seemingly in response to such remarks, Mr Medvedev said there was no need to scare anyone with a ground operation in Syria.
In another sign of escalation, Turkey's military shelled Kurdish militia near the northern Syrian town of Azaz. A Kurdish official said the shelling targeted the Menagh airbase in the northern Aleppo countryside, which, he said, had been captured by the Kurdish group.
Elsewhere, the Syrian army also looked poised to advance into the Isis-held province of Raqqa for the first time since 2014, apparently to pre-empt any move by Saudi Arabia to send ground forces into Syria to fight the jihadist insurgents.
A Syrian military source told Associated Press that the army had captured positions at the provincial border between Hama and Raqqa in the past two days and intended to advance. "It is an indication of the direction of coming operations towards Raqqa. In general, the Raqqa front is open ... starting in the direction of the Tabqa area," the source said.
If its forces retake Aleppo and seal the Turkish border north of the city, Damascus would deal a crushing blow to the insurgents who were on the march until Russia intervened, shoring up Assad's rule and paving the way to the current reversal of rebel fortunes.
Reuse content