An ambulance driver has been buying meat every day to feed abandoned cats in a neighbourhood ravaged by war in Syria.
A man known only as Alaa has been spending about $4 (£2.50) each day on meat for the strays for the past two months.
Without Alaa to care for them, the animals would likely starve in the largely deserted district of Masaken Hanano in Aleppo. He told Reuters about 150 cats rely on him for food.
Residents fled the area because of shelling from forces loyal to Syria's president Bashar Al-Assad.
The ongoing civil war in Syria has displaced an estimated 6.5 million people, with Aleppo suffering some of the worst devastation.
Syrian ambulance driver Alaa feeds abandoned cats in Aleppo
Syrian ambulance driver Alaa feeds abandoned cats in Aleppo
1/5 Syria cats

Alaa buys about $4 of meat everyday to feed about 150 abandoned cats in Masaken Hanano

Reuters

2/5 Syria cats

Cats that Alaa (not pictured) feeds everyday

Reuters

3/5 Syria cats

Alaa feeds one of the cats in Aleppo

Reuters

4/5 Syria cats

The cats have been abandoned after their owners fled shelling in Aleppo

Reuters

5/5 Syria cats

Alaa is surrounded by hungry cats as he arrives with food

Reuters
By August 2014, the death toll from three years of fighting had risen to more than 191,000.
On Tuesday, the US-led coalition attacking Isis targets in Syria launched air strikes on the al-Qaeda Khorasan Group in the west of the city.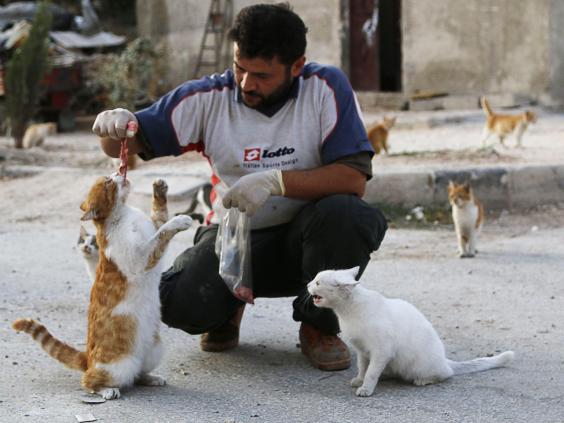 Meanwhile, Syrian warplanes have dropped projectiles including "barrel bombs" - oil drums filled with explosives - in Hama, Idlib, Homs and Aleppo provinces and around Damascus, the Syrian Observatory monitoring group reported on Friday.
Five people were killed when barrel bombs were dropped on al-Rastan city in Homs province and nine died in a barrel bomb attack in the east of Aleppo, it said.
Reuse content