The Syrian government has accepted the terms of a ceasefire due to start on Saturday but has vowed to continue its fight against unspecified "terrorist groups".
A temporary truce drawn up by the US and Russia had already been accepted by opposition groups, on the condition that Bashar al-Assad's regime stopped its advance based on Russian air strikes.
But the agreement stipulates that operations against Isis and al-Qaeda affiliates may continue, as well as the "proportionate use of force" for self-defence, diminishing hopes for an effective half in the conflict that has so far killed more than 250,000 people.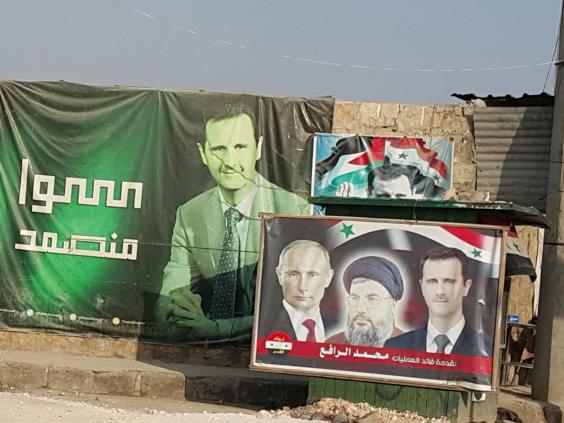 A statement released by the Syrian foreign ministry this morning said it would halt combat operations against groups except Isis, Jabhat al-Nusra and "other terrorist groups".
A spokesperson said Damascus would be co-ordinating with Russia to define the areas and rebel groups covered by the ceasefire but reserved the right to respond to any breach of the conditions.
He also said that any move by its opponents to strengthen their positions could destroy the fragile agreement.
Assad showed little sign of support for a peaceful solution earlier this month, when he vowed to take the whole of Syria back by force.
The Syrian President told the AFP news agency that his government classed all armed opposition groups as terrorists.
"I don't think that the term 'opposition' can be used to describe somebody carrying a weapon," he said.
"Suppose that you mean to say 'moderate terrorists' this is a different term. Saying that, you mean that they do not belong to Daesh (Isis), al-Nusra, or to these extremist groups…every terrorist is an enemy."
In pictures: Russian air strikes in Syria
In pictures: Russian air strikes in Syria
1/10

Volunteers from Syria Civil Defence, also known as the White Helmets, help civilians after Russia carried out its first airstrikes in Syria

2/10

The aftermath of Russian airstrike in Talbiseh, Syria

3/10

Smoke billows from buildings in Talbiseh, in Homs province, western Syria, after airstrikes by Russian warplanes

AP

4/10

Russian Air Forces carry out an air strike in the ISIS controlled Al-Raqqah Governorate. Russia's KAB-500s bombs completely destroy the Liwa al-Haqq command unit

5/10

Caspian Flotilla of the Russian Navy firing Kalibr cruise missiles against remote Isis targets in Syria

6/10

Caspian Flotilla of the Russian Navy firing Kalibr cruise missiles against remote Isis targets in Syria, a thousand kilometres away. The targets include ammunition factories, ammunition and fuel depots, command centres, and training camps

7/10

Russia claimed it hit eight Isis targets, including a "terrorist HQ and co-ordination centre" that was completely destroyed

8/10

A release from the Russian defence ministry purportedly showing targets in Syria being hit

9/10

A video grab taken from the footage made available on the Russian Defence Ministry's official website, purporting to show an airstrike in Syria

10/10

Russia launched air strikes in war-torn Syria, its first military engagement outside the former Soviet Union since the occupation of Afghanistan in 1979. Russian warplanes carried out strikes in three Syrian provinces along with regime aircraft as Putin seeks to steal US President Barack Obama's thunder by pushing a rival plan to defeat Isis militants in Syria
Barack Obama, David Cameron and other Western leaders have repeatedly said there is no future for Assad in Syria and argued he must be removed before peace can be secured, but Vladimir Putin's intervention to support his ally in September has turned the balance of power in the regime's favour.
The Foreign Secretary, Philip Hammond, said the proposed ceasefire must be "implemented fully and faithfully" to have any hope of bringing about a lasting political settlement.
"But it will only succeed if there is a major change of behaviour by the Syrian regime and its backers," he added. 
"Russia, in particular, must honour this agreement by ending its attacks on Syrian civilians and moderate opposition groups, and by using its influence to ensure the Syrian regime does the same. 
"Russia needs to demonstrate its compliance by clearly only targeting Daesh and those recognised as terrorists by the international community. It is now time for action, not words."
Mr Hammond repeated British calls for political transition away from Assad, to a government "that can represent all Syrians".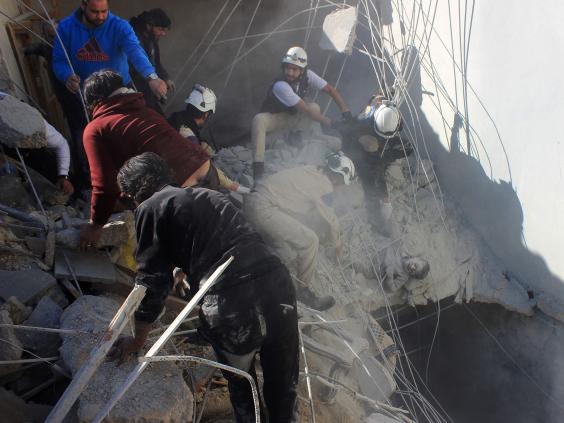 A temporary "cessation of hostilities" was initially planned to start last week following discussions in Munich but was derailed by continued fighting including a regime advance in Aleppo province.
Major questions remain over how the truce will be enforced and how groups will be reprimanded for any violations.
The High Negotiations Committee (HNC), which represents the main bloc of anti-government rebels, agreed the terms after the US and Russia negotiated the terms of a prospective truce to start on Saturday.
But Isis, the al-Qaeda linked Jabhat al-Nusra group and other militias designated as terrorist groups by the UN have not been invited to talks and will not be bound by their outcome.
It was unclear how continued operations against extremists would affect the agreement. 
The Kremlin has insisted Isis is its main target but opposition groups and Western leaders have alleged its strikes have mainly targeted areas controlled by the opposition, killing countless civilians.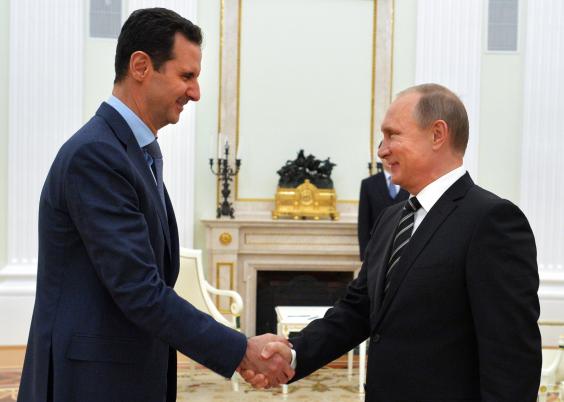 A five-page plan released by the US State Department set a deadline for compliance at midnight on 26 February and stipulated that there must be no attempts to seize territory, although, operations against UN-designated terrorist groups and the "proportionate use of force" for self-defence is allowed.
It was published after Barack Obama and Vladimir Putin agreed the plans in a phone call.
Josh Earnest, the official White House spokesperson, admitted it would be "difficult to implement", adding: "We know there are a lot of obstacles, and there are sure to be some setbacks." 
The Russian President called the agreement a "last real chance to put an end to the many years of bloodshed and violence" and said in a televised address that while Moscow negotiates with the Assad regime, he expects Washington to do the same with the opposition groups it supports. 
Ban Ki-moon, the UN Secretary-General also welcomed the agreement as "a long-awaited signal of hope to the Syrian people" but warned that much work lies ahead for its implementation. 
Hours after the agreement was announced, Assad issued a decree setting parliamentary elections for 31 April, signalling possible co-operation with a UN Security Council resolution calling for a vote to be held during an 18-month transition period hoped to end the five-year conflict.
Elections were already due as the current parliament's four-year term expires in May. 
Additional reporting by Reuters
Reuse content