Sitting by an abandoned farmhouse in the hills above Darkush in northern Syria, Commander Abdul Haq spread his hands in apology. "If we went any further there would be more killed, more bodies for us to bring back. We feel we are failing our people; but we cannot match the weapons of the enemy."
An hour later, however, some of his men could not resist shooting back after government troops at a Syrian army checkpoint opened up with machine-guns. The rebels' lack of firepower became alarmingly evident; a Remington pump-action shotgun one of the men was using fell apart, probably due to metal fatigue. Other weapons in their armoury included a Soviet pistol bearing the place of manufacture, "CCCP", and the date, 1948. There was also a British contribution to the revolution, a Webley revolver, circa 1930.
This was in June 2011, when Syria's uprising was only three months old. It was a slow-burn, overshadowed by the rebellion against Muammar Gaddafi in Libya, the chapter of the unfolding Arab Spring on which I and most of my fellow foreign correspondents were focusing.
Back across the Turkish border, in Antakya, I spoke to a young Syrian man, Ibrahim,  who warned against rushing into action. The lack of weapons and preparedness of Commander Haq and his men showed the risk of taking on the regime's forces. "Even if they got the arms, do we want war? We see what's happening in Libya. Do we want that kind of anarchy in Syria?" Ibrahim asked.
He was from the town of al-Bab. The name, meaning The Gate, came from its strategic location as a gateway to Aleppo, the country's largest city and commercial capital, 20 miles away. Aleppo, and its relatively affluent hinterland, had been slow in joining the protests against the Assad regime. However al-Bab, with a high degree of literacy and politically active students at its university, had been holding demonstrations. 
The desire at the time was for reform, rather than revolution. Ibrahim showed photographs of marchers carrying the Syrian flag as they asked for an end to corruption and a freer society. "We are optimistic that change can take place without violence. Come and see us," he invited me.
Covering Libya took up our time and I did not go to al-Bab until the following Spring. By then the city was facing daily strikes from the regime's air force and shelling from its troops based in barracks outside the town. The violence had erupted after soldiers opened fire on a demonstration on 20 April. No one was quite sure why this happened. The protests had been ebbing and flowing, and it may have been that the troops had come from an area where they had faced armed opposition.
The city's first "martyr" was Amar Kamal Najar, a post-graduate student. He was shot after complaining that  troops were firing at a minaret broadcasting anti-Assad sermons. Two more protesters were shot dead; four others died when their funeral came under attack.
In pictures: Russian air strikes in Syria
In pictures: Russian air strikes in Syria
1/10

Volunteers from Syria Civil Defence, also known as the White Helmets, help civilians after Russia carried out its first airstrikes in Syria

2/10

The aftermath of Russian airstrike in Talbiseh, Syria

3/10

Smoke billows from buildings in Talbiseh, in Homs province, western Syria, after airstrikes by Russian warplanes

AP

4/10

Russian Air Forces carry out an air strike in the ISIS controlled Al-Raqqah Governorate. Russia's KAB-500s bombs completely destroy the Liwa al-Haqq command unit

5/10

Caspian Flotilla of the Russian Navy firing Kalibr cruise missiles against remote Isis targets in Syria

6/10

Caspian Flotilla of the Russian Navy firing Kalibr cruise missiles against remote Isis targets in Syria, a thousand kilometres away. The targets include ammunition factories, ammunition and fuel depots, command centres, and training camps

7/10

Russia claimed it hit eight Isis targets, including a "terrorist HQ and co-ordination centre" that was completely destroyed

8/10

A release from the Russian defence ministry purportedly showing targets in Syria being hit

9/10

A video grab taken from the footage made available on the Russian Defence Ministry's official website, purporting to show an airstrike in Syria

10/10

Russia launched air strikes in war-torn Syria, its first military engagement outside the former Soviet Union since the occupation of Afghanistan in 1979. Russian warplanes carried out strikes in three Syrian provinces along with regime aircraft as Putin seeks to steal US President Barack Obama's thunder by pushing a rival plan to defeat Isis militants in Syria
Two weeks later I accompanied al-Bab's recently formed Khatiba, or battalion, as it stormed the regime barracks outside the city. Most of the troops fled, but some were captured, some shot. We found three bodies stuffed inside a refrigerator which had been without power for a week. Their captured comrades said they were soldiers who had tried to desert. 
An activist, Bari, and I fled on a motorcycle from the base, chased along the road by a regime warplane, a Czech-built L-39 Albatros, trying to strafe us. On entering al-Bab we almost crashed into a liberated regime tank careering along wildly with joyriding opposition fighters at the controls.
The capture of the base allowed the 1,300 strong al-Bab Khatiba to join the battle for Aleppo. I went with them to the front lines at Salaheddine where the fighting was at its most intense. Bari was shot in the leg one afternoon. We took him to a makeshift clinic where the doctors were working under appalling conditions, using medicine they had smuggled from behind regime lines. Two of the doctors were arrested later that week day by regime forces; their bodies, with marks of torture, were found dumped on the road. 
We met Jabhat al-Nusra, al-Qaeda's Syrian affiliate, for the first time. Unlike other fighters they were defensive and suspicious. They did not like the al-Bab men, who they considered to be insufficiently religious. Al-Nusra had the best arms and vehicles, and there was mirth when they cut and ran in panic as regime armour burst through in Salaheddine.
After a day at the frontline people would gather at a shisha parlour run by a young man, Mohammed, in al-Bab. The talk was not just of fighting, but how Syria should look after Assad. The debate was impassioned. On a local level, a city council was formed, various departments set up. Mohammed talked about opening a shisha parlour in London.
The momentum went out of the anti-regime offensive in Aleppo. There were widespread complaints about lack of Western support, but the  opposition were also racked by internal divisions and jealousies. The al-Bab Khatiba, the largest to deploy, eventually pulled out. I left Syria soon afterwards. In Antakya I said goodbye to, among others, Jim Foley, a photojournalist friend. Activists from al-Bab and I had picked him up when he was cut off  behind regime lines in Aleppo. Jim returned to Syria later that year with a colleague, John Cantlie. They were both kidnapped and Jim was later beheaded by Isis.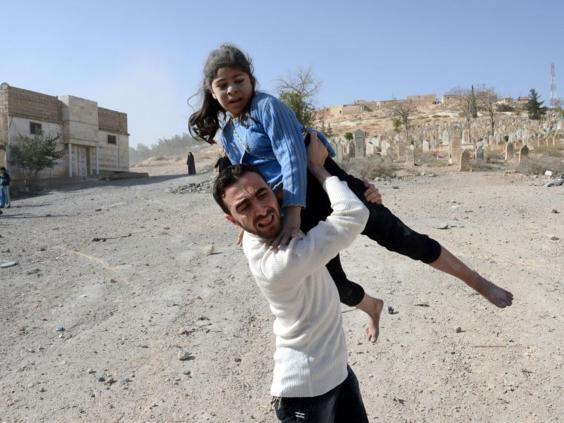 I returned to Syria early the next year to find that al-Nusra  had grown enormously in power. They overran al-Bab, first bombarding the town from the same military base the regime had used. A harsh form of Islamic rule was imposed. Some of the activists were imprisoned; some fled abroad; some were killed. Mohammed's shisha parlour was shut down. He was jailed and was not seen again.
Al-Nusra was driven off by local fighters who had re-grouped, but then al-Bab was attacked by an Isis force led by the red-bearded Chechen-Georgian commander Abu Omar al-Shishani. They too used the regime military base to launch assaults. The enforcement of Islamic law became savage, with whippings, hangings and beheadings. 
Those of my friends from al-Bab who survived the regime, al-Nusra and Isis are now outside the city, many of them in Turkey. Some are disillusioned, wishing the revolution never happened. For others the struggle continues: they chart Isis atrocities and deaths from regime bombings.
Meanwhile, Russian air strikes have cleared the way for regime forces to move towards al-Bab. Fighters from the Syrian Kurdish militia, YPG, which gets US air support, are also closing in. Al-Bab continues to be buffeted by Syria's savage strife.
Reuse content