Syria enjoyed a rare spell of relative calm as Russian war planes were grounded and fighting halted in much of the country in the first day of an unprecedented international truce.
There were reports of a string of violations, a car bombing and clashes with Islamist State (Isis) jihadists but, as darkness fell on Saturday, activists, analysts and diplomats voiced surprise that a ceasefire widely expected to fail had exceeded expectations.
Many remained deeply sceptical that the pause would hold but others expressed tentative optimism that it could be a turning point in a devastating five-year war that has killed at least 250,000 people, created millions of refugees and destabilised the entire region.
The UN special envoy for Syria, Staffan de Mistura, said that the early indications were "quite reassuring", adding: "The first night and first day certainly gave the impression that everyone is serious in their commitment to keep on going with this cessation of hostilities."
After a day of intense fighting and heavy bloodshed on Friday, the deal struck by the United States, Russia and 15 other major powers began at midnight Syrian time. 
Writing at 12.08am, Hadi Abdullah, an activist and citizen journalist based in the rebel-held Idlib province, marvelled that he had enjoyed a "five full minutes without hearing the sound of fighter planes in the sky".
As the day wore on, reports of attacks began to emerge, but all sides agreed there was a substantial fall in the nationwide level of violence. Speaking yesterday afternoon from Douma, a restive suburb of Damascus where heavy air strikes killed eight people on Friday, activist Firas Abdullah was still getting used to the quiet. "For me, it is an unusual day," he told The Independent on Sunday. "I get tired from seeing blood, air strikes, body parts. Today there are no bombs or air strikes on the city and no attacks."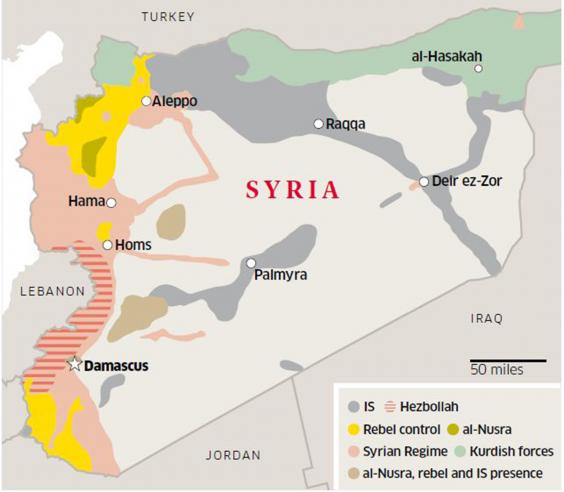 He said that people were still frightened and deeply mistrustful of the intentions of the government of President Bashar al-Assad after countless failed attempts at peace. But he said that, instead of rushing around documenting deaths and injuries and transmitting them to the outside world, he had experienced a calm day for once. "Today is a rest."
In Aleppo, where the rebel-held east of the city has come under heavy bombardment in recent weeks, locals said that there had been no attacks. "Right now it is a very quiet day," said Dr Osama Abo El Ezz, a surgeon who spends most of his time treating catastrophic injuries caused by missile strikes and barrel bombs.
After a punishing five-month campaign of aerial bombardment in support of the Syrian government, Moscow announced that its aircraft would be grounded for now "to avoid any possible mistakes", even though it plans to continue strikes against Isis and the al-Qaeda offshoot Jabhat al-Nusra – designated terrorist groups that are excluded from the deal. 
There were a string of reports of violations of the deal. In the crucial northern province of Latakia, the First Coastal Division rebel group said three of its fighters were killed repelling a government attack at 4am. It later claimed that regime helicopters dropped eight barrel bombs on the area in an incident that one Western diplomat described as an "obvious violation".
In pictures: Russian air strikes in Syria
In pictures: Russian air strikes in Syria
1/10

Volunteers from Syria Civil Defence, also known as the White Helmets, help civilians after Russia carried out its first airstrikes in Syria

2/10

The aftermath of Russian airstrike in Talbiseh, Syria

3/10

Smoke billows from buildings in Talbiseh, in Homs province, western Syria, after airstrikes by Russian warplanes

AP

4/10

Russian Air Forces carry out an air strike in the ISIS controlled Al-Raqqah Governorate. Russia's KAB-500s bombs completely destroy the Liwa al-Haqq command unit

5/10

Caspian Flotilla of the Russian Navy firing Kalibr cruise missiles against remote Isis targets in Syria

6/10

Caspian Flotilla of the Russian Navy firing Kalibr cruise missiles against remote Isis targets in Syria, a thousand kilometres away. The targets include ammunition factories, ammunition and fuel depots, command centres, and training camps

7/10

Russia claimed it hit eight Isis targets, including a "terrorist HQ and co-ordination centre" that was completely destroyed

8/10

A release from the Russian defence ministry purportedly showing targets in Syria being hit

9/10

A video grab taken from the footage made available on the Russian Defence Ministry's official website, purporting to show an airstrike in Syria

10/10

Russia launched air strikes in war-torn Syria, its first military engagement outside the former Soviet Union since the occupation of Afghanistan in 1979. Russian warplanes carried out strikes in three Syrian provinces along with regime aircraft as Putin seeks to steal US President Barack Obama's thunder by pushing a rival plan to defeat Isis militants in Syria
In Damascus, the Syrian capital, state media said that "terrorist groups" had fired several rockets on residential areas from the rebel-held suburbs of Douma and Jobar. Monitors reported other alleged violations in the provinces of Idlib, Hama, and Damascus itself.
But Abraham al-Hassan, a spokesman for the Syrian Civil Defence rescue service, said: "Compared to other days, it has been quiet. It is a little bit surprising. We are waiting to see." The response to violations remains unclear. 
Isis fighters launched several attacks after the truce went into effect, including an offensive on the northern town of Tal Abyad and at least one suicide bombing in the central province of Hama.  Despite issuing a call for rebel factions to intensify their attacks, Jabhat al-Nusra appeared to have exercised restraint. 
The agreement is the first attempt at a national ceasefire since April 2012, when an effort to halt the fighting quickly unravelled. Almost four years later, with several hundred thousand more dead, Washington and Moscow managed to strike a surprise agreement earlier this month for a temporary pause in the fighting. If the truce holds, Mr de Mistura plans to resume peace talks between the warring sides on 7 March. 
Many have voiced scepticism about Russia's commitment to a ceasefire, with opposition activists and rebels groups fearing that it will be used as an excuse to pause and consolidate gains before continuing with the fighting. 
But Dmitri Trenin, director of the Carnegie Endowment's Moscow centre, said that a successful pause would help Russia achieve its aim of being recognised as a "co-equal" in the Syria peace efforts.
Reuse content