Turkey goes to the polls on Sunday in a parliamentary election that threatens to increase polarisation in a country that is already deeply divided.
At stake is the extent to which President Recep Tayyip Erdogan and his Justice and Development Party (AKP), which has ruled Turkey since 2002, can establish one-party rule and near monopoly of political power. 
The election is still in the balance, but inside Turkey the campaign has widened the fault lines between Kurds and Turks, secular and Islamic, Sunni majority and Alevi minority. Abroad, the results may determine the degree to which Turkey becomes further embroiled in the civil war in Syria and Iraq. 
Many people have put decisions on hold until they know the outcome of the election. Ersin Umut Guler, an actor and theatre director, is waiting to see if it will reduce political tensions, allowing him to bring back the body of his brother Aziz to Turkey from northern Syria where he was killed fighting Isis on 21 September when he stepped on a mine. 
The Turkish authorities refused to allow Aziz's remains to be brought across the Syrian-Turkish border because it denounces the Kurdish opponents of Isis in Syria as "terrorists" linked to the Kurdistan Workers Party (PKK) against whom it has been fighting a guerrilla war since 1984.  
"It is like something out of Antigone [who was forbidden to bury the body of her brother killed in battle]," says Mr Guler. "It is an arbitrary decision taken because Turkey's war with the PKK has started again and they are not allowing any of the bodies back from the Syrian border."  He points out that Aziz was a Turkish citizen and had gone to fight Isis as a member of a socialist group and was not a member of the PKK. Aziz's father has gone to Syria and is refusing to return to Turkey until he can bring his son's body with him.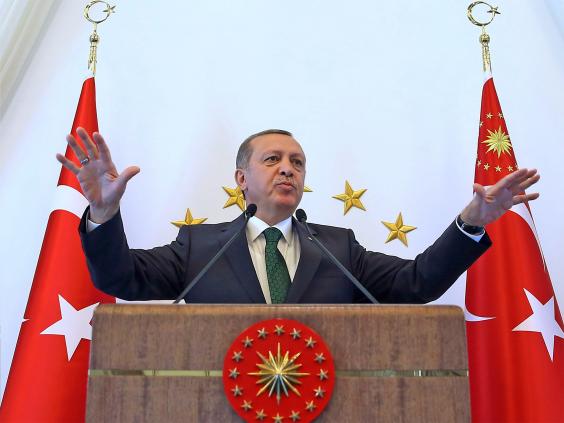 The four-and-a-half-month siege of Kobani and the aftermath of the last general election, on 7 June, have both served to reignite armed conflict between the Turkish state and the Kurdish minority. 
Ankara has been appalled to see the rise of a de facto Kurdish statelet in northern Syria and is accused by Kurds of favouring the Isis attack on it. 
This has alienated conservative and religious Turkish Kurds, who had previously voted for the AKP but switched to the pro-Kurdish People's Democratic party (HDP) in the last election. This enabled the party to exceed the 10 per cent of the vote requirement to win representation in parliament and robbed Mr Erdogan and the AKP of their majority for the first time in 13 years.  
Relations between the government and the Kurds deteriorated rapidly as Mr Erdogan and AKP leaders repeatedly accused the HDP, which favours a ceasefire, of being a cat's paw of the PKK. 
On 20 July an Isis suicide bomber at Suruc killed 32 young socialists on their way to aid reconstruction at Kobani. After two Turkish policemen were killed in retaliation, the Turkish army and air force resumed attacks on the PKK in south-east Turkey and Iraq. 
On 10 October another Isis suicide bombing killed 102 people demonstrating for peace in Ankara in Turkey's worst terrorist attack. Opposition parties accuse the authorities of not defending them against Isis and have cancelled all pre-election rallies.   
The election campaign has been extraordinarily violent with demonstrators attacking HDP offices and opposition newspapers. Murat Yetkin, a leading journalist on the liberal and secular daily Hurriyet, recalls how mobs twice attacked the office of his newspaper in September, smashing all the windows. A columnist was later assaulted and had his nose and ribs broken.
World news in pictures
World news in pictures
1/30 24 June 2016

A rider rears up on his horse while surrounded by a cheering crowd during the traditional Fiesta of Sant Joan (Saint John) in downtown Ciutadella, on the island of Menorca, Spain

REUTERS

2/30 24 June 2016

A man throws a bucket of water at a motorcyclist as residents join in a water-splashing frenzy to honor their patron St. John the Baptist's Feast Day in San Juan, Metro Manila, Philippines

REUTERS

3/30 23 June 2016

Migrant workers supporting Myanmar Foreign Minister and State Counselor Aung San Suu Kyi wave to her during a meeting at the coastal fishery centre of Samut Sakhon, Thailand

REUTERS

4/30 23 June 2016

A general view shows the financial district of Lujiazui in Shanghai

AFP/Getty Images

5/30 23 June 2016

A cat walks past Muslim women offering afternoon prayers at a mosque at the shrine of Sufi Saint Khawaja Naqashband during the holy month of Ramadan in Srinagar

REUTERS

6/30 23 June 2016

A test launch of ground-to-ground medium long-range ballistic rocket Hwasong-10 in North Korea

REUTERS

7/30 22 June 2016

Family members cry near coffins containing the bodies of Nepali nationals, who were killed when a suicide bomber struck a minibus in Kabul, lined up after being flown from Afghanistan at Tribhuvan International Airport in Kathmandu, Nepal

REUTERS

8/30 22 June 2016

Villagers carry banners which read "Plead the central government to help Wukan" (in red) and "Wukan villagers don't believe Lin Zuluan took bribes" during a protest in Wukan, China's Guangdong province

REUTERS

9/30 21 June 2016

A plane drops retardant on a wildfire as it attacks the flames on a hillside in the San Gabriel mountains near Monrovia, California

REUTERS

10/30 21 June 2016

Aymara indigenous hold up their hands to receive the first rays of sunlight in a New Year's ritual in the ruins of the ancient city Tiwanaku, Bolivia. Bolivia's Aymara Indians are celebrating the year 5,524 as well as the Southern Hemisphere's winter solstice, which marks the start of a new agricultural cycle

AP

11/30 21 June 2016

A resident making his way through a flooded area in a village in Poyang county, in southeast China's Jiangxi province

AFP/Getty Images

12/30 20 June 2016

Seagulls fly as the full moon rises behind the ancient marble Temple of Poseidon at Cape Sounion, southeast of Athens, on the eve of the summer solstice

AP

13/30 20 June 2016

An aerial view shows people practising yoga on a glass sightseeing platform ahead of the International Day of Yoga, on the outskirts of Beijing, China

REUTERS

14/30 20 June 2016

Dessana indigenous shaman Raimundo Dessana holds the Olympic Torch during a ritual at the Tupe Reservation in the outskirts of Manaus, Amazonas, Brazi

AFP/Getty Images

15/30 20 June 2016

An emu runs to escape an approaching wildfire as it burns near Potrero, California

REUTERS

16/30 20 June 2016

Wales' supporters cheer downtown Toulouse, before the Euro 2016 football match of Russia vs Wales

AFP/Getty Images

17/30 19 June 2016

A rescuer grabs a rope to prevent a raft carrying residents from being flushed away as residents are evacuated from a flooded area in Jiujiang, China

REUTERS

18/30 19 June 2016

Palestinians scuffle with an Israeli border policeman as Israeli troops demolish sheds belonging to Palestinians near the West Bank village of Yatta, south of Hebron

REUTERS

19/30 19 June 2016

People hold placards reading "A kiss against hate", "Rome loves Europe" as they gathered in front of the Colosseum to send a message of affection, sealed with a kiss to Britain, before next week's referendum, in Rome, Italy

REUTERS

20/30 19 June 2016

People perform dragon dance and present it in a shape of the Chinese character "father" to celebrate Father's Day in Yueyang, China

REUTERS

21/30 19 June 2016

A humming bird is seen landing on a bird feeder at a public square in Santiago, Chile

REUTERS

22/30 18 June 2016

A reveller participates in Regenbogenparade gay pride parade in Vienna, Austria

REUTERS

23/30 18 June 2016

Mohammed Tofeeq holds his 10-month-old daughter, Gulshan Tofeeq, while he prays at the grave of his wife Muqadas Tofeeq, who local police say was killed by her mother, in Butrawala village on the outskirts of Gujranwala in Pakistan. Police have arrested the mother of Muqadas Tofeeq who is accused of killing her pregnant daughter for marrying against the wishes of her family. Violence against women is not uncommon in Pakistan where nearly 1,000 women are killed each year in so-called "honor killings" for violating conservative norms on love and marriage

AP

24/30 17 June 2016

A relative of a an Indian man convicted for the 2002 Gujarat riots cries after the court announced the lengths of the sentences in Ahmadabad, India. An Indian court has sentenced 11 people to life in prison for murder in one of the many deadly religious riots that swept across the western state of Gujarat in 2002, leaving more than 1,000 dead. Special Court Judge P. B. Desai rejected the demand for death penalty as the prosecution failed to prove charges of criminal conspiracy against the defendants. The judge also sentenced 12 defendants to seven years in prison and one to 10 years in prison in the case

AP

25/30 17 June 2016

Police officers hug as they pay homage to the two police officials killed by an extremist claiming allegiance to IS, during a ceremony in Versailles, near Paris. Police commander Jean-Baptiste Salvaing and his companion, police administrator Jessica Schneider were stabbed by attacker Larossi Abballa, who was killed in a police raid

AP

26/30 17 June 2016

A long exposure photograph shows star trails in the night sky over a camp in Altyn-Emel national park, in Almaty region, Kazakhstan

REUTERS

27/30 16 June 2016

A member of the Indian LGBT community attends a vigil in Mumbai, in solidarity with the victims of the Orlando mass shooting

AFP/Getty Images

28/30 16 June 2016

Dockers hold up flares during a protest against what they say is a lack of job stability in Lisbon, Portugal

REUTERS

29/30 16 June 2016

New recruit "Pepper" the robot, a humanoid robot designed to welcome and take care of visitors and patients, holds the hand of a new born baby next to his mother at AZ Damiaan hospital in Ostend, Belgium

REUTERS

30/30 16 June 2016

Souad Hamidi, 19, removes the niqab she said she had been forced to wear since 2014, after U.S.-backed Syria Democratic Forces took control of her village Am Adasa in northern Syria from Islamic State fighters, in the outskirts of Manbij, Aleppo province, Syria

REUTERS
This week workers were constructing sturdier defences in the forecourt of the building, but there is a sense that all institutions critical of Mr Erdogan are under permanent siege. 
Mr Yetkin says that polarisation in Turkey is at its zenith with a danger that, if Mr Erdogan wins a simple majority of 276 seats in the 550-seat parliament (the AKP currently has 258 seats), then he will establish an authoritarian presidential system. 
Polls show that the four main political parties' share of the vote has not changed much since the last election in June, with the AKP hovering at just over 40 per cent. This puts it within a few seats of an absolute majority, failing which it might seek a coalition with the more secular Republican People's Party (CHP) or the far-right Nationalist Action Party (MHP). 
But Mr Erdogan has never shown any liking for coalitions or for diluting his own power. 
His chances of success may be greater than they look because so many institutions and centres of power, such as the army, judiciary and much of the media, have been tamed and brought under his control.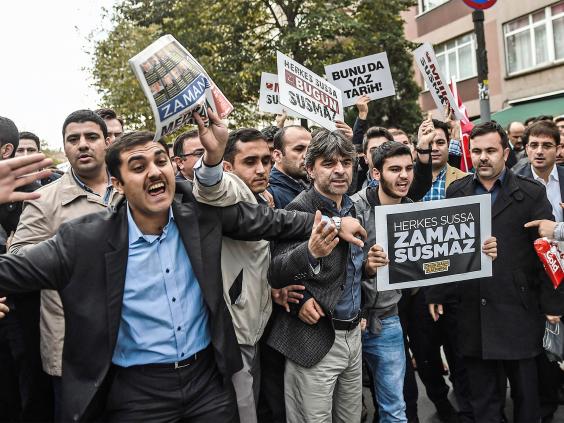 Only this week in Ankara, police forced their way into the headquarters of the Koza-Ipek Holding company, which owns two newspapers and two television channels, to enforce a court order appointing a panel of trustees. 
The AKP has an overwhelming advantage when it comes to campaigning and influencing the electorate. A survey of the state-owned TV channels shows that, over the past 25 days, they have given 30 hours of coverage to the AKP and 29 hours to Mr Erdogan's activities, while the CHP received five hours, the MHP one hour and 10 minutes, and the HDP 18 minutes.  
Mr Erdogan may also benefit from a sense among many voters that the AKP represents stability, even if it involves a shift towards dictatorship, and all the other alternatives mean economically damaging instability and uncertainty. 
The Turkish economy no longer produces the spectacular growth seen up to 2012. Well-educated graduates are finding it difficult to get a job or, when they lose their job, to find a new one. 
Dilsah Deniz, a woman in her twenties with a degree in international relations, used to work as a manager in a company making weapons, but the sharp decline in the value of the Turkish currency over the past year meant that it could no longer afford to buy raw materials in Europe. Its two factories closed, she lost her job and has been unable to find one since. 
She says that many companies have stopped interviewing job applicants until they know the outcome of the election. She hopes that greater stability will improve her chances of employment.  
She may be disappointed whatever the election result. The violence that is convulsing Syria and Iraq is spreading to Turkey, and Isis bomb attacks have poisoned relations between Turks and Kurds. 
Worse, Turkey's engagement in Syria has not stopped the creation of a new Kurdish quasi-state stretching along 250 miles of Turkey's southern frontier, which is today run by the Syrian branch of the PKK. 
Turkey, which was poised to be a major power in the Middle East in 2012, has now been all but excluded as an influence in much of the region. A further advance along the border by the Syrian Kurds might lead Ankara to consider direct military intervention.  
The result of the election on Sunday is unpredictable, but it has already unleashed or exacerbated powerful divisive forces. Mr Erdogan may want to bring these under control after the election, but he will find it difficult to do so.