Turkey goes to the polls on Sunday in a parliamentary election that threatens to increase polarisation in a country that is already deeply divided.
At stake is the extent to which President Recep Tayyip Erdogan and his Justice and Development Party (AKP), which has ruled Turkey since 2002, can establish one-party rule and near monopoly of political power. 
The election is still in the balance, but inside Turkey the campaign has widened the fault lines between Kurds and Turks, secular and Islamic, Sunni majority and Alevi minority. Abroad, the results may determine the degree to which Turkey becomes further embroiled in the civil war in Syria and Iraq. 
Many people have put decisions on hold until they know the outcome of the election. Ersin Umut Guler, an actor and theatre director, is waiting to see if it will reduce political tensions, allowing him to bring back the body of his brother Aziz to Turkey from northern Syria where he was killed fighting Isis on 21 September when he stepped on a mine. 
The Turkish authorities refused to allow Aziz's remains to be brought across the Syrian-Turkish border because it denounces the Kurdish opponents of Isis in Syria as "terrorists" linked to the Kurdistan Workers Party (PKK) against whom it has been fighting a guerrilla war since 1984.  
"It is like something out of Antigone [who was forbidden to bury the body of her brother killed in battle]," says Mr Guler. "It is an arbitrary decision taken because Turkey's war with the PKK has started again and they are not allowing any of the bodies back from the Syrian border."  He points out that Aziz was a Turkish citizen and had gone to fight Isis as a member of a socialist group and was not a member of the PKK. Aziz's father has gone to Syria and is refusing to return to Turkey until he can bring his son's body with him.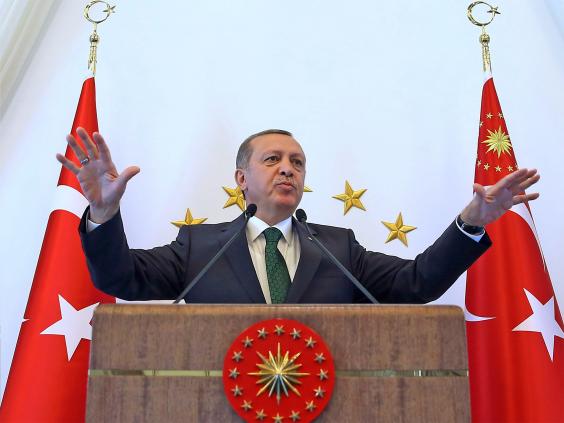 The four-and-a-half-month siege of Kobani and the aftermath of the last general election, on 7 June, have both served to reignite armed conflict between the Turkish state and the Kurdish minority. 
Ankara has been appalled to see the rise of a de facto Kurdish statelet in northern Syria and is accused by Kurds of favouring the Isis attack on it. 
This has alienated conservative and religious Turkish Kurds, who had previously voted for the AKP but switched to the pro-Kurdish People's Democratic party (HDP) in the last election. This enabled the party to exceed the 10 per cent of the vote requirement to win representation in parliament and robbed Mr Erdogan and the AKP of their majority for the first time in 13 years.  
Relations between the government and the Kurds deteriorated rapidly as Mr Erdogan and AKP leaders repeatedly accused the HDP, which favours a ceasefire, of being a cat's paw of the PKK. 
On 20 July an Isis suicide bomber at Suruc killed 32 young socialists on their way to aid reconstruction at Kobani. After two Turkish policemen were killed in retaliation, the Turkish army and air force resumed attacks on the PKK in south-east Turkey and Iraq. 
On 10 October another Isis suicide bombing killed 102 people demonstrating for peace in Ankara in Turkey's worst terrorist attack. Opposition parties accuse the authorities of not defending them against Isis and have cancelled all pre-election rallies.   
The election campaign has been extraordinarily violent with demonstrators attacking HDP offices and opposition newspapers. Murat Yetkin, a leading journalist on the liberal and secular daily Hurriyet, recalls how mobs twice attacked the office of his newspaper in September, smashing all the windows. A columnist was later assaulted and had his nose and ribs broken.
World news in pictures
World news in pictures
1/30 27 May 2016

An aerial picture shows firefighters spraying foam at the engine of a Korean Air Lines plane after smoke rose from it at Haneda airport in Tokyo, Japan

Reuters

2/30 26 May 2016

A man walks his donkey and its load through flooded streets Beledweyne, north of Mogadishu. Hundreds of families have been forced out of their homes following flash floods in Beledweyne after torrential rains pounded the area in the last few days. The heavy rains led to the bursting of River Shabelle which caused massive floods in residential areas along the river

Getty Images

3/30 26 May 2016

A worker checks a mask of U.S. Republican presidential candidate Donald Trump at Jinhua Partytime Latex Art and Crafts Factory in Jinhua, China

Reuters

4/30 26 May 2016

Estonia's olympic team female marathon runners triplets (L-R) Leila, Liina and Lily Luik pose for a picture after a training session in Tartu

Reuters

5/30 25 May 2016

Lightning from a severe storm fills the sky behind a grain elevator in Bellevue, Kansas

AP

6/30 25 May 2016

Riot police stand guard behind a fire as refinery workers hold a blockade of the oil depot of Douchy-Les-Mines to protest against the government's proposed labour reforms

Getty

7/30 25 May 2016

Vehicles are stuck in a sinkhole near Ponte Vecchio. A sinkhole measuring about 200 meters long and seven meters wide opened up in central Florence

EPA

8/30 24 May 2016

Protesters picket outside the event site before Republican U.S. presidential candidate Donald Trump begins a rally with supporters in Albuquerque, New Mexico

Reuters

9/30 24 May 2016

An Indian policeman uses a baton to disperse demonstrators during a protest by government employees demanding their long pending arrears and a regularisation of their temporary jobs, according to protesters, in Srinagar

Reuters

10/30 23 May 2016

Confiscated rare and protected wildlife products such as these stuffed Sumatran tiger skins are burned and destroyed during a ceremony by government forestry and wildlife officials in Banda Aceh, Indonesia

Reuters

11/30 23 May 2016

A woman leads a school pupil away from tear gas and a burning barricade in Kibera slum, during a demonstration of opposition supporters protesting for a change of leadership ahead of a vote due next years in Nairobi

Getty Images

12/30 23 May 2016

A crane destroys over one million pirated music, movie and software CDs and DVDs in a campaign against piracy organised by the government in Algiers, Algeria

Reuters

13/30 23 May 2016

Shi'ite fighters forces launch a rocket towards Islamic State militants on the outskirts Falluja, Iraq

Reuters

14/30 22 May 2016

Yemenis take part in celebrations marking the 26th anniversary of Yemen's 1990 reunification in the capital Sanaa

Getty Images

15/30 22 May 2016

Indonesian soldiers carry resident's belongings as they aid in evacuation efforts from a village impacted by the Mount Sinabung eruption at Gamber Village in North Sumatra. At least six people were killed and two others were seriously wounded after the Mount Sinabung volcano in North Sumatra province of western Indonesia erupted

EPA

16/30 21 May 2016

Demonstrators clash with riot police in the surroundings of the Congress in Valparaiso, while Chilean President Michelle Bachelet delivers her annual message to the nation

Getty Images

17/30 21 May 2016

The Egyptian military spokesman released pictures of debris that the search teams found in the sea after the EgyptAir Airbus A320 crashed in the Mediterranean

Getty Images

18/30 21 May 2016

Sri Lankan flood victims push a trishaw through floodwaters in the Kolonnawa suburb of Colombo

Getty Images

19/30 20 May 2016

A protester write on the facade of the Ministry of Justice building with color spray during an anti-government protest in Skopje, in a series of protests dubbed Colourful Revolution. Crisis-hit Macedonia postponed elections due next month, after the European Union called on Skopje to delay the polls to ensure they could take place freely and fairly

Getty Images

20/30 20 May 2016

Members of the Ukrainian national guard "Azov" regiment and activists of the Azov civil corp take part in a protest against local elections in pro-Russian rebel-held areas of eastern Ukraine under the Minsk peace agreement, in Kiev

Reuters

21/30 19 May 2016

Families of passengers who were flying in an EgyptAir plane that vanished from radar en route from Paris to Cairo react as they wait outside a services hall at Cairo airport

Getty Images

22/30 18 May 2016

A man clashes with policemen during a protest against new emergency powers decreed this week by President Nicolas Maduro in Caracas. Public outrage was expected to spill onto the streets of Venezuela, with planned nationwide protests marking a new low point in Maduro's unpopular rule

Getty Images

23/30 18 May 2016

A police car explodes after being set on fire during an unauthorized counter-demonstration against police violence in Paris, as Police across France demonstrate today against the "anti-cop hatred" they say they have endured during a wave of anti-government protests since early March

Getty Images

24/30 18 May 2016

Sri Lankan military personnel take part in relief and rescue efforts following a landslide in the village of Bulathkohupitiya. Rescue workers recovered the bodies of 17 villagers buried in landslides in Sri Lanka after three days of torrential rain. The disaster hit two small villages in Kegalle, a mountainous area northeast of Colombo, and takes the overall death toll from flooding and landslides in recent days to 36

Getty Images

25/30 18 May 2016

A protester against visiting Zhang Dejiang, the chairman of China's National People's Congress, confronts police in Hong Kong

Reuters

26/30 18 May 2016

Chicks dyed to draw attention are offered for sale at a small poultry market in Jakarta, Indonesia

Reuters

27/30 17 May 2016

A man throws a fire extingusher at Parliamentary security behind a closed door after members of Julius Malema's Economic Freedom Fighters (EFF) were evicted from Parliament during President Jacob Zuma's question and answer session in Cape Town, South Africa

Reuters

28/30 17 May 2016

Supporters of Federal Alliance, a coalition of Madhes-based parties and other ethnic political parties and organizations, protest against the constitution near the Prime Minister's official residence in Kathmandu, Nepal

Reuters

29/30 17 May 2016

Members of a Sri Lankan Army rescue team carry a woman to safety through floodwaters in the suburb of Kaduwela in capital Colombo. Emergency workers in Sri Lanka found the bodies of a woman and two children killed in a landslide, taking the toll from two days of heavy rain to 11, with thousands more forced to flee their homes

Getty Images

30/30 16 May 2016

Protesters light flares and wave flags marching through a street, during an anti-government protest in Skopje, in series of protests dubbed "Colorful Revolution". Macedonia has been politically gridlocked for two years but the crisis rose a notch on 12 April when President Gjorge Ivanov halted a probe into more than 50 public figures suspected of involvement in corruption and a wire-tapping scandal. The move triggered street protests against Ivanov and the ruling party's leader, Nikola Gruevski. Fresh demonstrations drew several thousand, mostly young people who demanded Ivanov resignation

Getty Images
This week workers were constructing sturdier defences in the forecourt of the building, but there is a sense that all institutions critical of Mr Erdogan are under permanent siege. 
Mr Yetkin says that polarisation in Turkey is at its zenith with a danger that, if Mr Erdogan wins a simple majority of 276 seats in the 550-seat parliament (the AKP currently has 258 seats), then he will establish an authoritarian presidential system. 
Polls show that the four main political parties' share of the vote has not changed much since the last election in June, with the AKP hovering at just over 40 per cent. This puts it within a few seats of an absolute majority, failing which it might seek a coalition with the more secular Republican People's Party (CHP) or the far-right Nationalist Action Party (MHP). 
But Mr Erdogan has never shown any liking for coalitions or for diluting his own power. 
His chances of success may be greater than they look because so many institutions and centres of power, such as the army, judiciary and much of the media, have been tamed and brought under his control.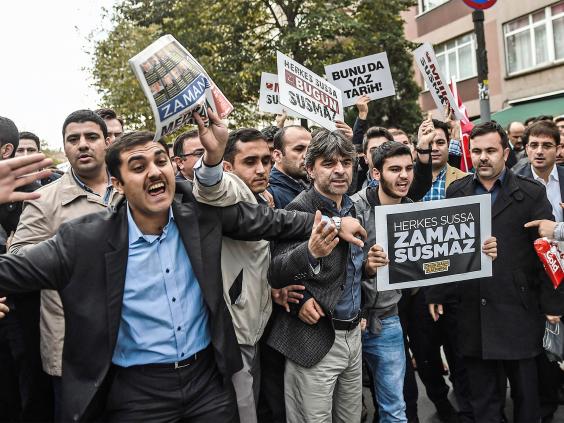 Only this week in Ankara, police forced their way into the headquarters of the Koza-Ipek Holding company, which owns two newspapers and two television channels, to enforce a court order appointing a panel of trustees. 
The AKP has an overwhelming advantage when it comes to campaigning and influencing the electorate. A survey of the state-owned TV channels shows that, over the past 25 days, they have given 30 hours of coverage to the AKP and 29 hours to Mr Erdogan's activities, while the CHP received five hours, the MHP one hour and 10 minutes, and the HDP 18 minutes.  
Mr Erdogan may also benefit from a sense among many voters that the AKP represents stability, even if it involves a shift towards dictatorship, and all the other alternatives mean economically damaging instability and uncertainty. 
The Turkish economy no longer produces the spectacular growth seen up to 2012. Well-educated graduates are finding it difficult to get a job or, when they lose their job, to find a new one. 
Dilsah Deniz, a woman in her twenties with a degree in international relations, used to work as a manager in a company making weapons, but the sharp decline in the value of the Turkish currency over the past year meant that it could no longer afford to buy raw materials in Europe. Its two factories closed, she lost her job and has been unable to find one since. 
She says that many companies have stopped interviewing job applicants until they know the outcome of the election. She hopes that greater stability will improve her chances of employment.  
She may be disappointed whatever the election result. The violence that is convulsing Syria and Iraq is spreading to Turkey, and Isis bomb attacks have poisoned relations between Turks and Kurds. 
Worse, Turkey's engagement in Syria has not stopped the creation of a new Kurdish quasi-state stretching along 250 miles of Turkey's southern frontier, which is today run by the Syrian branch of the PKK. 
Turkey, which was poised to be a major power in the Middle East in 2012, has now been all but excluded as an influence in much of the region. A further advance along the border by the Syrian Kurds might lead Ankara to consider direct military intervention.  
The result of the election on Sunday is unpredictable, but it has already unleashed or exacerbated powerful divisive forces. Mr Erdogan may want to bring these under control after the election, but he will find it difficult to do so.