Ayse Magi inspected the damage done to her modest home in the town of Cizre, tears in her eyes. Two mortar shells had punctured the ceiling of the bathroom and hallway, and the result was clear: "There is no way we can live here," she said.  
The mother-of-five was among many residents who were displaced by weeks of operations conducted by Turkey's security forces against militants linked to the Kurdistan Workers' Party (PKK), which wants autonomy for the country's Kurds.
Ms Magi chose to remain within the city despite a gruelling 24-hour curfew that had been imposed on 14 December. Now, the Turkish military has eased that curfew – although it will still hold between 7.30pm and 5am – allowing a first wave of residents who had left Cizre to return. Many reached the town at dawn, their vehicles loaded with personal belongings and children. Police carefully inspected their documents as well as the contents of their cars and bags. Many of the returnees also found their homes obliterated.
The town near the borders of Syria and Iraq, with a population of more than 100,000, has been the worst hit of a handful of mainly southeastern Kurdish districts that have seen operations by Turkey's government against the PKK. 
The level of damage seen in some neighbourhoods evoked the early days of the war in Syria, with buildings gutted by shelling or partially collapsed. Shell casings littered the battle-scared streets of the Sur neighbourhood, where residents made a grisly discovery: the corpse of an unidentifiable male, on of a number of bodies reportedly found during the day.
"Those who did this are not human," said resident Serif Ozem. "What took place here is a second Kobani in a country that is supposed to be a democracy."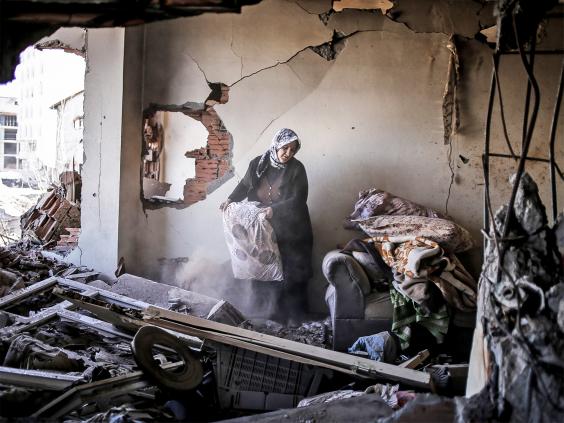 Kobani is a predominantly Kurdish town in northern Syria that suffered a brutal siege at the hands of Isis.
Several shops and homes in the Sur area of Cizre had their walls blasted open. Windows were shattered and doors unhinged, the smell of gunpowder still clinging to the breeze. 
Turkish military-imposed curfews remain in the historic district of the main Kurdish city of Diyarbakir – which is also called Sur – and in Idil, a district in Sirnak province, where Turkish forces are continuing operations against Kurdish militants. 
The army says more than 600 Kurdish rebels were killed in Cizre. Human rights groups claim that 92 civilians were killed in the town during the military operation. Ozturk Turkdogan, who heads the Ankara-based Human Rights Association, said an additional 171 bodies have been retrieved from three basements in Cizre since Turkey declared the battle over on 11 February. 
Govenor Ali Ihsan Su of Sirnak province warned returning Cizre residents to be careful about possible undetected explosive devices in their homes. Three large booms were heard in the morning, which police said were controlled explosions to clear booby traps. Police said the curfew in Cizre could not be lifted immediately after the military operations ended last month because troops had to clear leftover explosives.
World news in pictures
World news in pictures
1/30 26 June 2016

A LGBT member waves a rainbow flag during a rally staged by the LGBT community on Istiklal avenue in Istanbul. Riot police fired tear gas and rubber bullets to disperse protesters defying a ban on the city's Gay Pride parade. Authorities in Turkey's biggest city had banned the annual parade earlier this month citing security reasons, sparking anger from gay rights activists

AFP/Getty Images

2/30 26 June 2016

A burned out truck rests on a roadside after the Erskine Fire burned through Weldon, California

REUTERS

3/30 26 June 2016

Men flagellate during the Shiite Youm Ali procession in Islamabad, Pakistan

REUTERS

4/30 25 June 2016

A man raises his hands as he runs from the scene of a suicide bomb attack outside Nasahablood hotel in Somalia's capital Mogadishu

REUTERS

5/30 25 June 2016

A Ukrainian Forces soldier fires a heavy machine gun during a battle with pro-Russian separatists at Avdeyevka, in Ukraine's Donetsk region

AFP/Getty Images

6/30 25 June 2016

A man practices his contact juggling skills in Manila, Philippines

AFP/Getty Images

7/30 24 June 2016

A rider rears up on his horse while surrounded by a cheering crowd during the traditional Fiesta of Sant Joan (Saint John) in downtown Ciutadella, on the island of Menorca, Spain

REUTERS

8/30 24 June 2016

A man throws a bucket of water at a motorcyclist as residents join in a water-splashing frenzy to honor their patron St. John the Baptist's Feast Day in San Juan, Metro Manila, Philippines

REUTERS

9/30 23 June 2016

Migrant workers supporting Myanmar Foreign Minister and State Counselor Aung San Suu Kyi wave to her during a meeting at the coastal fishery centre of Samut Sakhon, Thailand

REUTERS

10/30 23 June 2016

A general view shows the financial district of Lujiazui in Shanghai

AFP/Getty Images

11/30 23 June 2016

A cat walks past Muslim women offering afternoon prayers at a mosque at the shrine of Sufi Saint Khawaja Naqashband during the holy month of Ramadan in Srinagar

REUTERS

12/30 23 June 2016

A test launch of ground-to-ground medium long-range ballistic rocket Hwasong-10 in North Korea

REUTERS

13/30 22 June 2016

Family members cry near coffins containing the bodies of Nepali nationals, who were killed when a suicide bomber struck a minibus in Kabul, lined up after being flown from Afghanistan at Tribhuvan International Airport in Kathmandu, Nepal

REUTERS

14/30 22 June 2016

Villagers carry banners which read "Plead the central government to help Wukan" (in red) and "Wukan villagers don't believe Lin Zuluan took bribes" during a protest in Wukan, China's Guangdong province

REUTERS

15/30 21 June 2016

A plane drops retardant on a wildfire as it attacks the flames on a hillside in the San Gabriel mountains near Monrovia, California

REUTERS

16/30 21 June 2016

Aymara indigenous hold up their hands to receive the first rays of sunlight in a New Year's ritual in the ruins of the ancient city Tiwanaku, Bolivia. Bolivia's Aymara Indians are celebrating the year 5,524 as well as the Southern Hemisphere's winter solstice, which marks the start of a new agricultural cycle

AP

17/30 21 June 2016

A resident making his way through a flooded area in a village in Poyang county, in southeast China's Jiangxi province

AFP/Getty Images

18/30 20 June 2016

Seagulls fly as the full moon rises behind the ancient marble Temple of Poseidon at Cape Sounion, southeast of Athens, on the eve of the summer solstice

AP

19/30 20 June 2016

An aerial view shows people practising yoga on a glass sightseeing platform ahead of the International Day of Yoga, on the outskirts of Beijing, China

REUTERS

20/30 20 June 2016

Dessana indigenous shaman Raimundo Dessana holds the Olympic Torch during a ritual at the Tupe Reservation in the outskirts of Manaus, Amazonas, Brazi

AFP/Getty Images

21/30 20 June 2016

An emu runs to escape an approaching wildfire as it burns near Potrero, California

REUTERS

22/30 20 June 2016

Wales' supporters cheer downtown Toulouse, before the Euro 2016 football match of Russia vs Wales

AFP/Getty Images

23/30 19 June 2016

A rescuer grabs a rope to prevent a raft carrying residents from being flushed away as residents are evacuated from a flooded area in Jiujiang, China

REUTERS

24/30 19 June 2016

Palestinians scuffle with an Israeli border policeman as Israeli troops demolish sheds belonging to Palestinians near the West Bank village of Yatta, south of Hebron

REUTERS

25/30 19 June 2016

People hold placards reading "A kiss against hate", "Rome loves Europe" as they gathered in front of the Colosseum to send a message of affection, sealed with a kiss to Britain, before next week's referendum, in Rome, Italy

REUTERS

26/30 19 June 2016

People perform dragon dance and present it in a shape of the Chinese character "father" to celebrate Father's Day in Yueyang, China

REUTERS

27/30 19 June 2016

A humming bird is seen landing on a bird feeder at a public square in Santiago, Chile

REUTERS

28/30 18 June 2016

A reveller participates in Regenbogenparade gay pride parade in Vienna, Austria

REUTERS

29/30 18 June 2016

Mohammed Tofeeq holds his 10-month-old daughter, Gulshan Tofeeq, while he prays at the grave of his wife Muqadas Tofeeq, who local police say was killed by her mother, in Butrawala village on the outskirts of Gujranwala in Pakistan. Police have arrested the mother of Muqadas Tofeeq who is accused of killing her pregnant daughter for marrying against the wishes of her family. Violence against women is not uncommon in Pakistan where nearly 1,000 women are killed each year in so-called "honor killings" for violating conservative norms on love and marriage

AP

30/30 17 June 2016

A relative of a an Indian man convicted for the 2002 Gujarat riots cries after the court announced the lengths of the sentences in Ahmadabad, India. An Indian court has sentenced 11 people to life in prison for murder in one of the many deadly religious riots that swept across the western state of Gujarat in 2002, leaving more than 1,000 dead. Special Court Judge P. B. Desai rejected the demand for death penalty as the prosecution failed to prove charges of criminal conspiracy against the defendants. The judge also sentenced 12 defendants to seven years in prison and one to 10 years in prison in the case

AP
Blaming the militants for the destruction of the town, the governor said 708 barricades were dismantled, 264 trenches filled in and 1,409 improvised explosive devices disposed of. In addition, security forces seized "large numbers" of automatic weapons, other firearms and hand grenades. 
"They destroyed houses by placing explosives from the kitchens to the bedrooms. They attacked callously and mercilessly, without distinguishing between military, police, women, men, old or young," Mr Su said. 
Shoe shop owner Nesim Cavusoglu, who stayed during the curfew, despaired over the destroyed facade of his business. 
"This is all that is left," he said, gesturing at the rubble and a handful of shoe boxes. 
Police said the curfew could not be lifted immediately after the military operations ended because troops had to clear leftover explosives. 
Prime Minister Ahmet Davutoglu has promised to reconstruct Cizre and other districts ruined by the fighting. 
The PKK, considered a terror group by Turkey and its allies, has been waging an insurgency in southeastern Turkey since 1984. The conflict has killed tens of thousands of people since then. A fragile, two-year-old peace process with the rebels broke down in July. Nurettin Guler, a 55-year old who stayed in Cizre amid the worst fighting, was pessimistic about the next phase. 
"They say the operations have ended, but we just don't know," he said. "If peace isn't achieved... it's not over."
AP