Ayse Magi inspected the damage done to her modest home in the town of Cizre, tears in her eyes. Two mortar shells had punctured the ceiling of the bathroom and hallway, and the result was clear: "There is no way we can live here," she said.  
The mother-of-five was among many residents who were displaced by weeks of operations conducted by Turkey's security forces against militants linked to the Kurdistan Workers' Party (PKK), which wants autonomy for the country's Kurds.
Ms Magi chose to remain within the city despite a gruelling 24-hour curfew that had been imposed on 14 December. Now, the Turkish military has eased that curfew – although it will still hold between 7.30pm and 5am – allowing a first wave of residents who had left Cizre to return. Many reached the town at dawn, their vehicles loaded with personal belongings and children. Police carefully inspected their documents as well as the contents of their cars and bags. Many of the returnees also found their homes obliterated.
The town near the borders of Syria and Iraq, with a population of more than 100,000, has been the worst hit of a handful of mainly southeastern Kurdish districts that have seen operations by Turkey's government against the PKK. 
The level of damage seen in some neighbourhoods evoked the early days of the war in Syria, with buildings gutted by shelling or partially collapsed. Shell casings littered the battle-scared streets of the Sur neighbourhood, where residents made a grisly discovery: the corpse of an unidentifiable male, on of a number of bodies reportedly found during the day.
"Those who did this are not human," said resident Serif Ozem. "What took place here is a second Kobani in a country that is supposed to be a democracy."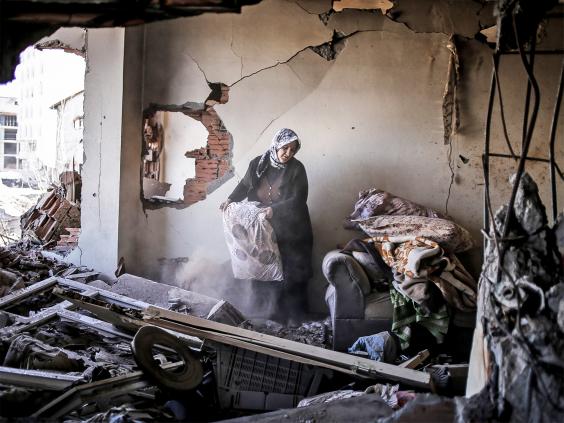 Kobani is a predominantly Kurdish town in northern Syria that suffered a brutal siege at the hands of Isis.
Several shops and homes in the Sur area of Cizre had their walls blasted open. Windows were shattered and doors unhinged, the smell of gunpowder still clinging to the breeze. 
Turkish military-imposed curfews remain in the historic district of the main Kurdish city of Diyarbakir – which is also called Sur – and in Idil, a district in Sirnak province, where Turkish forces are continuing operations against Kurdish militants. 
The army says more than 600 Kurdish rebels were killed in Cizre. Human rights groups claim that 92 civilians were killed in the town during the military operation. Ozturk Turkdogan, who heads the Ankara-based Human Rights Association, said an additional 171 bodies have been retrieved from three basements in Cizre since Turkey declared the battle over on 11 February. 
Govenor Ali Ihsan Su of Sirnak province warned returning Cizre residents to be careful about possible undetected explosive devices in their homes. Three large booms were heard in the morning, which police said were controlled explosions to clear booby traps. Police said the curfew in Cizre could not be lifted immediately after the military operations ended last month because troops had to clear leftover explosives.
World news in pictures
World news in pictures
1/30 30 August 2016

Somali security forces patrol the scene of a suicide car bomb blast in Mogadishu. At least 10 people were killed when jihadists exploded a suicide car bomb outside a popular hotel close to the presidential palace in Somalia's capital Mogadishu. The Al-Qaeda aligned Shabaab jihadists claimed responsibility for the attack on the SYL hotel which was previously attacked in both February 2016 and January 2015

AFP/Getty Images

2/30 30 August 2016

Turkish soldiers carry a giant Turkish flag during a ceremony to mark 94th anniversary of Turkeys Victory Day in Ankara

AFP/Getty Images

3/30 30 August 2016

Safari keeper Guy Pear gets a kiss from a five-day-old reticulated giraffe, at an enclosure at the Safari Zoo in Ramat Gan, near Tel Aviv, Israel

REUTERS

4/30 29 August 2016

A child holds a placard reading "Open the border" during a demonstration in support to refugees and migrants in front of Athens municipality building

AFP/Getty Images

5/30 29 August 2016

Police fire tear gas grenades at supporters of suspendend president Dilma Rousseff holding a demonstration during her impeachment trial in Sao Paulo, Brazil

AFP/Getty Images

6/30 29 August 2016

A rescue boat of the Spanish NGO Proactiva approaches an overcrowded wooden vessel with migrants from Eritrea, off the Libyan coast in Mediterranean Sea

REUTERS

7/30 29 August 2016

Indian troopers use shields to protect themselves during a clash with Kashmiri protesters in Srinagar. Authorities lifted a curfew in Indian-administered Kashmir after 52 days of lock down amid deadly violence, but street clashes broke out again between protesters and security forces

AFP/Getty Images

8/30 29 August 2016

A farmer checks hot peppers laid out on a road to dry under the sun before selling them to factories producing pepper products in Kilis province, Turkey

REUTERS

9/30 29 August 2016

Heavy rain clouds move over the central business district in Bangkok

AFP/Getty Images

10/30 28 August 2016

Dead wild reindeer are seen on Hardangervidda in Norway, after lightning struck the central mountain plateau and killed more than 300 of them

REUTERS

11/30 17 August 2016

Indonesian students play traditional drums called "Dol" from Bengkulu province as they participate in the Indonesian Independence day ceremony in Jakarta

AFP/Getty Images

12/30 17 August 2016

A woman attempts to cover a tear gas canister fired by police at a crowd in Srinagar protesting against the recent killings in Kashmir

REUTERS

13/30 17 August 2016

Participants struggle to reach the prizes on the top of greasy slippery poles in Jakarta, as part of Indonesia's celebrations to mark its 71st independent day anniversary

AFP/Getty Images

14/30 16 August 2016

An air tanker drops fire retardant on the Blue Cut wildfire in Lytle Creek, California. The fire is currently 9,000 plus acres, with 700 personnel on scene. Fifty-seven engines, 8 crews, 8 air tankers, 2 Very Large Air Tankers (VLATS), with additional firefighters and equipment on order

AFP/Getty Images

15/30 16 August 2016

Free Syrian army fighters stand atop of a hill as the moon is seen in the background in the south of Nawa city, in Deraa Governorate, Syria

REUTERS

16/30 16 August 2016

A Palestinian youth is being evacuated after he was wounded during clashes with Israeli soldiers conducting searches in the Palestinian al-Fawwar refugee camp, south of the West Bank city of Hebron

AFP/Getty Images

17/30 16 August 2016

AFP/Getty Images

18/30 16 August 2016

Mine workers sing as they wait for the commemoration to get under way near Marikana in Rustenburg, South Africa. On 16 August 2012 police shot and killed 34 Lonmin striking miners, apparently while trying to disperse them and end their strike. Ten people, including two police officers and two Lonmin security guards, were killed in the preceding week

AP

19/30 16 August 2016

People look at a crater caused by a Saudi-led coalition air strike at the yard of a hospital operated by Medecins Sans Frontieres in the Abs district of Hajja province, Yemen

REUTERS

20/30 15 August 2016

People cool off at a swimming pool in Daying county, China

REUTERS

21/30 15 August 2016

Turkish soldiers from a military guard of honor carry coffins during a mass burial ceremony for Turkish Cypriots who went missing in 1974 and whose remains have been found by the Committee on missing people in Cyprus (CMP), at a cemetery in the village of Tashkent (Vouno) in the self-declared Turkish Republic of Northern Cyprus. More than 30 Turkish Cypriots, who had disappeared in Tochni near the coastal southern city of Limassol in August 1974 and were found in 2014 in a mass grave in the village, were buried during the ceremony

AFP/Getty Images

22/30 15 August 2016

Indian paramilitary soldiers hug each other as they react to the news of killing of two suspected rebels in a gun-battle in the Nowhatta neighborhood of Srinagar, Indian controlled Kashmir. Suspected separatist rebels and government troops were engaged in two gun battles in Indian-controlled Kashmir despite a complete security lockdown in the disputed region as India celebrated its independence from British rule

AP

23/30 14 August 2016

A spectator poses ahead of the Women's Marathon during the athletics event at the Rio 2016 Olympic Games at Sambodromo in Rio de Janeiro

AFP/Getty Images

24/30 14 August 2016

Family members of Sylville Smith gather where he was shot and killed by police in Milwaukee. Police say a black man whose killing touched off arson and rock-throwing, was shot by a black officer after turning toward him with a gun in his hand

AP

25/30 14 August 2016

Men carry a dog, wearing a costume and seated on a stool, as a form of respect as they believe that dogs found water for their ancestors, during a local festival for the Miao ethnic minority in Jianhe county, Guizhou Province, China

REUTERS

26/30 14 August 2016

A truck burns in the town of Lower Lake, California. A wildfire destroyed at least four homes and forced thousands of people in two Northern California towns to flee as flames jumped a road and moved into populated areas

AP

27/30 14 August 2016

Kurdish Peshmerga forces fire a rocket toward Islamic State militants on the southeast of Mosul , Iraq

REUTERS

28/30 14 August 2016

An armed boy walks as he attends a gathering held by tribesmen loyal to the Houthi movement to show support to a political council formed by the movement and the General People's Congress party to unilaterally rule Yemen by both groups in Sanaa

REUTERS

29/30 13 August 2016

A jockey takes part in a traditional cattle race or "Pacu Jawi", to mark the end of the rice harvest in Tanah Datar, West Sumatra, Indonesia

REUTERS

30/30 13 August 2016

Rescue workers carry a survivor on a stretcher, after he was extracted from a collapsed wall in an informal settler house, just beside the city jail building in Manila

AFP/Getty Images
Blaming the militants for the destruction of the town, the governor said 708 barricades were dismantled, 264 trenches filled in and 1,409 improvised explosive devices disposed of. In addition, security forces seized "large numbers" of automatic weapons, other firearms and hand grenades. 
"They destroyed houses by placing explosives from the kitchens to the bedrooms. They attacked callously and mercilessly, without distinguishing between military, police, women, men, old or young," Mr Su said. 
Shoe shop owner Nesim Cavusoglu, who stayed during the curfew, despaired over the destroyed facade of his business. 
"This is all that is left," he said, gesturing at the rubble and a handful of shoe boxes. 
Police said the curfew could not be lifted immediately after the military operations ended because troops had to clear leftover explosives. 
Prime Minister Ahmet Davutoglu has promised to reconstruct Cizre and other districts ruined by the fighting. 
The PKK, considered a terror group by Turkey and its allies, has been waging an insurgency in southeastern Turkey since 1984. The conflict has killed tens of thousands of people since then. A fragile, two-year-old peace process with the rebels broke down in July. Nurettin Guler, a 55-year old who stayed in Cizre amid the worst fighting, was pessimistic about the next phase. 
"They say the operations have ended, but we just don't know," he said. "If peace isn't achieved... it's not over."
AP
Reuse content