An "unprecedented" sandstorm has swept across the Middle East, covering Lebanon and Syria in dust and causing the deaths of at least five people.
Hundreds more were admitted to hospital with breathing difficulties, according to officials, as cities were blanketed in yellow sand.
Reduced visibility prompted the Syrian government to call off airstrikes against rebel fighters in a central province, local media reported, and threatened a planned protest by Lebanese activists over the government's inability to deal with the country's rubbish crisis.
In pictures: Deadly sandstorm hits Middle East
In pictures: Deadly sandstorm hits Middle East
1/18 Israel

A Palestinian man wears a mask to protect his face from the dust as he walks past the Dome of the Rock mosque in the al-Aqsa Mosque compound, during a sandstorm, in the old city of Jerusalem

2/18 Lebanon

A Lebanese man plays with a fish close to the Sidon Sea Castle during a sandstorm in the southern port city of Sidon

3/18 Gaza

Palestinians sit on a beach along the Mediterranean Sea during a sandstorm in the northern Gaza Strip

4/18 Gaza

A Palestinian boy walks past houses, during a sandstorm in Gaza

5/18 Egypt

Vehicles drive during sandstorm on a highway in Cairo

6/18 Israel

A beach in the city of Tel Aviv during a sandstorm

7/18 Lebanon

A Syrian boy wearing a face-mask walks past a pile of rubbish at a Syrian refugee camp in the town of Zahrani

8/18 Syria

Syrian citizens cross a street, as a sandstorm shrouds Damascus

9/18 Gaza

A Palestinian policeman controls traffic during a sandstorm in Gaza

10/18 Gaza

A Palestinian boy sleeps on a mattress inside the remains of his family's house, during a sandstorm in Gaza

11/18 Jordan

A sandstorm covers a part of Amman

12/18 Israel

Israelis and tourists practice kitesurfing and windsurfing in the Israeli red sea resort city of Eilat

13/18 Gaza

A Palestinian boy washes a horse in the Mediterranean Sea during a sandstorm

14/18 Israel

A woman showers after taking a dip in the red sea in the southern Israeli coastal city of Eilat, as a sandstorm engulfs parts of the Middle East

15/18 Gaza

A Palestinian street vendor displays balloons in front of the sea as a sandstorm blows over Gaza City

16/18 Gaza

Gaza City during a sandstorm

17/18 Gaza

Palestinian workers remove debris from buildings, amid a sandstorm

18/18 Gaza

Palestinian workers straighten steel bars extracted from the ruins of houses, during a sandstorm in Gaza
Meteorologists at Rafik Hariri International Airport in Beirut described the storm as "unprecedented" in the modern history of Lebanon.
The unseasonal storm also hit Jordan, Israel and Egypt. In Jordan, schools shut down or cut their days short.
The sandstorm reached the Lebanese capital on Tuesday, a day after it engulfed the Bekaa Valley in the east of the country. People, especially those with health issues, were advised to stay indoors while many of those who ventured onto the streets donned surgical masks.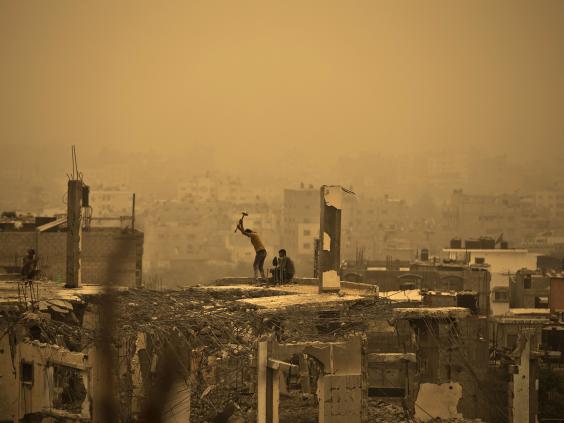 The Lebanese Health Ministry said 750 people suffered breathing problems across the country, and that two women died because of the sandstorm.
Two boats set adrift were rescued by coastguard, the National News Agency said. Airport officials reported some flight delays.
Lebanese authorities warned residents against burning rubbish that has piled up on Beirut streets this summer, sparking a political crisis and daily protests.
Lucien Bourjeili, one of the protest organisers, said the bad weather may prevent people from taking to the streets in a major protest planned for Wednesday.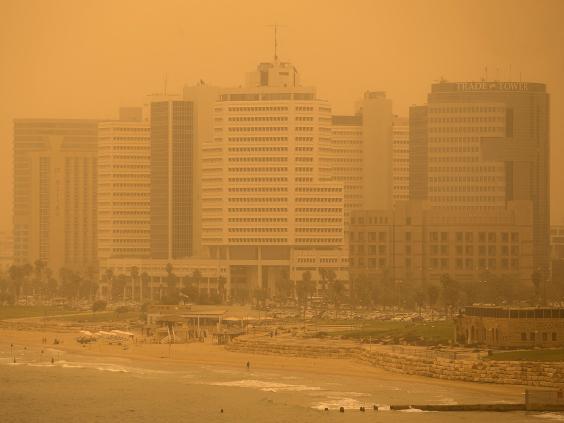 In the Syrian capital, Damascus, the head of a major hospital, Adeeb Mahmoud, said more than 1,200 people, including 100 children, had been treated for breathing problems.
The Syrian pro-government Al-Watan newspaper said the weather forced a halt in government airstrikes against rebel fighters north of the central province of Hama.
The British-based Syrian Observatory for Human Rights, said hospitals in the town of al-Mayadeen in the northern province of Deir el-Zour ran out of oxygen cylinders and were unable to take in more patients.
Additional reporting by Associated Press
Reuse content