Many people think that social media has been a boon for grassroots social and political movements, and it's easy to understand why. The rise of Facebook, Twitter, and other technologies since the mid-2000s has coincided with an explosive increase in popular uprisings during the same period. Whether it's organising revolutions in Egypt and Iran, tracking Russian troop movements in Ukraine, or providing real-time information to protesters in Sudan, social media is supposed to give activists an edge.
It's a reasonable assumption - and there are indeed many ways in which these new technologies can help. Perhaps most obviously, social media can lower the costs of communicating the crucial "where, when, how, and why" of protests to large numbers of people, as Twitter did during the 2014 Euromaidan revolution in Ukraine. Other platforms, such as YouTube, can help popularise basic knowledge about how to protest effectively, helping movements build organisational capacity. When physical gatherings are prohibited, digital venues such as Facebook or Reddit can create forums for new, virtual public spheres that are difficult to shut down.
Internet optimists also argue that online venues create space for dialogue in the midst of conflict, presenting policy options to the public and to elites in spite of government censorship. And, of course, the internet allows activists to promote their own narrative, which is particularly important when the mainstream media is controlled by the government.
Yet in spite of this optimism, what is sometimes known as "liberation technology" is not, in fact, making pro-democracy movements more effective. It's true that we've seen more episodes of mass mobilisation since the rise of digital communications than we did before. But we should note that the stunning rise of nonviolent resistance came long before the internet. The technique has enjoyed widespread use since Gandhi popularised the method in the 1930s. And in fact, nonviolent resistance has actually become less successful compared to earlier, pre-internet times. Whereas nearly 70 per cent of civil resistance campaigns succeeded during the 1990s, only 30 per cent have succeeded since 2010. Why might this be?
There are a few possible reasons. First, as political scientist Anita Gohdes has carefully documented, governments are simply better at manipulating social media than activists. Despite early promises of anonymity online, commercial and government surveillance has made internet privacy a thing of the past. The Russian government, for example, has successfully infiltrated activists' communications to anticipate and crush even the smallest protests. These practices are common in democracies too. In the United States, the National Security Agency's warrantless wiretapping programme, or Yahoo's collaboration with the US government in harvesting information from its users, are probably just the beginning. Recent reports indicate that local police departments (including in my own city of Denver) monitor social media to harvest data about their districts. While in the past, governments had to devote significant resources to detecting dissidents, today's digital climate encourages people to proudly announce their political, social, and religious beliefs and identities – data that allows law enforcement and security services to target them that much more effectively. Of course, there are ways for people to protect their privacy, but few of these techniques will hold up against a dedicated adversary.
World news in pictures
World news in pictures
1/29 29 March 2017

A scenic spot featuring the shape of a giant Bagua attracted tourists in Pipa county, Huairen city, southwest China's Guizhou province. Measuring 200,000 square meters, it was created by a villager within eight months

Rex

2/29 29 March 2017

Black Eagles of the Republic of Korea Air Force perform a flypast near Petronas twin towers in Kuala Lumpur, Malaysia. Black Eagles were in Malaysia for the Langkawi International Maritime and Aerospace exhibition 2017

AP

3/29 29 March 2017

The Temple of Paintings at the Maya archaeological site Bonampak, known as the 'Sistine Chapel of America'

EPA

4/29 29 March 2017

One of the murals at the Temple of Paintings at the Maya archaeological site Bonampak, known as the 'Sistine Chapel of America', restored by experts of the INAH, in Chiapas, Mexico.

EPA

5/29 29 March 2017

Cyclone Debbie has hit Queensland's far north coast as a category 4 cyclone, causing wide spread damage

Reuters

6/29 29 March 2017

Queensland Premier Annastacia Palaszczuk arrives via Australian Defence Force helicopter to inspect the damage caused by Cyclone Debbie at Bowen Airport in Bowen, Queensland, Australia

EPA

7/29 29 March 2017

Emergency relief supplies and equipment for those affected by Cyclone Debbie are loaded onto the Royal Australian Navy Ship HMAS Choules at the Port of Brisbane in Australia

Reuters

8/29 29 March 2017

A mourner holds a programme bearing the face of Ahmed Kathrada, who was sentenced to life imprisonment alongside Nelson Mandela, during his funeral at the Westpark Cemetery in Johannesburg, South Africa

Reuters

9/29 29 March 2017

Winnie Madikizela-Mandela, ex-wife of the late former South African president Nelson Mandela and South Africa's Economic Freedom Fighters (EFF) leader Julius Malema attend the wake of South African anti-apartheid activist Ahmed Kathrada next to South African ruling party African National Congress (ANC) leadership, political opposition leaders, dignitaries and family members during the funeral at the Westpark Cemetery in Johannesburg, South Africa. The funeral of celebrated South African anti-apartheid activist Kathrada was transformed into a rally against President Zuma, who had been barred from the event. The family of the African National Congress (ANC) stalwart, one of Nelson Mandela's closest colleagues in the struggle against white minority rule who died aged 87, had asked Zuma to stay away

Getty Images

10/29 29 March 2017

Mourners carry the coffin during the wake for South African anti-apartheid activist Ahmed Kathrada

Getty Images

11/29 29 March 2017

The Pink Star diamond, the most valuable cut diamond ever offered at auction, is displayed by a model at a Sotheby's auction room in Hong Kong

AP

12/29 28 March 2017

German soccer star Bastian Schweinsteiger signs autographs after arriving at O'Hare International Airport in Chicago, after being acquired by the MLS Chicago Fire soccer team from Manchester United

AP

13/29 28 March 2017

The 30th Nika Russian national film awards at the Mossovet Theatre

TASS via Getty Images

14/29 28 March 2017

Film director Alexander Sokurov, the winner of a special prize 'Honour and Dignity', at the 30th Nika Russian national film awards at the Mossovet Theatre

Getty Images

15/29 28 March 2017

People attend celebrations to mark the Gudi Padwa festival, the beginning of the New Year for Maharashtrians, in Mumbai, India

Reuters

16/29 28 March 2017

Women dressed in traditional costumes ride motorbikes as they attend celebrations to mark the Gudi Padwa festival, the beginning of the New Year for Maharashtrians, in Mumbai, India

Reuters

17/29 28 March 2017

Indian people wearing traditional attire play drums as they participate in the procession to celebrate Gudi Padwa, Maharashtrian's New Year, in Mumbai, India. Gudi Padwa is the Hindu festival that falls on the first day of Chaitra month and marks the beginning of the Lunar Calendar, which dictates the dates for all Hindu festivals, also known as Panchang

EPA

18/29 27 March 2017

Constance Malcolm, mother of Ramarley Graham, an unarmed black teenager killed by a New York Police Department officer in his Bronx apartment in 2012, speaks regarding the officer's recent resignation from the NYPD

Reuters

19/29 27 March 2017

A Syrian man stands next to an unexploded ground-to-ground missile, fired by government forces on the southern Syrian city of Daraa

Getty Images

20/29 27 March 2017

Flowers for the victims sit near the site of an avalanche that killed seven Japanese high school students and a teacher on a mountain-climbing outing on March 27 in the town of Nasu, Tochigi prefecture. A total of 52 students and 11 teachers from seven high schools were on a three-day mountaineering expedition when disaster struck

Getty Images

21/29 27 March 2017

A Greenpeace activisit throws molasses on the Total logo at the French oil giant headquarters in La Defense district, western Paris to protest against a drilling project at the mouth of the Amazon where coral reef was discovered

Getty Images

22/29 27 March 2017

Greenpeace activisits pour molasses in front of French oil giant Total Total headquarters

Getty Images

23/29 27 March 2017

Rescue workers carry victims after an avalanche hit a group of high school students and teachers climbing near a ski resort in Nasu town, north of Tokyo, Japan

Reuters

24/29 26 March 2017

Opposition supporters rally against corruption in central Saint Petersburg

Getty Images

25/29 26 March 2017

Opposition supporters with a cutout figure depicting Prime Minister Dmitry Medvedev participate in an anti-corruption rally in central Saint Petersburg

Getty Images

26/29 25 March 2017

People hold banners and flags during a demonstration against Erdogan dictatorship and in favour of democracy in Turkey, in Bern, Switzerland

Reuters

27/29 24 March 2017

Local government have decided to rename the island's main airport after the Madeira-born footballer Cristiano Ronaldo. The official inauguration ceremony is due to take place on 29 March

Getty Images

28/29 24 March 2017

Workers began the renaming works of the Madeira International Airport in Funchal, Madeira, Portugal. Local government have decided to rename the island's main airport after the Madeira-born footballer Cristiano Ronaldo

Getty Images

29/29 23 March 2017

The Brandenburg Gate is illuminated with the colours of the British flag to show solidarity with the victims of the recent attack in London, in Berlin, Germany

Reuters
Second, the turn to social media among popular movements has degraded the experience of participating. Activists and "clicktivists" might connect and pay attention to an issue for a short amount of time, but they often fail to engage fully in the struggle. Building trust in marginalised or oppressed communities takes time, effort, and sustained interactions, and this requires routine face-to-face contact over a long period. When movements mobilise without having earned this sense of trust and internal unity, they may be more likely to succumb under pressure. Participating in digital activism can give the impression that one is making a difference, but as internet sceptic Evgeny Morozov argues, creating real change requires far greater dedication and sacrifice.
Third, social media can have a demobilising effect by enabling armed actors to threaten or even coordinate direct violence against activists. For instance, in the midst of the Libyan uprising in 2011, Muammar Gaddafi's regime used the country's mobile phone network to send text messages that ordered people to go back to work. It was a chilling warning that the government was watching – and that failing to comply would have consequences. Political scientists Florian Hollenbach and Jan Pierskalla have found that greater availability of mobile phones in Africa is associated with an increase in violence.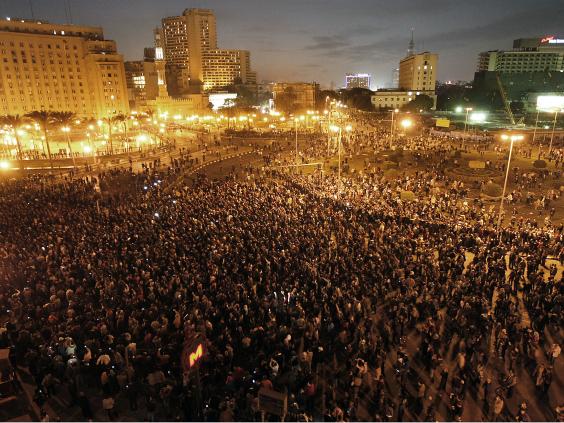 Conversely, if activists use social media to report violence by security forces, would-be protesters may not show up to the big demonstration the next day. Such reports can therefore carry unintended consequences. Instead of drawing outraged crowds, they may repel many risk-averse participants, leaving the movement's hardliners and risk-takers on their own.
This relates to a final important disadvantage: misinformation can spread on social media just as fast (or faster) than reliable information. Reports of Russian trolls manipulating a polarised information environment to influence the recent US elections are a case in point. And misinformation is only compounded by peoples' tendency to select news sources that confirm their prior beliefs. The echo chambers so prevalent in social media serve to further divide societies instead of uniting them behind a common cause.
Even those who are well-intentioned and diligent about reading reliable and credentialed news sources can inadvertently cause problems. Seeing the downfall of a tyrant through social media can encourage dissidents in a neighbouring country to rise up in identical fashion. In fact, they may try to prematurely "import" the tactics and methods they see used successfully elsewhere into their own situation – with disastrous consequences. One need look no further than Libya or Syria to see the danger of this effect. It was easy for activists in those countries to watch the Arab Spring unfold in Tunisia and Egypt and conclude that, if they assembled masses of people in public squares, they too could topple their dictators in a matter of days. This conclusion neglected the years-long mobilisations that preceded the Tunisian and Egyptian uprisings and led Libyans and Syrians to be overconfident in the ability of improvised uprisings to succeed nonviolently.
Kurt Weyland's study of the 1848 revolutions found that dissidents have been learning the wrong lessons from yesterday's revolution for centuries. But social media almost certainly exacerbates this dilemma by encouraging the diffusion of simplistic snapshots in 140-character doses rather than through studied and methodical analysis.
"Where activists were once defined by their causes, they are now defined by their tools," wrote journalist Malcolm Gladwell in 2010. And that's a bad thing when it comes to building and sustaining resilient popular campaigns. But instead of seeing the more recent failures as a failure of nonviolent mobilisations, we should adopt a more complex and realistic understanding of the ways in which increased reliance on social media has undermined the success of mass mobilisation. It's not the technique that's broken, necessarily. It's the tools.
© The Washington Post
Reuse content