The use of psychedelic drugs is as safe as riding a bike or playing football, according to the heads of a drug research organisation.
Teri Krebs and husband Pål-Ørjan Johansen say bans on drugs such as magic mushrooms and MDMA are "inconsistent with human rights" and psychedelic drugs are much less harmful to individual users and society compared to alcohol and other controlled substances.
They say that over 30 million US adults having tried psychedelics, but "there is just not much evidence of health problems" and that certain drugs could be useful in solving addiction to other, more damaging substances.
In a letter that appeared in the Lancet Psychiatry journal, the couple wrote: "Based on extensive human experience, it is generally acknowledged that psychedelics do not elicit addiction or compulsive use and that there is little evidence for an association between psychedelic use and birth defects, chromosome damage, lasting mental illness, or toxic effects to the brain or other organs.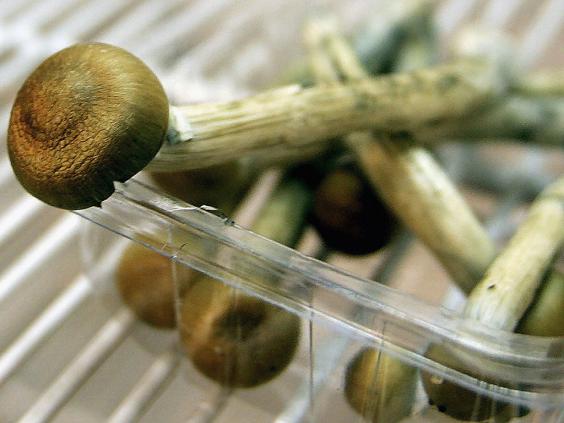 "Although psychedelics can induce temporary confusion and emotional turmoil, hospitalisations and serious injuries are extremely rare. Overall psychedelics are not particularly dangerous when compared with other common activities.
"National and International policies should respect the human rights of individuals who choose to use psychedelics as a spiritual, personal development, or cultural activity."
Speaking on the website of the organisation the couple founded, Johansen, who has experience in providing treatments for anxiety disorders said: "Psychedelics often produce profound experiences while at the same time having a safety risk profile comparable to many activities of daily life, such as riding a bike or playing soccer."
Krebs, a research fellow within the Department of Neuroscience at the Norway University of Science and Technology added that: "Drug experts consistently rank LSD and psilocybin mushrooms as much less harmful to the individual user and to society compared to alcohol and other controlled substances."
The pair set up EmmaSofia, a non-profit organisation based in Oslo, to help expand access to MDMA and other psychedelics that have been subjected to quality control whilst promoting human rights for users of psychedelics.
They have launched a crowd-funding scheme to raise $30,000 to build a foundation for their long term efforts to legalise drugs  which they believe could be used to treat addictions to substances like heroin, tobacco and alcohol and help people suffering from diseases like Parkinson's.
Johansen says that through the use of MDMA and magic mushrooms he was able to treat his own alcohol addiction and, in an interview with Newsweek, highlights a study in the American Journal of Psychiatry which supports the idea that psychedelics could be useful in the treatment of heroin addiction.
Drug addiction, overdoses, and a very brief history of Heroin
Drug addiction, overdoses, and a very brief history of Heroin
1/14 Heroin – the chemical name for which is diacetylmorphine – was originally synthesized by British chemist C.R.Alder Wright (pictured overleaf) in 1874, by adding two acetyl groups to the molecule morphine, which is naturally found in the opium poppy.

2/14 Bayer, the German pharmaceutical company behind Alka-Seltzer and Aspirin, bought the rights to diacetylmorphine, marketing it under the name "Heroin" in 1895 because early testers said that it made them feel "heroisch" or "heroic".

3/14 By 1898, it was ready for mass marketing. It was originally sold as an over-the-counter cough suppressant that didn't have problematic side effects, like addiction (the irony) - while alternative treatments morphine and codeine did. This was before they realised that, when taken into the body, it actually converts into morphine, and is ferociously addictive. Thus defeating the object and defining what was to become a historically embarrassing moment for the company in later years.

4/14 By 1899 Bayer was producing a ton of Heroin and exporting the drug to 23 countries, while free samples sent to doctors and studies appeared in medical journals. It was also around this time that early reports of addiction began to surface. The company wisely released Aspirin this year, which would go on to become one of the most popular and widely used pain relief drugs in the world.

5/14 US medicines containing heroin were available over the counter from 1907, after the American Medical Association gave it its stamp of approval.

6/14 As Heroin dependency became a torrent and overdoses began to be reported, Heroin was made illegal to obtain without a prescription from a doctor in the US in 1914. Bayer lost some of its trademark rights to Heroin and Aspirin under the Treaty Of Versailles in 1919, after the German defeat in World War I.

7/14 In the early 1920s, a number of addicted users in New York supported themselves by collecting and selling scrap metal retrieved from industrial dumps. It was from this that the label "junkies" was born. The behavior of Heroin addicts was soon, however, to cause a concern to the public and the authorities. In 1924, it became completely illegal, and doctors were told they could no longer prescribe the drug.

8/14 By this point, Heroin had become popular among creative industries. Pictured left is famed actress Jeanne Eagels, who died of a Heroin overdose in 1929. Its outlawed use had pushed manufacturers underground, and the purity of the product illegal traders now used varied in quality.

9/14 In the UK, the Rolleston Committee Report in 1926, illegal Heroin dealers were prosecuted, but doctors could prescribe diacetylmorphine to users when they were withdrawing from it, if it would cause harm or severe distress to the patient to go without it. This would be the law until 1959 when the number of diacetylmorphine addicts doubled every 16 months between 1959 and 1968.

10/14 The Brain Committee recommended that only selected, specially approved doctors at specialized centres were allowed to prescribe diacetylmorphine to users in 1964. The law was further restricted in 1968, and by the 1970s, the emphasis shifted to encouraging abstinence and the use of substitute methadone.

11/14 In the 1980s, the UK experienced a surge in Heroin supply because of a sudden cheap influx from Pakistan (the main supplier had been – and is now – Afghanistan). Cues from popular culture – and a social downtown caused by the economic and industrial crisis in the late 1970s – created the perfect environment for the Trainspotting generation.

12/14 In the 1990s, Heroin use was again popularized by the rise of grunge and Britpop, while the emergence of 'the waif' in fashion, of which Kate Moss is often cited as the originator, would give rise to the term 'Heroin chic'. In 1994, the Swiss began to trial a diamorphine maintenance program for users who had failed multiple withdrawal programs. It aimed to maintain the health of the user, by discouraging the use of illicit street Heroin. It was deemed a success.

Kate Moss and Johnny Depp, together in 1994

13/14 Today, the largest producer of opium, needed to create Heroin is Afghanistan. This is closely followed by Mexico, who increased their rate of production sixfold between 2007 and 2011. Diacetylmorphine is a controlled, Class A substance in the UK, but continues to be used in palliative care for the treatment of acute pain, such as in severe physical trauma, post-surgical and chronic pain, as well as relieving sufferers of terminal illnesses.

14/14 Key figures continue to campaign for greater sympathies and better treatment of Heroin addicts as they attempt to rehabilitate themselves and re-enter society. Russell Brand's Give it Up Fund, run in conjunction with Comic Relief, aims to provide financial aid to help people remain free from substance abuse by setting up support groups. "It's integral that people entering a life of abstinence after the chaos of addiction have stability, support and a role to play in the wider community," he said.
He said: "The commonality is that addiction and drug abuse have a function which is to escape from stress and difficult emotions like shame, loneliness, fear, guilt or shyness. Recently our colleague, Matthew Johnson, completed a pilot study which with psilocybin for smoking cessation, also with encouraging results."
EmmaSofia's campaign has been backed by a number of academics, including Professor David Nutt, a former drugs adviser to the UK government, who has previously said that the scientists should look into the positive side-effects of illegal drugs.
A spokesman for the British governmental organisation Public Health England told Newsweek that it was unethical to treat addiction to one drug with another illegal substance and say that such an initiative would not find support in the UK.
Dr Paul McLaren, a consultant psychiatrist based at Priory Hayes Hospital near Bromley, Kent, told Newsweek: "There is at present insufficient scientific evidence in the form of randomised controlled trials to justify the therapeutic use of these drugs."
Both MDMA and magic mushrooms are classed as Class A drugs in the UK.
Earlier this month an accidental loophole in drug legislation law led to a host of illegal drugs, including ecstasy, magic mushrooms and ketamine, being legalised in Ireland for 24 hours.
Reuse content