Venezuelan parents are giving up their children to survive as the South American country's suffers with a catastrophic economic crisis.
Three local councils and four national welfare groups say there is an increase in parents handing kids over to the state, charities, friends and family.
A baby boy was recently found abandoned inside a bag in capital Caracas and a malnourished one-year-old boy was found in a cardboard box in Ciudad Guayana in recent months.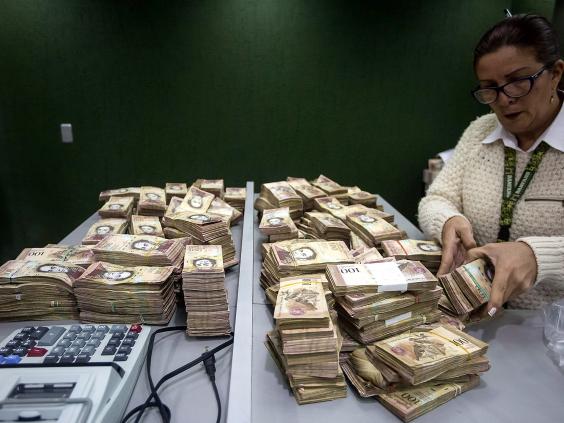 The trend is an indictment of Venezuela's triple-digit inflation and near 80 per cent currency collapse over the last year.
"This is written in the bible. We're living in the end of times," said Zulay Pulgar, who gave her six-year-old daughter to a neighbour in October. "It's better that she has another family than go into prostitution, drugs or die of hunger."
The mother-of-seven and her unemployed husband live on his father's $6-a-month pension.
The 43-year-old told the Reuters news agency that one chicken meal costs half their monthly income. All they eat is bread, coffee and rice, she said. 
Nany Garcia, the 54-year-old neighbour who took the girl in, works in a grocery shop and has five children of her own.
"My husband, my children and I teach her to behave, how to study, to dress, to talk… She now calls me 'mum' and my husband 'dad'," she said.
In pictures: Venezuela elections
In pictures: Venezuela elections
1/10

An opposition masked man holds a Venezuelan national flag as supporters of Venezuelan opposition coalition Mesa de Unidad Democratica (MUD) celebrate the victory of the party in Caracas, after the Venezuelan National Election Council's President, Tibisay Lucena (unseen), announced that MUD won the legislative election

EPA

2/10

Several people celebrate in a street in Caracas

EPA

3/10

A woman reacts as people celebrates in a street in Caracas

EPA

4/10

Humberto Lopez, known as "El Che", reacts as National Electoral Council (CNE) President Tibisay Lucena announces the official results of parliamentary elections in Caracas. Venezuela's opposition won control of the legislature from the ruling Socialists for the first time in 16 years, giving them a long-sought platform to challenge President Nicolas Maduro

Reuters

5/10

Venezuelan President Nicolas Maduro speaks after listening to the results of the legislative elections in Caracas. The Venezuelan opposition won national elections by a landslide, with at least 99 of the 167 seats confirmed for the alliance of the Democratic Unity Roundtable (MUD). It was the first defeat of the socialist movement since its founder Hugo Chavez came to power in a 1998 electionelection

6/10

Opposition leaders, from left to right, Lilian Tintori, wife of jailed Venezuelan opposition leader Leopoldo Lopez, Freddy Guevara, of the Voluntad Popular party, Jesus Torrealba, head of the Democratic Unity Movement (MUD) party and deputy Julio Borges celebrate in Caracas. Venezuela's opposition won control of the National Assembly by a landslide, delivering a major setback to the ruling party and altering the balance of power after 17 years of socialist rule

AP

7/10

Venezuelan opposition leader Henrique Capriles votes in the legislative election, in Caracas

Getty Images

8/10

A citizen votes in the legislative election in Caracas

Getty Images

9/10

Presidential Guard officers hold their national identification cards as they enter a polling station during congressional elections in Caracas

AP

10/10

Voters enter a public school serving as a polling station, decorated with an image of Venezuela's late President Hugo Chavez, right, and current President Nicolas Maduro, during congressional elections in Caracas. The system built by Chavez faces its gravest electoral test as voters cast ballots in what seems to have become a tightening race for control of the national legislature

AP
Every day at the social services centre in arid region of Carirubana, where Ms Pulgar lives, more than a dozen parents ask for help.
The rate was reportedly around one parent a day last year.
Director Maria Salas said: "The principal motive now is lack of food."
Angeyeimar Gil, welfare director for the Sucre municipality of Caracas, said: "The parents come in crying. It's very dramatic to see parents' pain when saying they can no longer look after their child.
He added that they were "seeing a lot of cases of malnutrition and children that come to hospital with scabies."
The government in Venezuela declared a state of emergency in June, amid a negative growth rate of -8 per cent, a 482 per cent inflation rate, and a 17 per cent unemployment rate.
The South American country recently removed its most common banknote "to beat the mafia", and the government recently seized four million toys to hand out to poor children at Christmas. Its currency is so worthless that money is weighed and not counted.
Two-thirds of 1,099 households with children in Caracas said they were not eating enough in a recent survey by children's rights group Cecodap.
The government blames the United States and the opposition, while economists blame the socialist policies of former president Hugo Chavez which have been continued by his successor Nicolas Maduro. 
Pictures of families queuing for rations have dominated its newspaper front pages.
Children have proved some of the hardest hit however, with many reportedly turning to begging and prostitution, according to welfare workers.
Abortion is illegal in Venezuela and contraception, including condoms, are hard to find.
The Independent approached the Venezuelan Embassy in London for comment but they did not respond.  
Reuse content