A rescue dog is now said to spend his days staring at a blank wall after his would-be adoptees pulled out at the last minute. 
Living in animal rescue shelter ACCT in Philadelphia, Pennsylvania, since he was brought in as a stray, the 58lb dog was finally due to be rescued. 
But, at the last minute, his new family pulled out of the deal and March was taken back to the shelter. 
Since then, March has spent his days facing the grey wall in his kennel, and interest in him has sharply declined.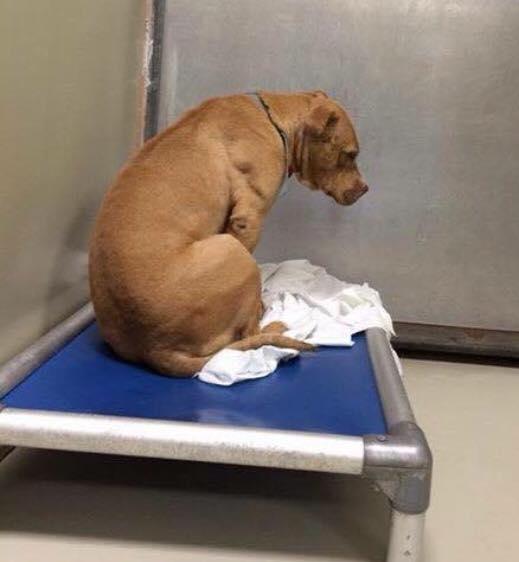 He is now said to be getting sick with sadness. 
Scientific facts about dogs
Scientific facts about dogs
1/5 Your dog is ancient

The domestic dog originated from wild European wolves in the Stone Age before the development of farming, when humans hunted and gathered their food, according to a genetic analysis of ancient canine remains.

2/5 Your dog really does love you

Scientists in California found that domesticated animals release the 'love hormone' oxytocin in intimate situations

3/5 A dog reacts to laughing like you do

Research has found that the brain of a dog reacts in the same way as the human brain when played sounds including laughing and crying.

4/5 Your dog recognises you

Results, from a recent study published in the journal Animal Cognition, suggest dogs might have facial recognition skills similar to humans.

5/5 Your dog communicates with his tail

Scientists have learned that dogs signal to other dogs via their tails in ways hidden from humans. The Italian team showed dogs videos of other dogs whose tail wagging was more pronounced in one direction than the other. When dogs saw another dog wagging more towards the left, their heart rates picked up and they began to look anxious. Dogs shown wagging to the right stayed relaxed.
Fox News reporter Dawn Timmeney posted on Facebook:  "This boy thought he was about to embark on a better life, only to be returned to the scary Philadelphia city shelter.
"Sadly, he has barely gotten any notice, and he is getting depressed and sick now. 
"He was such a happy boy, but shelter life is taking a toll on him."
Described as a 'handsome' dog by volunteers, a fund has now been set up by sympathisers to find March a home. 
It has raised $709 in just over a day.
Reuse content