How long does it take to pull together each year's Chelsea Flower Show?
Our operations team are working on it 18 months in advance. The nurserymen who are growing the plants and the designers and the landscapers, everybody really works to at least a 12-month cycle, and anything up to two years. Most people go on-site three weeks before, though. What makes it possible is that everyone involved has passion that borders on the obsessive – which is crucial when you're working on such a knife-edge.
There must be some things which are out of your control?
The problem is that nature isn't obsessively precise. The big imponderable is what the weather is going to do. Last year, we had huge problems because it was such a cold spring. But the nurseries are just amazing. Hillier Nurseries are renowned for their ability to either bring things forward by using heat, or hold them back by putting plants into cold storage. And Kelways wrap their plants in cotton wool to make sure every blossom is protected. Then they bring them to the show and use polytunnels – or, at times, hairdryers – to get even the most reluctant to make an appearance.
There must be an incredible buzz on-site that last month when everything comes together.
It is incredible, and there's such a great spirit of camaraderie. It's not the case that just one person can win, like the Oscars. We judge against a standard, not against each other. We can have five gold medals, so there's no reason not to be helpful to your neighbour, and I think that really engenders getting the highest horticultural standards and a fantastic atmosphere.
Are there any particular trends we should look out for this year?
One of the most pleasing trends this year is emerging new talent. To be in your twenties and design a garden is, I think, amazing. If you look at the Rich brothers, who are designing this year, they're 23 and 26, Matthew Keightley is 29, Hugo Bugg is 26. I think, for horticulture as an industry, it's really encouraging. I love it that in the 101st year of Chelsea, we're really looking to the future.
You've been in the role four years now. Have you worked out how to strike the balance between innovation and the tradition of the RHS?
It is a balance. There are not too many shows in this country – in the world for that matter – that have been successfully operated for 100 years. The vast majority of things at Chelsea are just amazing in their beauty, their design, their skill. But I also think it's important that we keep innovating every year. Chelsea needs to take a rounded view of the people who might be interested in going: the age they might be, where they live, whether it's flowers or gardens or the science side they're interested in.
The 101st Chelsea Flower Show is at Royal Hospital Chelsea, London SW3, Tuesday to Saturday; rhs.org.uk.
Five gardens to look out for at RHS Chelsea 2014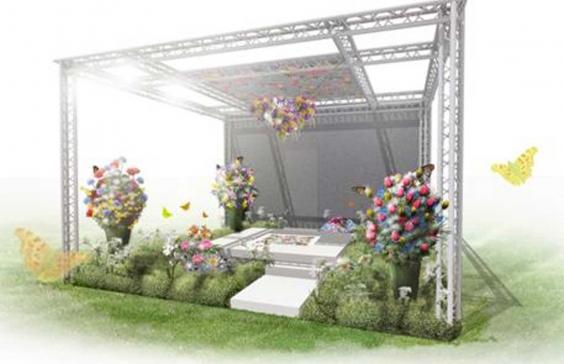 From the Moors to the Sea – a celebration of RHS Britain in Bloom
Alan Titchmarsh has designed this garden, together with Kate Gould, celebrating the 50th anniversary of RHS's Britain in Bloom and Alan's own 50 years in horticulture.
Paradise Garden
Gold medal winner Cleve West's M&G Investments garden is inspired by the Persian gardens of a previous age. Designed for sanctuary and contemplation, it uses water, shade and planting, celebrating the ideas of early civilisations that still hold true today.
No Man's Land
Sponsored by ABF The Soldiers' Charity and designed by Charlotte Rowe, this garden marks the centenary of the outbreak of the First World War and reflects on how the landscape of the Western Front, though changed forever, has regenerated and 'healed'.
Flora
Gucci's garden (above) celebrates the Flora fabric scarf designed by Vittorio Accornero in homage to Princess Grace of Monaco. The garden – as high-maintenance as a Gucci store – is inspired by the floral bouquets featured in the famous scarf which represented all four seasons.
The Brewin Dolphin Garden
Matthew Childs has used patinated copper archways and a specially commissioned sculpture designed by Peter Brooke-Ball in his garden, demonstrating how sculptures can add texture and contribute to the overall ambience in our outdoor spaces.
Reuse content