Australia launched the revival on Thursday. It was merciless, stylish, commanding and laid to rest any suggestion – in reality probably a forlorn hope - that they were all washed up.
There is plenty of time to go, plenty of time for England to restate their own credentials and they can cling to the fact that for now they remain 1-0 ahead in the Ashes. But on the first day of the second Investec Test, the series leaders could not claim any of the three sessions. Indeed, they barely won an over. Only a few of the 540 balls bowled offered minor triumphs.
There were centuries for the veteran opener, Chris Rogers, and the batsman of the moment, Steve Smith and by the close they had taken their team to 337 for 1, the sort of total, no matter the manner of its compiling, that provides statistical milestones by the bucketload.
Only one touring team has scored so many on the first day of a Test in England for the loss of only one wicket. The second wicket partnership was worth 259, only one run short of Australia's highest for any wicket at Lord's made by Mark Taylor and Michael Slater in 1993. It is the highest for Australia's second wicket at the ground, overtaking the 231 shared by Bill Woodfull and Don Bradman in 1930.
If there is a sentimental attachment to old records and their expunging is invariably tinged with sadness, Rogers and Smith can hardly have lost much by comparison. Although they were not quite flawless, they were taking on a resurgent team with their tail up and a bowling attack which was brimming with confidence after their exploits in the opening match of this rubber.
The pitch was flat, too flat in truth, grew a shade quicker as the day wore on and the toss, won by Australia, began to look ever more significant. Initial cloud cover, which encouraged some early movement, disappeared quickly and Australia's clarity of purpose did the rest.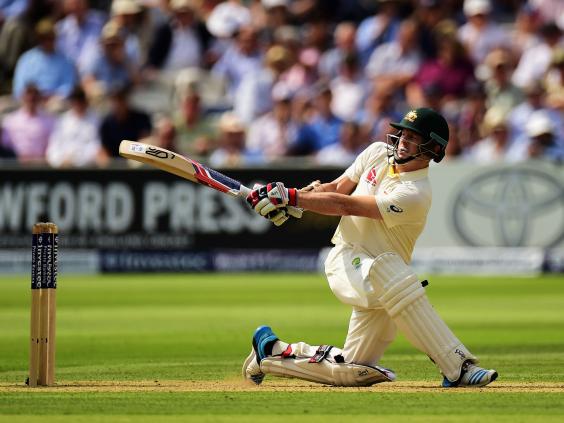 Rogers demonstrated that the announcement of his international retirement after this series has done nothing to dull his will and Smith put to rest the idea that batting at number three may be too much of a stretch for a player of his idiosyncratic traits. All in all, it was an unfair contest between bat and ball, and while it would be folly to draw conclusions until after both sides have batted any bowling side would have had a right to expect a tad more encouragement.
The plans England had laid for both batsmen, bowling short to Rogers for much of the first half of the day, trying to lure Smith into attempting something regrettable outside off stump, were properly devised and adhered to. They simply did not work and on surfaces like this there is often no plan B.
Ashes Second Test in pictures
Ashes Second Test in pictures
1/39 Day Four

Michael Clarke leads the celebrations as Australia win the Second Test

PA

2/39 Day Four

Mitchell Johson celebrates taking the wicket of Moeen Ali

PA

3/39 Day Four

Moeen Ali trudges off after going for a duck

PA

4/39 Day Four

Ben Stokes reacts after being run out by Mitchell Johnson for a duck

PA

5/39 Day Three

Adam Lyth reacts after dropping David Warner on 60

Getty Images

6/39 Day Three

Captain Alastair Cook (left) in discussion with James Anderson and Stuart Broad as Australia pile on the runs on a shirtfront track at Lord's

Getty Images

7/39 Day Three

Alastair Cook is bowled by Mitchell Marsh

Getty Images

8/39 Day Three

Alastair Cook is bowled by Mitchell Marsh

Getty Images

9/39 Day Three

Jos Buttler walks after Peter Nevill's catch

Reuters

10/39 Day Three

Mitchell Marsh bowls Ben Stokes after he drags onto his wickets

Getty Images

11/39 Day Three

Ben Stokes plays on to his stumps

Getty Images

12/39 Day Three

Ben Stokes celebrates reaching his 50

Getty Images

13/39 Day Two

Mitchell Johnson of Australia celebrates after taking the wicket of Joe Root

GETTY IMAGES

14/39 Day Two

Ian Bell walks back to the pavilion after losing his wicket for 1 run

GETTY IMAGES

15/39 Day Two

Bails fly as Englands Gary Ballance is bowled out by Australias Mitchell Johnson for 23 runs

GETTY IMAGES

16/39 Day Two

David Warner and Peter Nevill celebrate the wicket of Adam Lyth

Getty Images

17/39 Day Two

Mitchell Star celebrates the wicket of Adam Lyth with the second ball of the innings

Getty Images

18/39 Day Two

Alastair Cook takes to the field for the start of England's first innings

Getty Images

19/39 Day Two

Mitchell Johnson was the last man out before the declaration for 566-8

Getty Images

20/39 Day Two

Peter Nevill hit an impressive 44 on his Ashes debut

Getty Images

21/39 Day Two

Steve Smith hit a magnificent 215

Getty Images

22/39 Day Two

Steve Smith celebrates his double-century in the second Ashes Test

Getty Images

23/39 Day Two

Steve Smith saw out the morning session to reach his 150

Getty Images

24/39 Day Two

Michael Clarke walks off after making just 7 runs

Getty Images

25/39 Day Two

Michael Clarke never looked comfortable at the crease

Getty Images

26/39 Day Two

Chris Rogers walks off as Stuart Broad celebrates taking his wicket

Getty Images

27/39 Day Two

Stuart Broad celebrates the early wicket of Chris Rogers for a brilliant 173

Getty Images

28/39 Day Two

Chris Rogers attempts to duck out of the way before being hit on the head by the first ball of the day

Getty Images

29/39 Day One

Chris Rogers reached his century shortly after Smith

Getty Images

30/39 Day One

Steve Smith salutes his Australian team-mates and the crowd after reaching his century

Getty Images

31/39 Day One

Steve Smith passes his century to frustrate England

Getty Images

32/39 Day One

Ben Stokes reacts to a dropped catch by Ian Bell

Getty Images

33/39 Day One

Ian Bell looks on after dropping a chance to dismiss Steve Smith

Getty Images

34/39 Day One

Steve Smith formed a strong partnership with Chris Rogers

Getty Images

35/39 Day One

Alastair Cook reacts after Joe Root misses a chance in the slips

Getty Images

36/39 Day One

Moeen Ali and Alastair Cook celebrate the wicket of David Warner

Getty Images

37/39 Day One

David Warner walks off after being dismissed by Moeen Ali

Getty Images

38/39 Day One

The start of play at Lord's on day one of the second Test

Getty Images

39/39 Day One

A shot of Lord's Cricket Ground ahead of the Second Ashes Test

Getty Images
Rogers' most effective shot was probably the late cut to anything slightly short and wide, Smith used his feet enthusiastically against all the bowling and with his high, free-spirited back lift drove energetically. They came together less than an hour before lunch following a frenetic opening to the contest.
Without any blame being attached to either of England's opening bowlers, Jimmy Anderson and Stuart Broad, Australia took the match by the scruff. Had Roger's flashing drive to the third ball of the match gone to hand instead of flying narrowly over and between second and third slips the course of proceedings might have changed. That is doubtful, however. There were runs here crying out to be scored.
After 14 overs, when spin was introduced for the first time the score was 68. After five more balls in that 15th over, bowled by Moeen Ali, it was 78. David Warner, desperate to seize the initiative against all comers had already clubbed two unwieldy fours.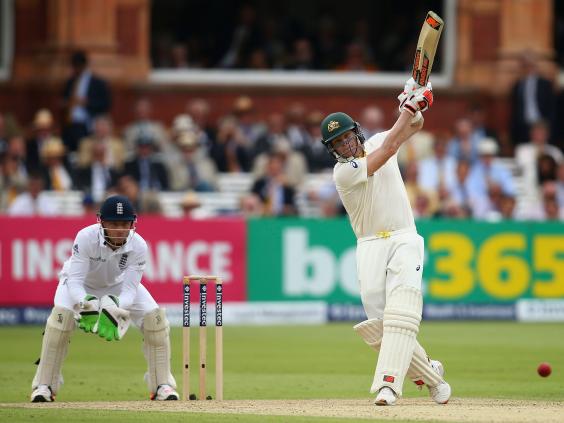 To the last ball of the over he advanced down the track and launched into another fierce drive. He was not quite there for the shot and it spiralled high in the air over mid-off where Anderson ran back and round for a moment judged the descent impeccably.
It was a badly misjudged effort by Warner, which he will come to rue. There are runs to be had against Moeen, who was passed fit as expected in the morning despite his side strain. It is a case of waiting for his inevitable poor balls rather than imposing yourself from the start.
Alarms were few thereafter but wild predictions of Australia reaching 400 plus by the close gradually receded. Both Anderson and Broad bowled lovely, unrewarded spells of high skill immediately after lunch. Smith, who made his Test debut at the ground in 2010 as a leg spinner who batted at number eight, was content to survey the scene.
His first fifty took 111 balls and almost immediately after reaching it he was dropped by Ian Bell at second slip off Ben Stokes. It was low, it was dipping quickly but the margins are fine here. It needed to be taken.
Soon after, Jos Buttler moved to his right as Rogers on 78 flicked Moeen down the leg side but these things either stick or they do not. It did not.
The final session was almost all Australia who batted sumptuously. Smith arrived first at his century with his ninth four, pulled through wide mid-wicket, and had shown his class by entering the  nineties with a straight six. His second fifty took 50 balls. It was his 10th Test hundred and sixth in his last 15 innings.
Rogers was not long after. He was a trifle anxious in the eighties but then dashed through the nineties to score his ninth hundred at Lord's, the previous eight having been for Middlesex, and his fifth in Tests. He barely acknowledged the fact at first as his 17th four went through long on.
The pair enjoyed themselves usually without quite causing carnage and the 33 overs after tea brought 146 runs – a rate of 4.4 runs an over. In the last over of the day, with the second new ball, Broad still had enough zest to produce an edge from Rogers' bat. But it fell short of slip and did not yield a wicket. It was the kind of day when it was possible to think wickets may never fall again.