It was a good plan. Leave winter behind, head to Perth for a birthday and Christmas in the sunshine, a spot of Ashes cricket and an early start on preparations for the task that lies ahead. But, like most English plans laid for Down Under, it did not follow the predicted pattern. First Charlotte Edwards' suitcase failed to arrive with her and then she sat through four and a half of the most humiliating days in the recent history of English cricket.
It was not all bad. Edwards celebrated her 34th birthday being serenaded by the Barmy Army in the middle of the Perth Test, and the bag eventually turned up in time for Christmas with friends. The team she captains, and all being well their bags, arrive in Perth on New Year's Eve, and 10 days into 2014 England begin their quest to retain the women's Ashes.
The series follows the programme first tried in England this summer with points awarded for the solitary Test, the three one-dayers and three Twenty20 internationals. The Ashes go to the overall winner. Six points are on offer for the Test – the limited-over games bring two points for a victory – underlining the importance of a good start at the Waca, or at very least avoiding the disasters that befell the men. "I really like it," says Edwards of the points system. "[The summer] was very tense, every game had something on it. It's hopefully something that will catch on within the women's game so we can keep Test cricket alive."
Edwards is the most experienced player in the women's game. She first played international cricket aged 16, yet this will be only her 21st Test (she needs 44 runs to overtake Rachel Heyhoe-Flint as the second-highest scorer in Tests). In contrast, she has played 175 one-day internationals and 69 Twenty20 games. England and Australia women are the only countries still playing anything approaching regular Test cricket – this will be Edwards' 12th Test against the old enemy. England last played a Test against anyone other than Australia in 2006 when they met India.
"We've played 20 Test matches in 17 years, and most of those have been against Australia, so what does that say? There is a part to be played by Test cricket in the women's game. I'm not sure how many countries still want to play Test cricket but this is a great format for that to hopefully continue.
"The Australians and certainly us have led the way in supporting the women's teams and other countries are starting to see the benefits of doing that. Hopefully, we can all move together instead of two teams moving away from the pack. India have got a bit of work to do. They still haven't got the support they would like from the BCCI but once that happens I'm sure we will see a lot of girls in India playing cricket."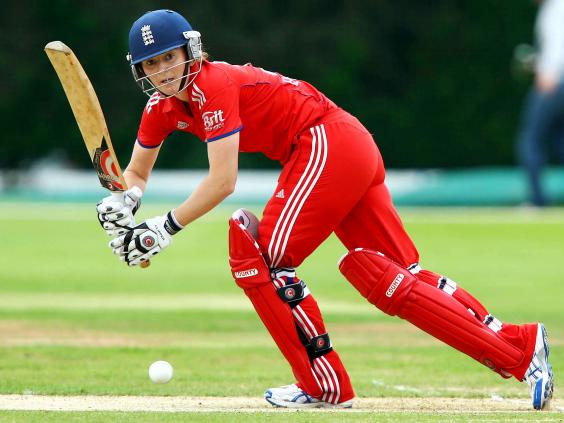 The lack of experience at the longer format resonates across both sides. "We could be in a situation where we have a debutant who has never played a four-day game before," says Edwards. "It's a huge challenge for the players – for both sets of players because none of us play many four-day games. But there's an excitement around it. It's a game I look forward to as a batter because you can bat time and get a big score."
Edwards has form here. She averages 65 in Australia in Tests and 41.5 in one-dayers. She scored her last Test century in Sydney on England's previous tour. Edwards made 114 in a first-innings total of 207 but England lost and the Ashes belonged to Australia. It is her favourite Test innings but her high point on a cricket field – one to match lifting the World Cup (something no Englishman has ever done) – came last summer in regaining the Ashes. Australia had the better of the drawn Test and then won the opening one-dayer. England won the next two, Edwards top-scoring in a crucial victory in the second at Hove, and won all three Twenty20 games, the second of which clinched the series.
"The moment that will always stick with me is Lydia Greenway hitting the winning runs [in the second T20 at Southampton], and her 80 not out in a low-scoring game. She just came out there and played unbelievably well.
"The turning point was the game at Hove [the third one-dayer] when Heather Knight and Sarah Taylor put on a brilliant stand to chase down 230 in 36 overs. That was where the big shift happened, their partnership turned the momentum towards us and we went on to win the three T20s on the bounce.
"It is very easy once you get through the series to forget about the Test match and the innings Heather Knight played and Laura Marsh's innings as well. Because it was a draw it gets forgotten but those two played a crucial role in becoming Ashes winners."
It is four years since Edwards led England to both limited-over World Cups and the Ashes. Last year England let their one-day crown slip but the Ashes success has raised hopes of 2014 bringing another victory over Australia and regaining the Twenty20 World Cup. "With Sarah Taylor, Greenway, [Katherine] Brunt and [Anya] Shrubsole we have some great talent which should stand us in good stead for what's coming up over the next couple of years," says Edwards.
Taylor has become pivotal. Much has made of whether the 24-year-old might have the ability to play men's county cricket; anyone who doubts it need only take to YouTube and watch her catching Jodie Fields in the third one-dayer at Hove. It was one of the highlight's of England's year, in the men's or women's game.
"Sarah Taylor is an unbelievable talent, without doubt the most talented cricketer I have played with," says Edwards. "The sky's the limit for her. You are in awe of what she can do. I see her in training week in, week out and she is a very special talent. She is going to be one of the greats of women's cricket."
England will be without Holly Colvin in Australia, the off-spinner having decided the need to focus on a full-time career at the age of 24 means there is no longer room for international cricket. Edwards, who works full-time within the game, coaching when she is not playing, accepts the realities behind Colvin's decision. Yet she believes the women's game has never been better placed.
"Absolutely," she insists. "[The first T20 against Australia] was sold out at Chelmsford. That's something I've never seen before. The double-headers [at Hove] were very well supported, we were getting 12, 13,000 in by the time we had finished. We have not seen that kind of support before. Once the men won the Ashes I think the support kind of played over to us. I saw a huge shift in support and media coverage, which was fantastic.
"The game has changed so much. Most of the current England players relied on playing through boys' cricket – now girls can play all-girls' cricket from the age of 11 through to the senior team. There's a much easier route and that's why we are attracting more and more girls.
"It's quite easy for me to gauge – I've played for the longest amount of time and to see the support the team get now and where the game is, in this country and globally, the future looks very bright."
ASHES SCHEDULE
10-13 January 2014
Ashes Test (Perth)
19 January
First One-Day International (Melbourne)
23 January
Second ODI (Melbourne)
26 January
Third ODI (Hobart)
29 January
First Twenty20 (Hobart)
31 January
Second T20 (Melbourne)
2 February
Third T20 (Sydney)
How it works
The series comprises one Test, three one-day internationals and three Twenty20s, with points awarded for each win. The winners of the Test get six points (2pts for a draw or a tie), with two points on offer for winning a limited-over match (1pt for a tie).