Alastair Cook may be captain conservative when it comes to managing risk, after England came within four wickets of winning the first Test, but there is no doubting his trailblazing nature as a batsman after he scored his fifth Test hundred in India, the most by any visiting cricketer.
Cook's hundred, his 30th in Tests, allowed him to declare safe in the knowledge that England would not beaten in Rajkot. Whether he should have been bolder, on a fifth day pitch getting trickier by the hour, is a point that could well be debated for the rest of the series.  Yet disappointing though the draw was for England and their supporters one thing is indisputable - they have laid down a powerful marker - that they will be no pushovers - for the rest of the series.                
As he was last time England toured India, Cook was at the vanguard, playing a telling innings when it mattered most. Supported superbly by Haseeb Hameed, with whom he set a new opening partnership record for England in India, England could easily have wilted as they did in Dhaka against Bangladesh when they lost their last 10 wickets for 64 runs. But with a resolute captain and a teenager no less determined, the pair made the game safe despite Cook's decision to bat on after Hameed had gone for a very fine 82.  
Until Cook punched Amit Mishra to long-on for the single that took him to his century, no touring batsman had ever made five hundreds in India. Four yes, in a lot more Tests than Cook has played, but not five. It is a remarkable feat.
His left-handedness seems to be an asset, which seems counter-intuitive given left-handers have to cope with spinners pitching the ball in the rough outside their off-stumps more than their right-hand counterparts, there generally being more right-arm bowlers to churn up the surface there. 
His tallness, especially combined with his superb skills playing off the back foot, is another strength especially as the natural instinct for taller men is to lunge forward. It means he can still stretch forward to smother the ball on lengths that would be awkward to shorter batsmen while also being comfortable playing back, the best way to play the turning ball now that the Hawkeye element of the Decision Review System has been adopted in India.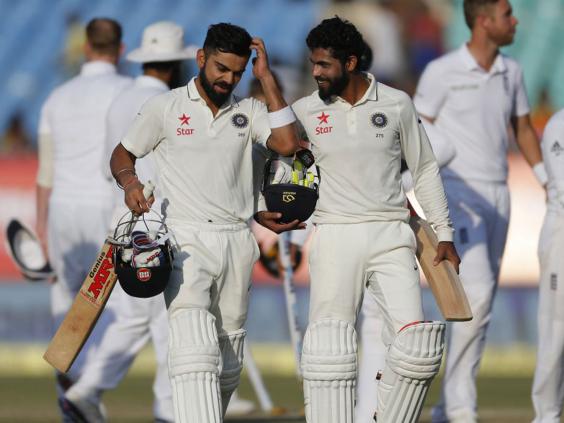 Cook made a hundred, albeit in a losing cause, in the first Test in India last time. What that innings did, and what he will be hoping his hundred in Rajkot will do this time, is to show his team that runs can be scored against India's spinners when the ball is fizzing and jumping off the pitch, and fielders are swarming round the bat.
The captain scoring well, and making a hundred in either the first or second Test, has been the pattern on the last three occasions England have won in India -  1976/77, 1984/85 and 2012/13. So far that portent has been met but will Cook and England rue not giving themselves more time to win this first Test?
India are the No 1 ranked Test team and have won 12 out of their last 13 Tests at home. Yet, impressive though both those things are Cook has played enough Test cricket (136 of them) to know that even they do not possess the superhuman powers to score 270 off 60 overs on a fifth day pitch in India, the equation he should have settled on instead of the 307 off 49 he eventually set them.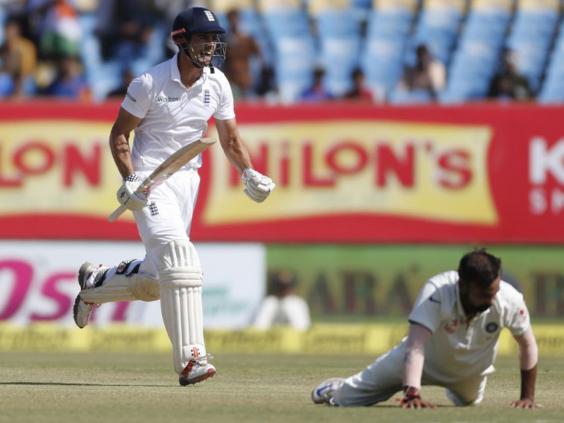 In reaching that decision Cook suggested that he did not entirely trust his bowlers to cope well if they came under pressure from India's batsmen. Instead of seeing the upside of going 1-0 up in India he saw the down, of losing (highly unlikely in the circumstances) a match in which his team had dominated and made all the running.
The climax, with India's batsmen hanging on at the end of the final day, made a for a fine spectacle. When the dust has settled, England may well regret the odd missed chance but the general feeling will be a positive one - that they have found an opening batsman to match the poise of the other one and their spinners can hold their own when the ball turns. 
All it needs now is for the pace bowlers to harness reverse-swing better and England's prospects of winning at least two of the remaining four Tests look good.
Reuse content