The worst fears were avoided. England's World Cup might not yet floweth over but at least and at last it is up and running. A routine if not utterly dominant win against Scotland has allayed immediate concerns about booking early flights home.
The team were doubtless more relieved than elated. Another weak-kneed, inept display of the kind they turned in against both Australia and New Zealand would have imperilled their appearance in the quarter-finals, which is the minimum expectation of progress.
Scotland, of course, are neither Australia nor New Zealand in cricketing terms, not by any stretch of the imagination, but they are reaching that stage in their evolution where they will soon defeat a supposedly superior team. Given the circumstances that day might have been here in Christchurch yesterday: the Scots, while not exactly predicting a shock, had made it clear that there was no better time to be playing England.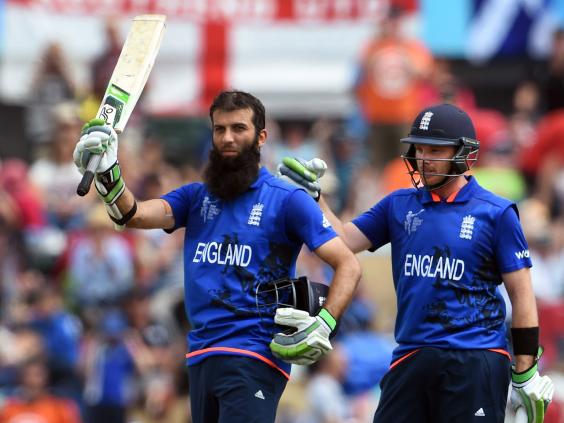 The victory by 119 runs was predicated on Moeen Ali's second one-day international hundred and England's first of the tournament. It is  perhaps being picky to suggest that, from a position of 172 for 0 by the end of the 30th over, England should have been looking at a total nearer 400 than 300.
In the end, they were probably happy to settle for the latter, both because it had been beyond them so far in this World Cup and because it seems largely to be beyond those who bat second. But a team in the best of order, with their foot on the opposition's throat, would have squeezed a little harder. They showed too much respect to Majid Haq, the Scottish spinner, and while he was wily enough, it was possible to watch and wonder what others might do to him and which stands they might put him in. The alternative, however, hardly bore contemplation for England and their management after they had done little more than show up in the changing rooms for their opening fixtures.
Eoin Morgan, the England captain, said: "I don't think there was ever a state of panic. Two hard games and the fact we didn't perform was  disappointing. A win just puts things a little more at ease. It gives guys a little bit of  confidence, even the guys who didn't perform today. Talking to guys who had a little bit of success today will be good for them."
England now face a lull in proceedings with one match in the next 14 days. That is a tricky one, against Sri Lanka back in Wellington on Sunday. But, although the city holds unwelcome memories after the mauling they received from New Zealand last Friday, they will feel more comfortable playing Sri Lanka at the Regional Stadium in New Zealand's political centre than in the oppressive humidity of Colombo.
It will provide a clearer picture of where they stand among the second-tier countries. So many matches have been so one-sided this World Cup, with Australia (who now need to play a second match as quickly as possible), New Zealand and India seemingly clear of the rest.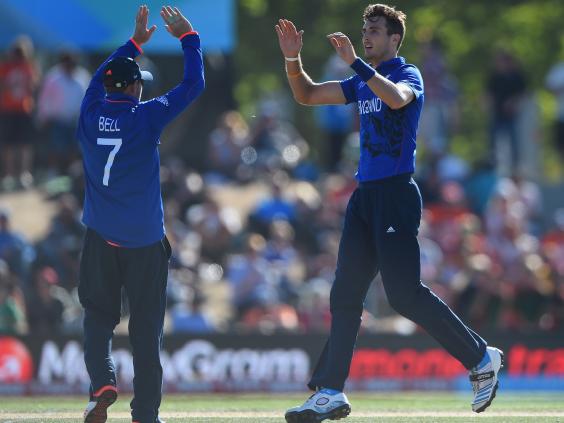 Moeen's hundred was not as spectacular as his first in Sri Lanka last November, when he was first elevated to open the batting for England. But he avoided disaster in the early overs – one uppish drive might have been held low at midwicket – and then dashed on with aplomb. He is easy on the eye.
While Moeen is not yet the finished article, Morgan recognises that in him the team possess the kind of player that comes along too rarely in English cricket. They will soon be wrapping him in cotton wool between matches.
"I rate him really highly," Morgan said. "He's an all-rounder that we haven't had for a very long time, somebody who opens the batting and plays in the fashion that he does and the purchase he gets on the ball. I think we are very privileged to have him. We certainly don't undervalue him."
England's first-wicket partnership of 172 was their highest in the World Cup. Ian Bell was much more prosaic than Moeen but he will have been happy to spend some time at the crease, hopeful that it might help him return to the resplendent form he showed when England first arrived in Australia last month.
Almost predictably, this considerable start led not to riches but a clatter of wickets. Both openers went, two of the middle order followed. This is not yet a side full of the joys of spring and certain of its way. "You always think you should get more, but having been there for the last five overs the wicket slowed up the older the ball got," said Morgan, downplaying the expectations of others. "With the wind as well it made it difficult to find the boundary. That gave me more confidence that 300 was above a par score."
Scotland's challenge was disappointing. Discovering that they were not bowling to a rampant Brendon McCullum must have been a weight lifted from England's bowlers. True, Kyle Coetzer played some handsome drives on both sides of the wicket but he was not hoisting them into the stands with muscular abandon. Steve Finn, who had gone for 49 from two overs when McCullum was rampant, yesterday returned 3 for 26 from nine. Different ball game. England are a long, long way from winning the World Cup but there is some sense that they have now arrived at it.
Reuse content