James Anderson spoke of his relief and joy at taking three wickets on his return to the England team on the opening day of this Second Test against India.
The hosts closed on 317 for four after centuries from captain Virat Kohli and Cheteshwar Pujara, meaning England have a fight to get back into the match.
But Alastair Cook's team would have been in an utterly hopeless position were it not for Anderson striking to remove Murali Vijay, Pujara and Ajinkya Rahane in his first game back in three months following a shoulder injury.
The 34-year-old's entire winter was in doubt when the injury to his right shoulder blade, first sustained in the first series of the summer against Sri Lanka, flared up again during the final Test against Pakistan at The Oval in August.
However, England's record wicket-taker has battled back after initially being left out of the squad for this five-test series and looked close to his best after coming into the side for Chris Woakes.
Anderson, who only arrived in India 12 days ago, said: "It was great to be back. I have spent the last two months working really hard to get back into the side. It's been frustrating at times but it's been worth it.
"Getting back out there with the lads was a great feeling in itself but to get a few wickets on the board made it even better.
"I have missed it, I have missed playing and taking wickets. That sort of feeling you can't get in any other walk of life – at least I struggle with it - so to get amongst and get some wickets meant a lot.
"I always thought I would get out here for some part of it, but it was a surprise to a lot of people I got out here this early.
"That's just the way it's turned out and I'm happy. It's kind of just gone really well. The rehab has gone well, when I came back to bowling I progressed really quickly. They thought it would take time get back to full pace but it took me less time and that's why I came back."
England endured a tough day in Visakhapatnam as Kohli and Pujara shared a third-wicket stand of 226 to help their side recover from 22 for two early on this opening day.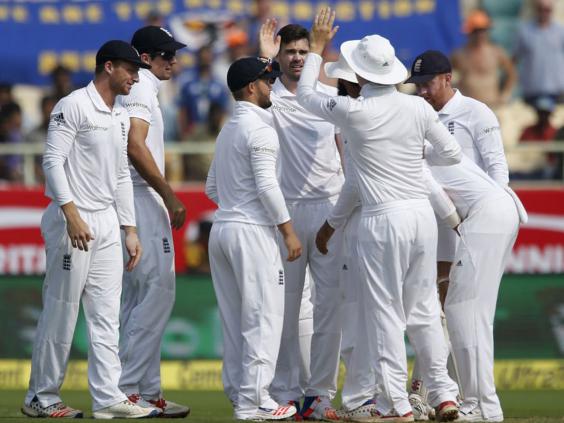 Yet Anderson's removal of Pujara, for 119, and Rahane, with the second new ball, gave the tourists hope they can battle back on the second day.
He said: "I thought the wicket was tough to bowl on, the outfield was heavy – there will be some sore legs tomorrow - the pitch played well and the two guys who got hundreds they set about their business and showed they are world class bowlers. They made it very difficult to bowl at them.
"We thought the way the new ball played in the morning it was the easiest time to bat and didn't swing that much. But with a bit of dew around in the morning, we thought two or four overs and maybe it's fairly new for us in the morning. "Luckily we got a wicket tonight so hopefully we can pick up more in the morning with the new [second] ball.
"It swung much more than the first one, we didn't get much out of it this morning and we went quickly to short balls against the openers. But it swung more tonight, the conditions were different with the floodlights on and sun going down."
Reuse content