"All it takes is one ball," is the bowler's usually optimistic refrain for hastening the conclusion of a match, and in this Test it came against Joe Root in the 87th over of England's second innings,
India had just taken the second new ball and Mohammad Shami was the bowler. The ball in question was the first of that over and it struck Root on his back thigh after hitting a crack at 88mph, jumping and cutting away as it did so.
It was unplayable, doing so much so quickly, as to be impossible to lay a bat on. In that sense it was harmless as well but that is not how Root saw it.
Visibly unnerved, he lost not only the rhythm to his batting but his mental poise as well, a double deconstruction that saw him lose his wicket lbw five balls later. Root rarely misses balls that are full and angled in but he missed this one, a rare aberration given it possessed none of the demons with which he had coped over the previous two hours.
Root reviewed the decision but only in the hope that Shami had over-stepped the front line. It was an indulgence, though one his team mates would not have begrudged him. They needed Root to bat out the day and this was a last ditch punt to keep him at the crease.
The surprise for many was just how easily Root's confidence and concentration was scrambled by that ball. The best players are said to be able to put such things out of their mind in an instance, like a blackboard that can be erased at a stroke. But such is the attritional nature of batting in India, on wearing pitches, that Root, already worn down by the drip-drip of spinners tormenting him on a turning track, could not shake the memory.
When conditions favours spin as much as they did in Visakhapatnam, few expect the faster bowlers to be influential. But long gone are the days when India's seamers were simply used to get the shine off the ball for the spinners and both Shami and Umesh Yadav are fast, skilful and able to take wickets on any surface.
It would have been easy for Shami and his captain to settle for that wicket but he didn't. Banging the ball in hard, he managed to bounce out Adil Rashid, the batsman edging behind attempting to uppercut the ball over the slips. Yet Root, sixth man out, was the big one, his importance highlighted by the fact that 63 balls later England were dismissed for 158 - the defeat, by 246 runs, their second largest by runs to India.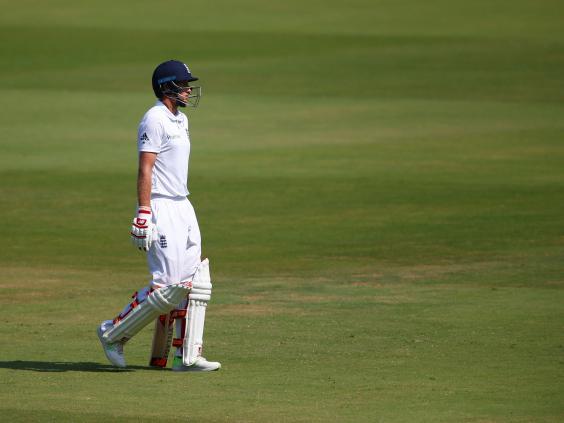 That leaves England one down with three Tests to play. In series comprising four or more matches, only one team has ever come back from one down to win the series and that was England four years ago. But if that has the familiarity of recent precedence the task remains a daunting one.
There will be the inevitable post-mortem, especially around England's first innings, which should have provided more runs and fewer careless dismissals. But game as Alastair Cook's team have been in Visakhapatnam you cannot help feel it was their lack of adventure in the first Test in Rajkot, where they bossed much of the game, that will prove their biggest regret.
They head north to Mohali where, traditionally, the temperature is cooler and the pitch quicker though in India it is a brave groundsman who hands the opposition the sniff of an advantage. In that respect, expect another slow turner.
After such a comprehensive defeat change would seem inevitable. Ben Duckett and Zafar Ansari had poor games and looked out of their depth. As a rule, Trevor Bayliss, England's coach, likes to give players one game too many rather than one too few, but India highlights weaknesses more brutally than most places and at least one change seems inevitable.
That would seem to be Duckett, whose defensive technique against off-spinners in particular, seems to have been formulated on an X-Box, so virtual does it seem. An attacking batsman who relies on eye to get him out of trouble, Duckett has discovered there is a yawning chasm between the county cricket he thrives in at Wantage Road and that against the No 1 Test bowler, Ravi Ashwin, in hostile conditions.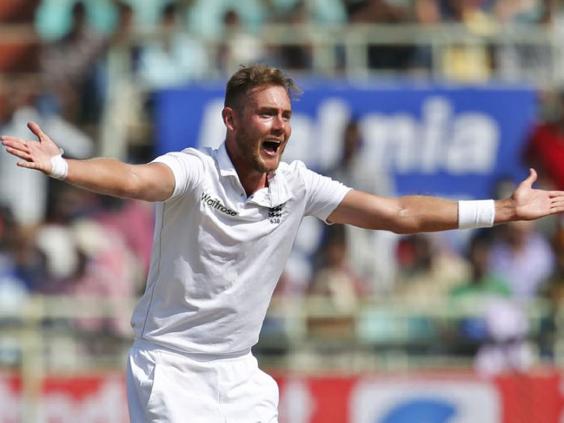 But who to bring in? Gary Ballance has just been dropped after struggling in Bangladesh, his confidence almost as shot as Duckett's. The other option is Jos Buttler, short on cricket and defensive technique, but perhaps ready for a second crack at Test cricket despite not having played any kind of match for two months.
With England playing seven left-handers in the side at present, one reason India opted for two off-spinners in Visakhapatnam, Buttler's right-handedness (usually an advantage against said off-spinners) suddenly looks very attractive.
Changes to the bowling attack are less obvious. The severity of Stuart Broad's foot problem (or torn toe tendon) is not an easy one to call, especially after he took four wickets while indisposed during India's second innings.
Perhaps most telling was Ansari's absence from bowling at all in India's second innings. Although suffering from the agues and tummy upsets that can suddenly strike in India, he is beginning to look like a luxury England can ill afford. But do they bring in another batsman or play another pace bowler - Broad's fitness, England's mood and conditions in Mohali will dictate.
Reuse content