The history of visiting cricket's teams to India would say the task facing England, to bat for five sessions to save the second Test, is an exercise in futility. Yet, the best have always played top level sport to laugh in the face of such odds and for much of the fourth afternoon in Visakhapatnam, Alastair Cook and Haseeb Hameed did just that.
The pair, already no strangers to coping on a wearing pitch after their 180-run opening stand in England's second innings at Rajkot, were steadfast in defence, this being a very different match situation to the one that faced them in the first Test, where they made the running. 
In that regard, the pressure the pair absorbed was immense though you might not have guessed it from the calm way the pair went about counting down the clock. Eventually, Hameed was dismissed - by a grubber from Ravichandran Ashwin he could do little about - but not before the pair had used up 50.2 of the 150 or so overs England will need to survive to leave Visakhapatnam with parity intact.
There are few better players to bat time in such situations than Cook, whose batting record in India is up there with the very best. But even his legendary powers of concentration and self-denial have their limits and after an almost flawless display of shot selection to reach his fifty, he was lbw to Ravindra Jadeja, trying to work one squarer than he might have done an hour earlier. 
It leaves England, now 87 for two with a day remaining, facing a huge task for survival but one for which Cook and Hameed have at least provided a template. All players differ in their make-up but England's openers have shown just what can be achieved with discipline, application and a modicum of luck.                 
Despite that, the challenge is immense. It is impossible to overstate the difficulty in batting last in India when the home side has a seemingly impregnable lead, in this case 404 runs. For one thing, the pitch, which has been baked by hot sun and endured 300 overs worth of balls bashing it, is playing spiteful tricks. One up, one down, one turning sharply, another going straight on, the sheer variety of variables to cope with is mind boggling. 
Then, there are three spinners used to harnessing such conditions as if by second nature. Then, as if their skills were not challenging enough for England's batsmen to cope with, they are hemmed in by close fielders jabbering away in Hindi inciting an excitable crowd ready to shriek every misstep as if a hungry tiger had just been set loose in the stadium.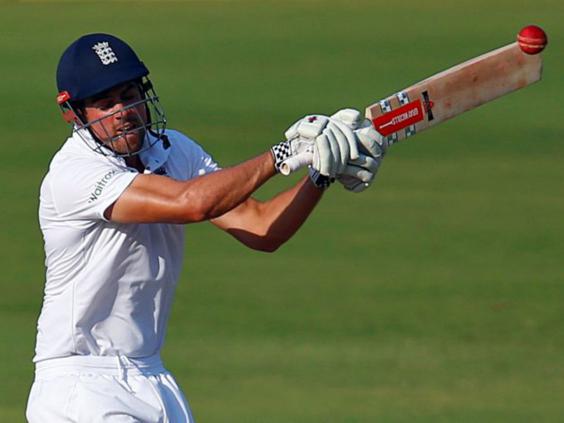 This is the traditional threat in India but Cook and Hameed also had to overcome India's talented opening bowlers Mohammad Shami and Umesh Yadav, both of them 90mph merchants. Hameed, in particular had to dig deep after a painful blow by Shami when a bouncer struck his top hand, then another that hit him just below the collar bone. On both occasions he barely flinched, determined not to give India the slightest indication that they had scored a point.
We all know how unwavering Cook's temperament is in Test cricket and we had a glimpse that Hameed might be built in his captain's image in Rajkot, but this was further proof of the 19-year old's appetite for the fight. You don't need to bellow, have patriotic tattoos or a perpetual grimace to show you are up for it, just a quiet determination like his will do.
The pair were helped in their cause by Virat Kohli's captaincy. Lulled, perhaps, into the way other teams visiting India recently have crumpled in the face of Ashwin and Jadeja on dusty pitches, he sat back and waited for England to implode.
The first 20 balls are the most testing for batsmen when facing spinners in such conditions, so you would have expected Kohli to attack and surround Cook and Hameed with close fielders. Instead, he had men back on the boundary saving four, positions neither batsman would have exploited unless handed rank balls to hit and, as most captains know, you cannot set a field to them. When he did finally crowd the pair, they were well set and playing with aplomb.   
It was staggering naivety from Kohli who also showed he has yet to gain a grip on the basics of the Decision Review System. Twice in successive overs against Cook he called for it, after the umpire's had turned down lbw shouts again the England captain, and twice he was denied. Tellingly, he twice demanded an explanation as to why they had been rejected, evidence that he has yet to comprehend the power of the "umpire's call" and how difficult a hurdle it is to overcome.
England have a big day coming up and one that could define the series. They have been handed the means and the inspiration to save the match by their opening duo - all that remains is for the other eight, or fewer, to complete the task.
Reuse content