England will start the final day of this match safe in the knowledge that they will go into next week's second Test at least level in the series and having finally found the solution to their opening dilemma.
After reaching the close 163 ahead of India on 114 without loss, an England defeat now appears the least likely option.
That nightmare scenario seems even more far fetched with Haseeb Hameed showing the kind of form at the age of just 19 that suggests he will be a mainstay in this team for years to come.
No England opener had made a Test half-century on debut since Alastair Cook against India at Nagpur a decade ago.
However, Hameed, the tenth partner England have tried with their captain at the top of the order in four years, did just that when he reached stumps unbeaten on 62.
If Hameed had showed glimpses of his ability when scoring 31 on the first day here, he moved up another level today.
His confidence was evident from the very start of this innings. But when he swatted Ravindra Jadeja back over his head for six to move onto 12, it was a forceful riposte to claims he is just a blocker in the Geoffrey Boycott mould.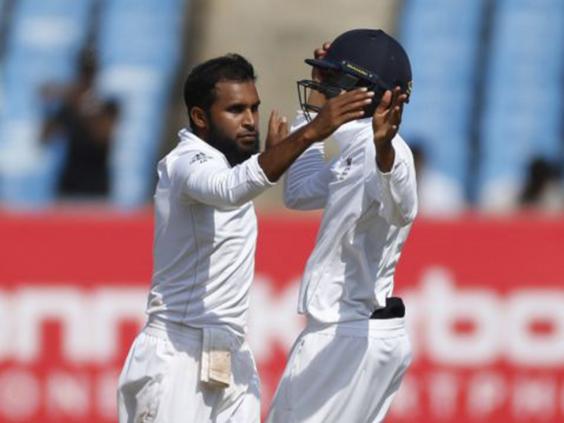 When he reached 50, turning Amit Mishra down to third man for four, it was the highest score by a teenager for England since Denis Compton's 65 on debut against New Zealand at The Oval in 1937.
It was not only a special moment for Hameed but also his father Ismail, born in the state of Gujarat where this match is being played and who was reduced to tears as he watched on from the stands here.
Only one teen has ever scored more than that for England, Jack Crawford's 74 in Cape Town in 1906.
Hameed has a good chance to surpass both those scores tomorrow and go on to become his country's youngest century-maker, an honour that currently belongs to Compton, who achieved the feat aged 20 years and 18 days against Australia at Trent Bridge in 1938.
Whether or not Hameed breaks any of those records during the remainder of his innings, with Cook alongside him on 46, England have a solid base from which to build on at the start of the final day.
Yet with just three sessions left in this match, the tourists appear unlikely to have enough time to manoeuvre themselves into a winning position.
Instead, they will head to Visakhapatnam, the venue for the second Test, with confidence they can put the world's No1 team under sustained pressure over the course of this five-match series.
All results were still possible at the start of this fourth day, with England buoyed by the two late wickets the previous evening that had reduced India to 319 for four.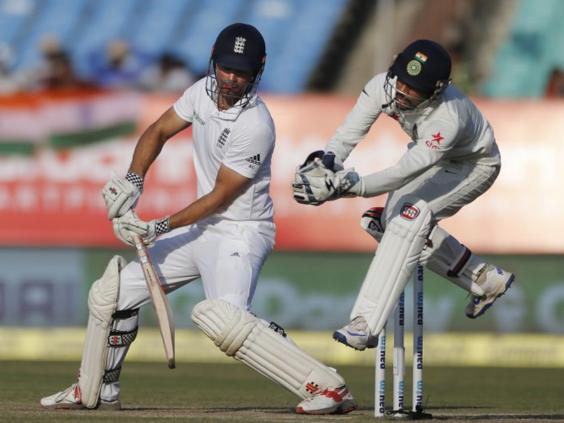 If the tourists were to have any chance of forcing victory then they needed a significant first-innings lead, which was a distinct possibility given India were still 218 runs behind.
Those hopes were boosted with the wickets of Ajinkya Rahane, bowled by a delivery from Zafar Ansari that straightened, and Virat Kohli, India's captain out after treading on his stumps playing back to Adil Rashid, in the first hour.
Kohli's was one of the rarer modes of dismissal in Test cricket, with VVS Laxman at Antigua in 2002 the last Indian batsman to be out hit wicket. Indeed, Kohli barely noticed what he had done until he was a single bail on the ground behind him.
Those two breakthroughs in the space of 17 balls left India on 361 for six, still 176 runs behind England's first-innings total of 537.
Yet that was as good as it got for Cook's team in the morning as Ravichandran Ashwin and Wriddhiman Saha guided the hosts into lunch on 411 for six.
That pair's seventh-wicket partnership was worth 64 by the time Moeen Ali removed Saha seven overs after lunch, the wicketkeeper gloving behind to Jonny Bairstow, his opposite number, on 35.
India's deficit by then was just 112 and with Ashwin, a man with four Tests hundreds, still at the crease Kohli's side were looking good to make a significant dent into that lead.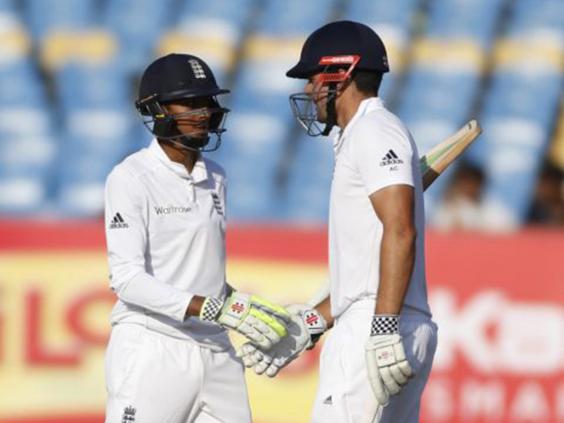 The wicket of Saha brought Ravindra Jadeja to the crease alongside his spin-bowling partner Ashwin.
But the pair added just 24 runs before Jadeja was caught at short leg off a Rashid delivery that turned sharply.
The Yorkshire leg-spinner was going for plenty of runs, his economy rate climbing above four after a disciplined performance the previous day.
Rashid, though, was picking up wickets and he had his fourth of the innings when Umesh Yadav was punished for a horrid sweep against the spin that sent a top-edge in the direction of a diving Ben Stokes.
India, now 459 for nine, were trailing by 78. And England's final first-innings advantage would have stood at 77 had Cook held on to a simple chance at slip after Mohammed Shami dangled his bat out to a Stokes delivery that produced the kind of chance fielding coaches aspire to when playing catch with a toddler.
Instead, Cook fumbled, allowing Ashwin to reach his seventh Test half-century, in 111 balls. Ashwin had progressed to 70 by the time he slogged Moeen straight to Ansari on the deep midwicket boundary.
Cook's drop cost his side 28 runs. By then, though, it was evident to all that any hope England had of winning this match had gone by then anyway.
Reuse content