This series was slipping away from England when India went into tea on the second day of this third Test on 148 for two and with Virat Kohli and Cheteshwar Pujara, their two best batsmen, imposingly set.
However, an inspirational start to the evening session, which contained two pieces of brilliant fielding and a semblance of revenge for Ben Stokes over Kohli, has dragged the tourists back into this contest.
England now have a chance despite posting only 283 in their first innings.
More importantly they now believe they can force a win here in Mohali that would level this series up at 1-1 with two Tests to play.
An unbroken seventh-wicket stand of 67 between Ravindra Jadeja and Ravichandran Ashwin, who hit his third half-century of the series, has dented English optimism. India, on 271 for six, trail by just 12 at the close.
Yet the state of play is far better than Alastair Cook's side could have wished for when they went into the tea break on Sunday with Pujara and Kohli threatening to put India in a position of total dominance.
Cook and his players will hope they can make the second new ball – which is four overs old – talk Monday morning. Restricting their opponents to a lead of 50 or fewer will be essential if they are to remain in contention.
The image of this second day will be of Stokes greeting his wicket of Kohli with a hand-over-mouth gesture that referenced the Durham all-rounder's brush with officialdom yesterday.
Goaded by India's captain as he was walking off following his stumping on 29, Stokes turned back and gave Kohli a choice retort, which according to the ICC contained language that was "obscene, insulting or offensive". Kohli, the instigator of the flashpoint, escaped censure.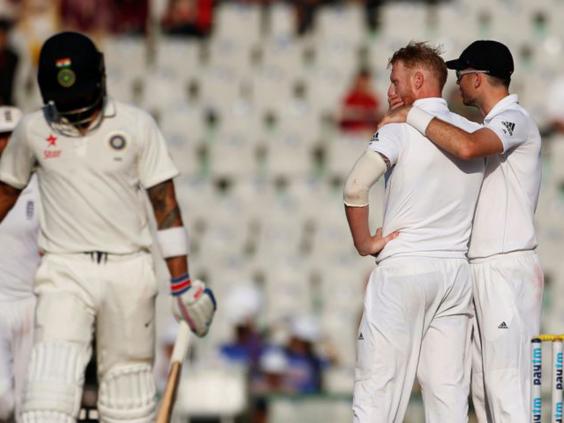 So when Stokes induced an edge that saw Kohli caught behind, his reaction was pertinent. A personal battle had been won but more significantly for England they had gained the prized scalp they craved – and the sixth Indian wicket.
At that stage the hosts were 204 for six, still trailing by 79.
Adil Rashid was the architect of a dramatic passage of play that had preceded Kohli's dismissal that saw three Indian wickets fall in 19 balls after tea.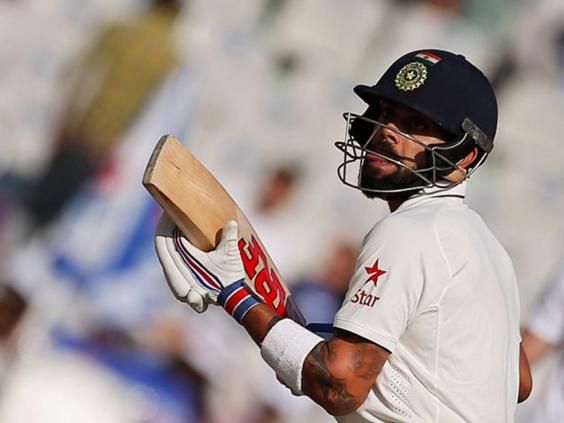 The first, of Pujara, came two deliveries into the session, India's No 3 batsmen seemingly set on 51 the victim of a sensational catch from Chris Woakes after he had smashed a Rashid long-hop towards him in the deep.
Rashid then flummoxed Ajinkya Rahane with a googly, the batsman out for a five-ball duck.
Jos Buttler then accounted for debutant Karun Nair, run out for four after a poor call from Kohli.
Buttler, who has kept wicket for the latter part of his career, has not been a fielder in a first-class game for more than three years.
However, he reacted brilliantly after Kohli guided Woakes into the off side and called for a single. Buttler, in as a specialist batsman for his first Test in 13 months, dived to stop the ball at cover point then threw down the stumps despite being off balance and on his haunches. It was a breath-taking piece of athleticism.
India were suddenly wobbling on 156 for five.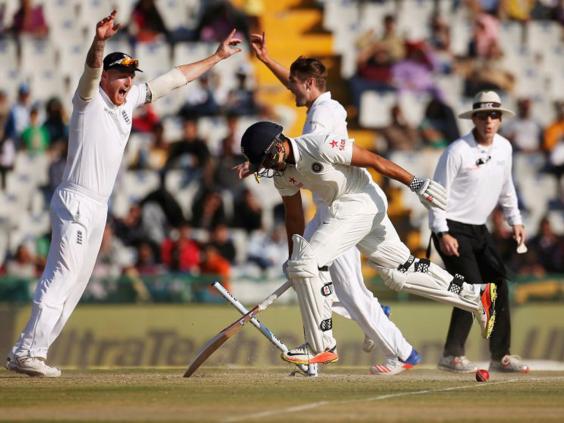 A partnership of 48 between Kohli, who reached his 14th Test half-century, and Ashwin stabilised the hosts before Stokes' intervention made things interesting once again.
Bowling 'dry' is a key part of any success you are likely to have as a touring side on the sub-continent. And it's something England did well in the final hour before the arrival of the second new ball.
Four overs were left when it was taken and despite a failure to break through with it, England will have another chance in the morning.
This proved a good day for Rashid, whose three wickets saw his tally over the three Tests so far climb to 15 – more than the 14 Australia's Shane Warne, the greatest leg-spinner of all-time, took in his best series in India in 2004.
Rashid had trapped Parthiv Patel lbw to reduce the hosts to 73 for two early in the afternoon session, with Stokes making the initial breakthrough in the morning when Murali Vijay walked despite not being given out by umpire Chris Gaffaney after edging behind.
It was a rare moment of sportsmanship in this match. It was also exactly what England needed after they had lost their final two wickets inside 3.4 overs of a day that had seen them begin on 268 for eight.
Fifteen runs were added in return for the loss of Rashid and Gareth Batty to Mohammed Shami.
A below-par total after winning the toss left England needing something special to keep them in this contest. Thankfully it came during a captivating evening session.