Mixed messages have filtered from the Australian camp in the days since the fate of the Ashes was decided at Old Trafford.
Michael Clarke has said repeatedly that the fourth and fifth Test teams would be selected on merit with no consideration for the return Ashes series Down Under at the end of the year. "It's about picking your best 11 players," Clarke insisted in Durham this week. "We are not in the business of thinking anyone is here just to have a go. We are here to win this and the last Test and to square the series."
It is a view out of synch with that of a senior Cricket Australia official at the start of this tour when he said a series defeat mattered little because Australia's real focus was on regaining the Ashes in front of home crowds.
Yet Clarke was full of praise for Australia's high-performance team, including coach Darren Lehmann and selectors John Inverarity and Rod Marsh, for casting an eye to the future. "I'm pretty sure the selectors and Darren are thinking about it," Clarke said. "As a player you can't afford to because as soon as you take one eye off the ball you will find yourself out of the series. But it is smart that the high-performance team and the selectors and the head coach are looking to the Australian summer."
So what does that say about the selection of old-fashioned seamer Jackson Bird at Durham? Bird may have a name more suited to a soul singer but he could be on the verge of a long and fruitful career as a practitioner of a different kind of swing.
A session or two into his third Test Bird had already met both of Clarke's criteria for coming to the attention of the selectors. As Bird often topped 85mph with good-length curlers that probed and tested the defences of England's top-order batsmen, it was a splendid reward for his endeavours when he eventually forced Alastair Cook into an error of judgement as profound as anything he has displayed in nearly a century of Tests.
It may be sound policy at the Waca Ground or Wanderers to let a good length ball go after it has pitched a millimetre or two outside off stump and is zeroing in on the woodwork but it is surely an approach with a limited lifespan this far from the Equator.
There appears little question over Bird's capacity at Test level, an observation made first and often after he claimed 11 wickets in his opening two Tests, only to be punted for the next seven.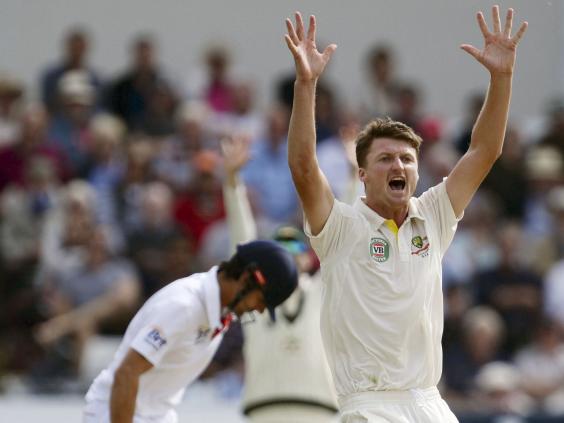 If the selectors are already contemplating the series in Australia – even if they do not intend to trial players for it – Bird has shown enough to suggest he will be at the pointy end of the campaign to regain the urn.
There are pacemen galore on the Australian landscape at different stages of form, fitness and career advancement. James Pattinson and Mitchell Starc have already come and gone on this tour, the remarkable speedster Pat Cummins is returning, the maligned but meteoric Mitch Johnson has another Waca special up his sleeve and names such as Nathan Coulter-Nile, Kane Richardson and Chadd Sayers will emerge from anonymity as the tour approaches.
They all have claims, some stronger than others, but Bird appears to have an advantage over each of them – he never bowls a bad spell, he rarely bowls a bad over and his bad balls are so few that they could be considered experiments to test a batsman's concentration. He may lack the fire of Ryan Harris and the unstinting work rate of Peter Siddle, though his baggy green history is so brief that both attributes may be unseen rather than absent.
As Bird bounded in with the new ball at Durham, another paceman came to mind.
Dale Steyn also bounds in with elbows pumping and has a small skip in his stride at end of his follow-through. Jackson Bird is no Dale Steyn but he has given Australia considerable heart.
And there is nothing mixed about that message.
John Townsend is Cricket Writer at 'The West Australian'
Reuse content