It is a matter of proportion. Had it been offered six weeks ago that England would come to South Africa, win the Test series 2-1 and depose the world's No 1 side, hands would have been bitten off.
But such gorging would not have taken into account the dismal fashion in which the tourists finished yesterday, losing – in many cases donating – their last seven wickets in 67 minutes on the fifth day of the fourth Test. If the defeat by 280 runs did not diminish the quality of their previous displays, it perhaps reduced the level of exultation.
This was a perfect example of dead rubber syndrome. England had already achieved, and in some style, what they came here to do and they found they had nothing left to give. Throughout the first four days of the final match they were behind and by the fifth they were ready to surrender and get the hell out.
Maybe they were unfortunate to run into a 20-year-old fast bowler with bags of talent and self-belief who simply relishes the big time. Kagiso Rabada took 6 for 32 to finish with match figures of 13 for 144, the youngest fast bowler to take 13 wickets in Tests. Superstardom beckons, and in this country which is craving black heroes, it already has.
England's rapid capitulation was not pretty, it was barely excusable – it might also show that the format of long bilateral series needs reshaping – but it illustrates what can happen to developing sides who are greater than the sum of their parts. The delight at seeing England regain the Ashes and then topple the top-ranked team on their own turf must be tempered by the fact that there remain glaring deficiencies.
To that extent, South Africa did England's selectors, coaches and players a favour by winning so resoundingly. The issues that need addressing should now be addressed. South Africa had the leading run-scorer and wicket-taker, scored more centuries and had more five-wicket hauls. Nos 1, 2, 3 and 5 in England's batting order had series averages of 23, 17, 30.62 and 26.57.
There will be constant debate between now and the start of the next series about whether Alex Hales, Nick Compton and James Taylor are cut out for Test cricket. Or at least fit for it in a way that can take England to the top of the pile, a spot that India, rather astonishingly, now occupy. Questions, too, will abound about James Anderson's continuing durability at the age of 33, the state of the wicketkeeping and the quality of the spin bowling.
Yet for all that, England somehow fashioned a superb series triumph and for three matches won every single session that mattered. In Durban, they pulled matters round after a disappointing start, in Cape Town they were for two days sensational, in Johannesburg England were ruthless.
Despite the figures somewhat artificially seeming to illustrate South Africa's superiority, England knew the moments to seize. For this, three, perhaps four, players were largely responsible.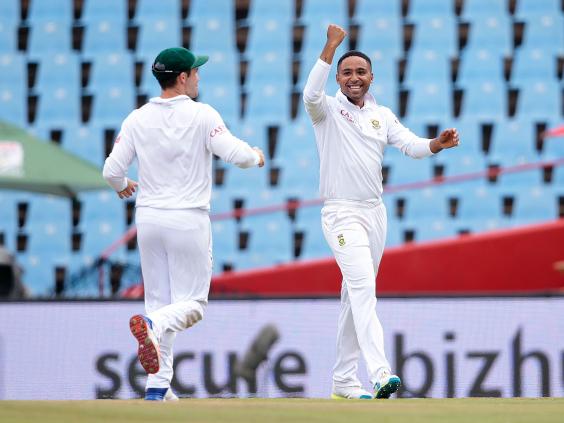 Ben Stokes was quite rightly made man of the series for scoring 411 runs and taking 12 wickets, the best all-round series performance for England since Andrew Flintoff's annus mirabilis against Australia in 2005. He has come to lend a crucial balance to this side going forward as the fulcrum of both the batting order and the seam bowling quartet. If and when he is injured, it will be a difficult side to pick.
Joe Root was prominent in both victories and is by a distance England's outstanding batsman. But he is expected to shoulder much too heavy a burden and if that continues the progress of the side will be impeded accordingly.
For Stuart Broad, the series revolved around one remarkable performance at the Wanderers which blew the opposition away. He was less formidable, though always potent, at other times, but his proclivity for doing this, for producing extraordinary spells of brilliance, makes him a key member of this side.
The captaincy of Alastair Cook makes him inviolable but he needed many runs in the past six weeks and he knew it. The other run-scorer in chief was Jonny Bairstow, which just – but only just –offset the paucity of his catching behind the stumps. 
Most good judges are convinced that Bairstow has what it takes to be an international keeper and he is determined to succeed. During this Test he asked for guidance and advice from the former South Africa gloveman Mark Boucher. He was himself partly coached by Ray Jennings, who never played a Test because of South Africa's isolation but was still thought by many to be one of the best who ever played. 
Bairstow wants desperately to learn and succeed. Cook recalled how Matt Prior was a work in a progress when he first came into the side but dedicated himself to improvement and excellence.
If there was another weakness it was in the catching. Far too many chances went down, partly because of Bairstow and despite the leap to prominence of a specialist short leg in James Taylor.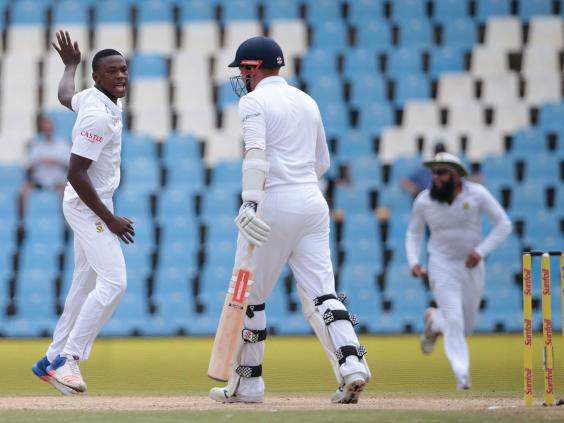 Taylor has yet to show he is the real deal at No 5 and was the first to depart yesterday when a brutal lifter from Morne Morkel brushed his gloves. In the next over the off-spinner Dane Piedt, having had Root dropped at the wicket, dismissed him with a catch at slip.
Then it was Rabada's turn, and what a star turn he is. Quick, accurate, swinging the ball, he also seems already to have plans for each batsman. He had a careworn Bairstow out twice in two balls – the first a no ball – then had Chris Woakes caught behind wafting. This match has been setback for Woakes in his desire to show that he can be a regular Test player and proper contributor with bat and ball.
Stokes was caught in the deep off Morkel but it was Rabada who finished it off with two in two, fellow fast men Broad and Anderson. Match lost, series won, much to do. But the middle of those facts is the one that truly counts for now.
Reuse content